Source:  Images and content by Rolex.  See the original article here - https://newsroom.rolex.com/world-of-rolex/perpetuating-arts-and-culture/rolex-and-cinema/rolex-and-cinema-2023/news-3/greenroom
https://newsroom-content.rolex.com/-/media/project/rolex/newsroom/rolex/rolex-newsroom-int/world-of-rolex/perpetuating-arts-and-culture/cinema-2023/articles/push-news_rlxgreenroom23bm__001.jpg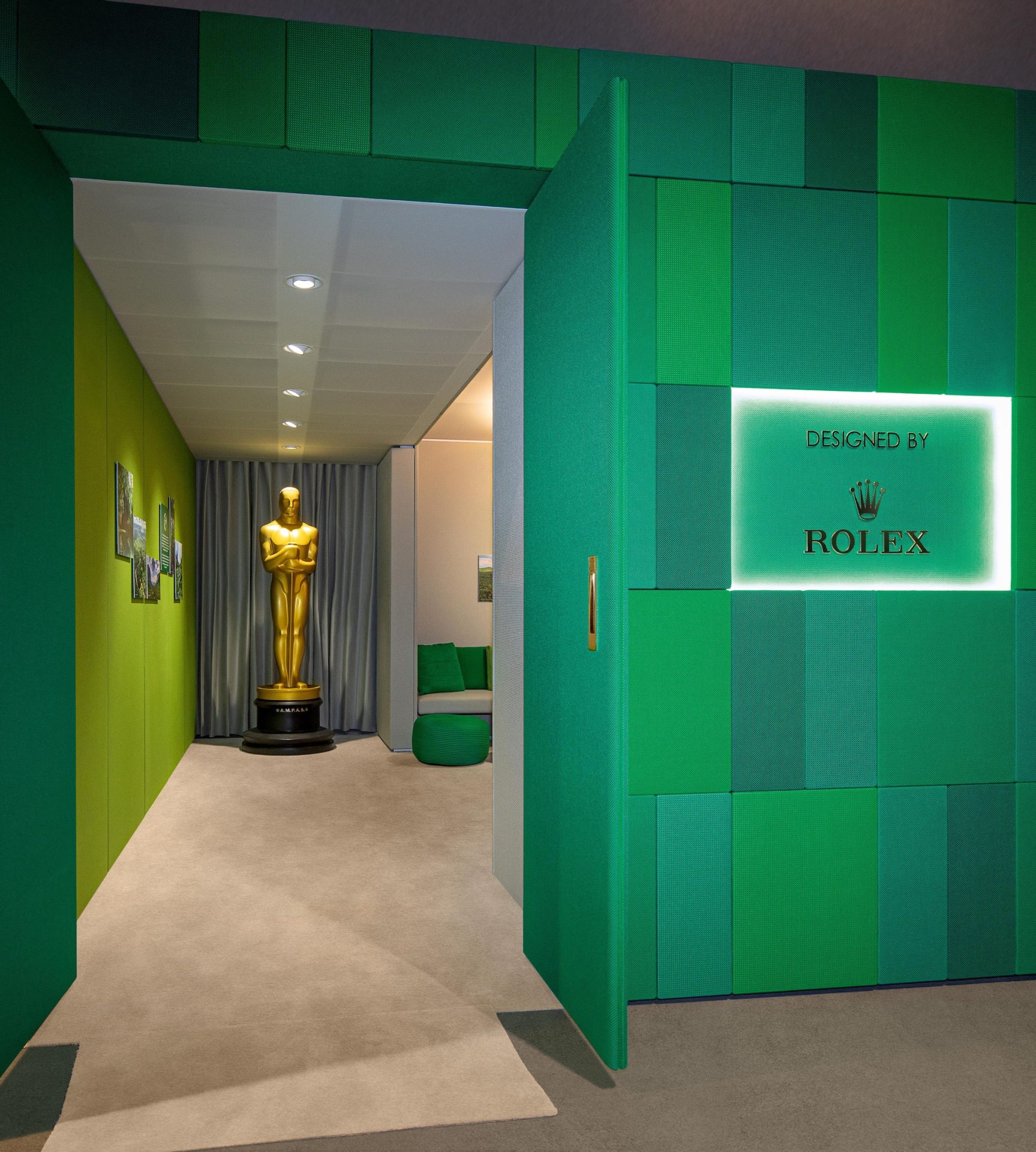 Geneva, 12 March 2023 – It is the antechamber of the Oscars®. A convivial space where nominees and presenters gather before and after stepping onto the stage. The Greenroom is an immersive experience for which Rolex develops an original decor each year.
In 2023, the design of the Greenroom shines the spotlight on the colour green. More than a mere tribute to the chromatic identity of the brand, it is a celebration of our natural world. It is a way for Rolex to poetically express its commitment to the preservation of our ecosystems as part of its Perpetual Planet Initiative.
Designed according to a palette of neutral tones and shades reminiscent of plants, the Greenroom presents itself as a peaceful space, a garden where guests can truly relax. Drawing inspiration from the heart of the rainforest, it is adorned with woven materials. Its walls, upholstered in natural tones, form a cocoon, punctuated by ornamental objects in the shapes and colours of tropical vegetation. A ceiling of exotic leaves evokes a lush canopy, while a curtain of carved bamboo creates a welcoming alcove. Bespoke furniture with smooth, round contours completes the elegant picture.
Together, all the elements of the decor play a role in delineating the room organically. By inviting visitors to immerse themselves in the world of a rainforest, Rolex pays tribute to the explorers and scientists taking action on the ground, day after day, to protect the planet.