Source:  Images and content by Rolex.  See the original article here - https://newsroom.rolex.com/world-of-rolex/perpetuating-arts-and-culture/rolex-and-cinema/rolex-and-cinema-2022/news-3/greenroom
https://newsroom-content.rolex.com/-/media/project/rolex/newsroom/rolex/rolex-newsroom-int/world-of-rolex/perpetuating-arts-and-culture/2022/cinema/green-room/share_greenroom.jpg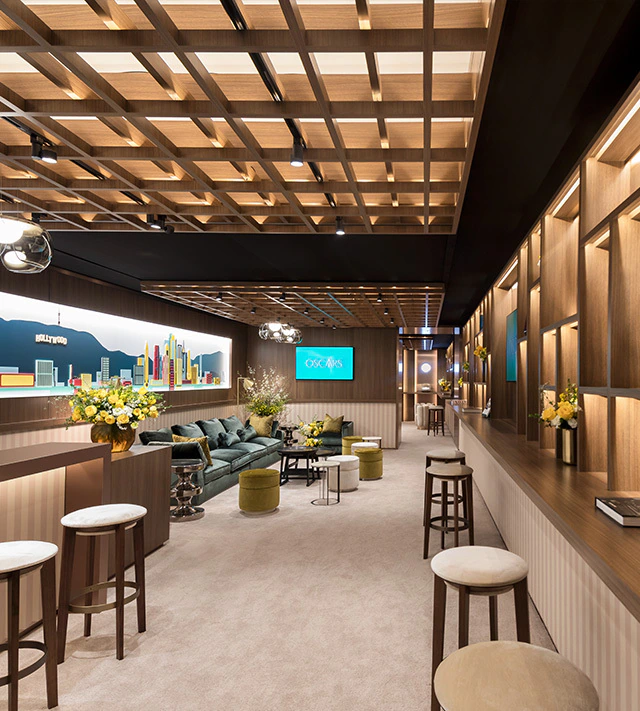 Geneva, 24 March 2022 – The Greenroom is the antechamber of the Oscars®; a convivial space where nominees and presenters gather before and after stepping onto the stage. The Greenroom is an immersive experience for which Rolex develops an original décor each year. The 2022 edition of this space will celebrate the coming-together of cinema and the art of watchmaking.
The inspiration for this year's theme comes from Hollywood and its major studios. Decorative wall panels in an Art Deco style arrange elements from Rolex watches into mosaics to reproduce the skyline of cinema's home, Los Angeles. This ode to watchmaking prowess takes the form of decorative elements symbolizing recognizable landmarks from the film world – Hollywood, the Academy of Motion Picture Arts and Sciences and the Academy Museum of Motion Pictures – and adorning them with some of Rolex's most distinguishable features and visual signatures: indexes, hands, fluted bezels.
To craft these landmark replicas, Rolex artisans from the design department sculpted then sheathed each one in leather. "The meticulous care that goes into the making of a Rolex watch, the attention we pay to the tiniest detail and our constant pursuit of excellence are all present in the Greenroom. They mirror the subtlety, the precision and the magic of film," comments Arnaud Boetsch, Communication & Image Director at Rolex.