Source:  Images and content by Rolex.  See the original article here - https://newsroom.rolex.com/about-rolex/rolex-world-service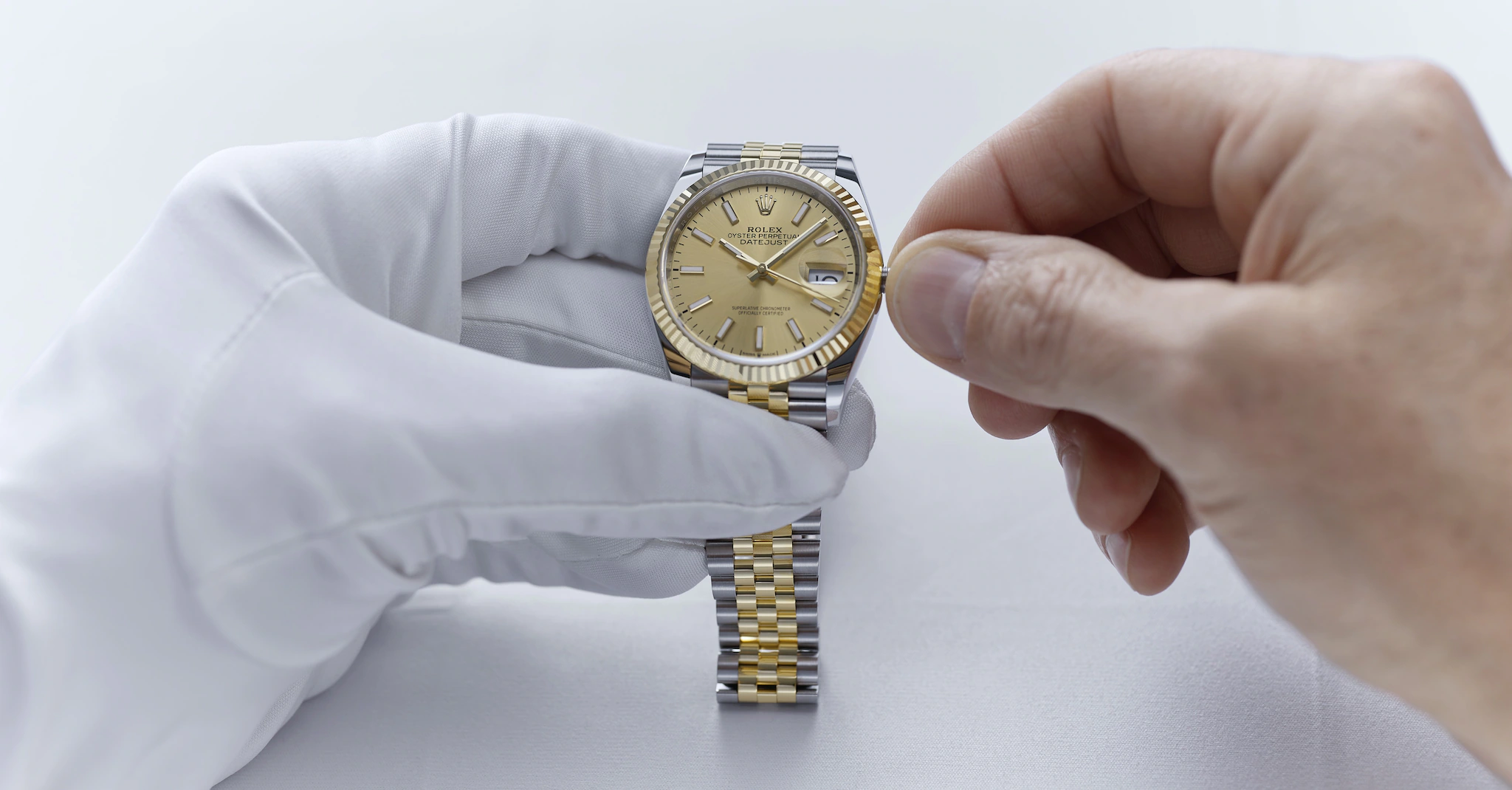 A VARIETY OF SERVICES
The Rolex World Service workshops offer different types of servicing operations. A full service, for example, involves the complete overhaul of the watch movement, case and bracelet. Specific operations are also available, such as adjusting the length of the bracelet or refinishing the case. At most Rolex points of sale, watchmakers trained by the brand offer a number of same-day services that can be carried out on site.
FULL SERVICING
The servicing of a Rolex watch comprises several steps requiring the use of specific tools and instruments that are tested and sometimes even developed by the brand. Once the watch has been received, assessed and the customer has approved the service estimate, the watchmaker begins work by separating the bracelet from the case and delicately removing the movement, still fitted with its dial and hands. From that point on, the movement, case and bracelet follow separate servicing paths.
The dial and the hands are detached from the movement, which is itself completely dismantled. Each component is carefully examined to determine whether it still meets Rolex requirements – if this is not the case, it is replaced with a new part from the manufacture in Bienne, where Rolex movements are produced. All components are cleaned in an ultrasonic bath to remove all traces of impurities, before being dried. The movement is reassembled piece by piece in a set order, and lubrication is applied. After making the first adjustments to the precision of the movement, the watchmaker then refits the dial and hands.
The case is also disassembled, and the parts, whether made from Oystersteel, 18 ct gold or 950 platinum, are individually re-polished or satin-finished by hand. These delicate finishing processes, which require great dexterity, restore the case's sheen and lustre, whilst removing any marks or scratches. The seals are replaced, then the crystal, bezel and middle case are reassembled.
The bracelet receives a similar treatment to the case. Each link is painstakingly polished or satin-finished according to its original finish. The bracelet is then thoroughly cleaned.
The watchmaker gently puts the movement back into the case and measures its accuracy once again, making any adjustments necessary for it to achieve the expected chronometric performance. This is followed by a precision test lasting a minimum of 24 hours. Next, the case is pressure-tested in water. With the waterproofness test passed and the bracelet refitted, the watch is ready for a final control – its rate and functions are checked, and its aesthetics verified to ensure an impeccable finish.
At the end of the process, the timepiece is placed in a pouch designed to protect it while it is not being worn, or during travel. The watch benefits from a two-year international guarantee covering the parts and labour.