Harrods, London, 25th of May – It was a particularly multi-faceted celebration that occurred yesterday in the world's most famous department store, Harrods. As the official Timekeeper of the FIFA World CupTM, the Swiss luxury Manufacture Hublot beat the drum counting down 20 days to go before the commencement of the FIFA World Cup RussiaTM, Not only did Hublot unveil its new dazzling football installation along the iconic Hans Crescent windows and within the Door 5 atrium, but Hublot CEO, Ricardo Guadalupe, also announced that the Brazilian footballer, David Luiz was joining the Hublot family as a Friend of the Brand.
David Luiz well deserves his "Champion" title: he has an illustrious career in Football representing his home country of Brazil more than 50 times and winning the UEFA Champions League in 2012 with Chelsea FC.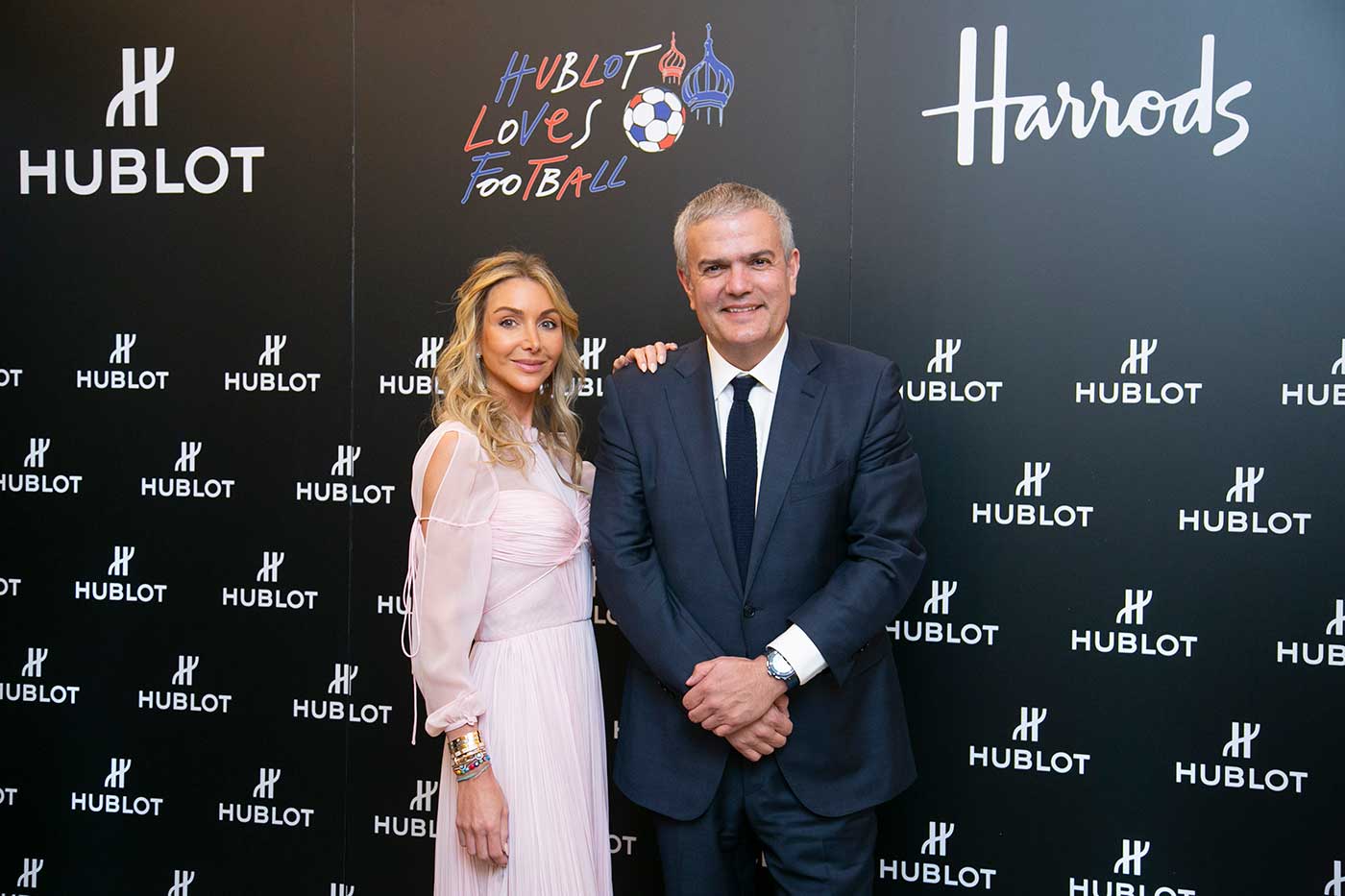 The Hublot family is abundant with many Football Champions – Champions who Hublot decided to pay tribute to through a Worldwide and inspiring communication campaign named: "The Champion Advice". Among the 13 living legends featured in this campaign, 6 now appear in Harrods Hans Crescent windows: Jamaica's fastest man alive, Usain Bolt, Football legends Diego Maradona, Jose Mourinho and Pele, as well as English FIFA World CupTM team manager Gareth Southgate and FIFA referee Bjorn Kuipers. Each champion was asked for their guidance on what it takes to become a champion and their inspirational quotes are featured within the three-dimensional and interactive windows.
Also featuring within the windows are iconic emblems from the 2018 FIFA World Cup RussiaTM including the emblematic white, blue and red matriochka designed by Russian contemporary artist Andrey Bartenev which opens to reveal at its heart his second creation, the elaborately decorated Hublot football.
Stepping into the Harrods Door 5 Atrium, visitors and shoppers will be welcomed by another installation juxtaposed above their head; giant and multi-faceted LED blue, red and white footballs on which they will be able to follow the countdown until the FIFA World CupTM Opening Game, and subsequently, follow the action from Russia, with live updates, goal announcements and scores flashed across the screens. Beyond these, the Big Bang Referee 2018 FIFA World Cup Russia™, Hublot official watch of the FIFA World CupTM, is displayed upon the first-floor mezzanine in an interactive showcase offering visitors the possibility to try to score against the Hublot Robot Goalkeeper.
The countdown until the 2018 FIFA World CupTM in Harrods Door 5 Atrium was triggered by Ricardo Guadalupe, Hublot CEO, Helen David, Harrods Chief Merchant and David Luiz, during an evening full of surprises.
Following a FIFA World CupTM themed cocktail reception, guests were accompanied to the Atrium illuminated in blue, red and white for the occasion. After discovering David Luiz as Hublot new friend of the brand, they were blown away by an high-octane performance – on Door 5 escalators – of "ProDance", a multi-award winning Hip Hop dance crew.
David Luiz commented: "'It is a huge honour for me to follow in the footsteps of legends such as my fellow countryman and inspiration Pelé to become a Hublot Friend of the Brand. I have long admired the brand for its innovation, bold designs and daring attitude – it's a perfect fit for me and my style of football.'
Ricardo Guadalupe, Hublot CEO added, "The FIFA World CupTM is paramount to celebrating the passion, team spirit and diversity of football on the worldwide main stage. Harrods is the perfect partner for Hublot to launch this campaign as we share a vision for offering our client's an immersive and unique experience."
Helen David, Harrods Chief Merchant, said: "Harrods and Hublot are two brands with a shared commitment to challenging expectations to create the most exclusive experiences for our clients. Since the launch of Hublot at Harrods in 2010, we have had the pleasure of collaborating on many creative campaigns and initiatives, from the Art of Fusion last October to the recent unveiling of our 'world of' Hublot boutique within the new Fine Watch Room. Our partnership continues to go from strength to strength, and now culminates in our welcoming Hublot's Champions' Advice campaign to the store. Hublot's Champions' Advice is particularly exciting as it will be brought to life across so many touch points across Harrods and we welcome all visitors to engage with this truly creative campaign ahead of the event this is all building up to – the World Cup -later this summer."
Hublot and Harrods have had a long and successful partnership with many unique launches and collaborations over the past few years. Earlier in 2018, the Harrods Fine Watch Room was relaunched and Hublot unveiled its new boutique concept with vivid pop-artworks and luxurious grey alcantara accents.