Luxury Swiss watch brand Hublot celebrates the opening of their very first boutique in The Netherlands with Friend of the Brand Dafne Schippers.
"It is with great pride that Hublot settles in one of the most beautiful cities on the planet: Amsterdam! Hublot continues the expansion of it's global retail network with the latest addition being the Netherlands boutique which is the brand's 89th worldwide doors. Coined the 'Venice of the North', the city combines cultural wealth and economic strength whilst offering a reassuring everyday comfort. Hublot shares the city's outlook for having enormous potential for the future."
Ricardo Guadalupe, Chief Executive Officer of Hublot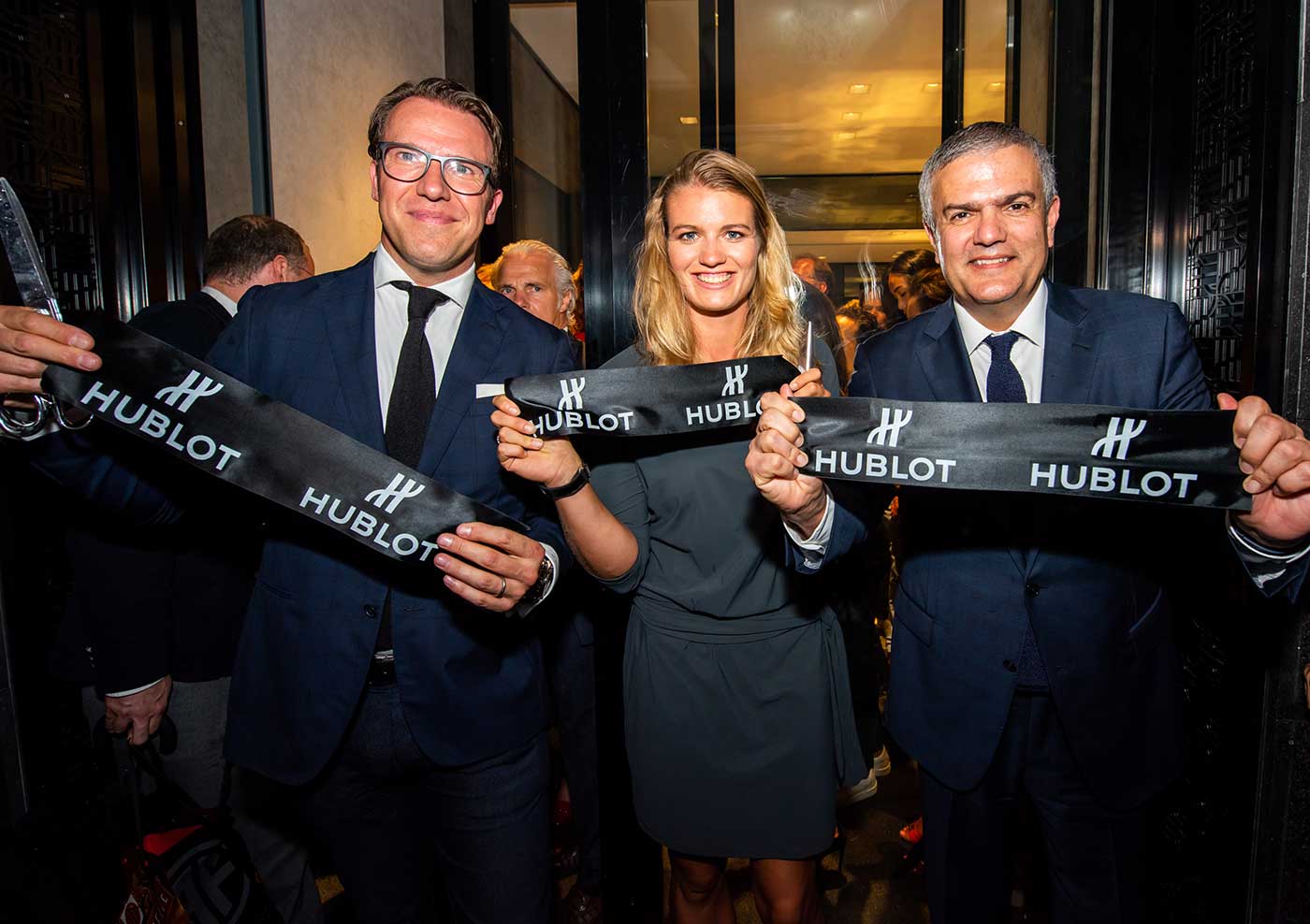 Amsterdam, the Netherlands, 30th May – A new milestone in Hublot's history. Hublot hosted a ribbon cutting ceremony with world class Dutch athlete Dafne Schippers to officially open its very first Hublot Boutique in the Netherlands. The store is located at the number one luxury shopping destination of Amsterdam, Pieter Cornelis Hooftstraat. Hublot now boasts one of the finest locations in Amsterdam, surrounded by the most prestigious neighbours in the luxury industry.
In true Hublot fashion, the Swiss luxury manufacture celebrated the opening with a special announcement introducing Dafne Schippers as Hublot's new Friend of the Brand. Dafne Schippers is Hollands most well-known female track and field athlete, born and raised in Utrecht. She shares the brand's philosophy of appreciating traditions and striving for the best. Dedicating her life to be the fastest woman of all time and become World's number one.
Ricardo Guadalupe, Hublot CEO, Hublot Friend of the Brand Dafne Schippers and official partner Schaap en Citroen represented by Mark Vlijm cut the traditional ribbon to officially open the Brand's new door in Amsterdam. Other notable attendees include Dutch Football legends Ronald de Boer and Edwin van der Sar, Ajax Football player Siem de Jong, Dutch actor and 'Friend of the Brand' Wilfred Genee, popular Dutch artist Joseph Klibansky, Singer Mr.Probz Dutch former Kickboxer Ernesto Fritz Hoost and Carlito Fuente from Arturo Fuente, partner of Hublot.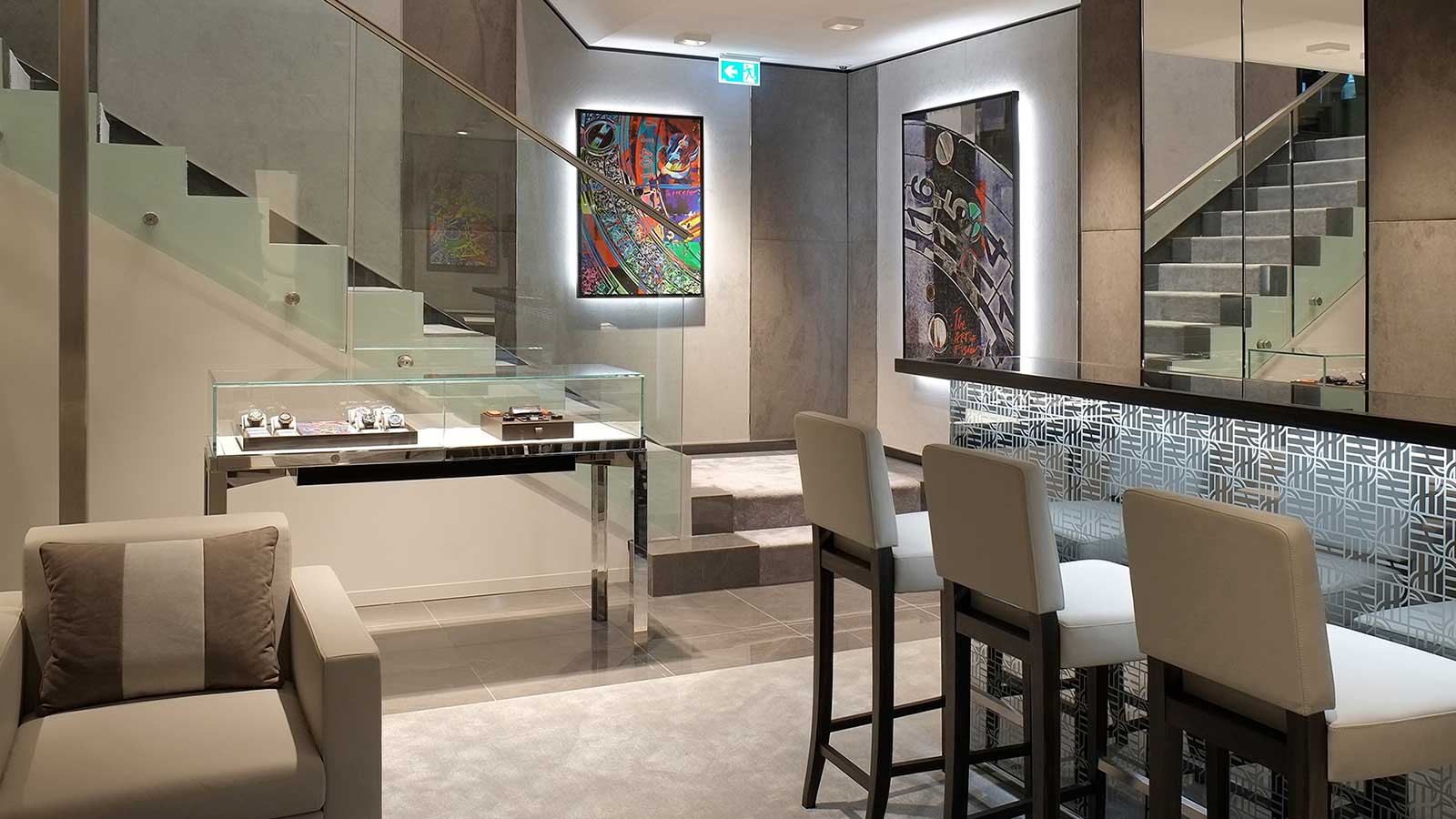 The new Hublot boutique features one-of-a-kind furniture and includes its own VIP lounge and bar. On 113 square meters, the boutique's design exhibits the brand's DNA of luxury and innovation combined with its Art of Fusion concept of unexpected combinations. Divided over two floors, the store is outfitted with an all-new concept that is both modern and sophisticated, in which shades of grey and black dominate. It is a cutting-edge design that recalls the Hublot boutique in New York 5th Avenue, designed by the well-known American architect Peter Marino. The store carries a large assortment of rare and limited edition (boutique) pieces.
"Our collaboration with Hublot established 10 years ago when Schaap en Citroen discovered the brand at Baselworld. Ever since this moment Schaap en Citroen was the proud retailer of a unique and exceptional brand with its extraordinary DNA. Always reaching for the most revolutionary materials and most innovating craftsmanship! We are beyond excited our collaboration reach all-new heights by opening the first Hublot Boutique in the Netherlands!"
Mark van Nieuwkerk, Chief Executive Officer of Schaap en Citroen Jewellers
ABOUT HUBLOT
Hublot, meaning, "A different way to progress," say those who know this unique Swiss luxury watch company, where each and every moment moves forward to create the future at breathtaking speed. A dream initiated and developed by Hublot's Chairman Jean-Claude Biver with CEO Ricardo Guadalupe when they took control of the brand in 2004. These two men are responsible for turning the Hublot brand into a genuine success story in which the Big Bang, Classic Fusion, Spirit of Big Bang and MP Manufacture Pieces Collection represent the symbols of a constantly evolving tradition.
From in-house watch complications, including award-winning minute repeaters and tourbillons, to revolutionary materials such as patented and scratch resistant Magic Gold, colored Texalium carbon fiber, and transparent and colored sapphire cases to world class collaborations such as Ferrari, FIFA World CupTM, and Italia Independent, Hublot characterizes itself through the "Art of Fusion" philosophy, bringing tradition into the future.
ABOUT SCHAAP EN CITROEN
Schaap en Citroen is a jeweller with a rich history established in 1888. Nowadays Schaap en Citroen has 11 locations throughout the Netherlands selling a variety of watches and jewellery for men and woman. The firm offers traditional and modern brands within its wide assortment. Schaap en Citroen is the exclusive retailer of Hublot watches in the Netherlands and proud to add the Hublot Amsterdam Boutique to her portfolio.