With a judicious sense of detail, pattern, shape and curve, the Tonda PF is Parmigiani Fleurier's latest and most forward-looking collection. Released as the watchmaking brand celebrates its 25th anniversary, these new integrated bracelet timepieces take attention to craft, complication and streamlined aesthetics to a new high. One that doesn't scream expensive but says excellence. One that is created to satisfy purists looking for a high-end, finespun timepiece. The Tonda PF collection is built around the most iconic in-house movements of the maison, running a wide gamut of complications, and culminating in a limited edition, all-platinum, award-winning split-seconds chronograph.
The Tonda PF Collection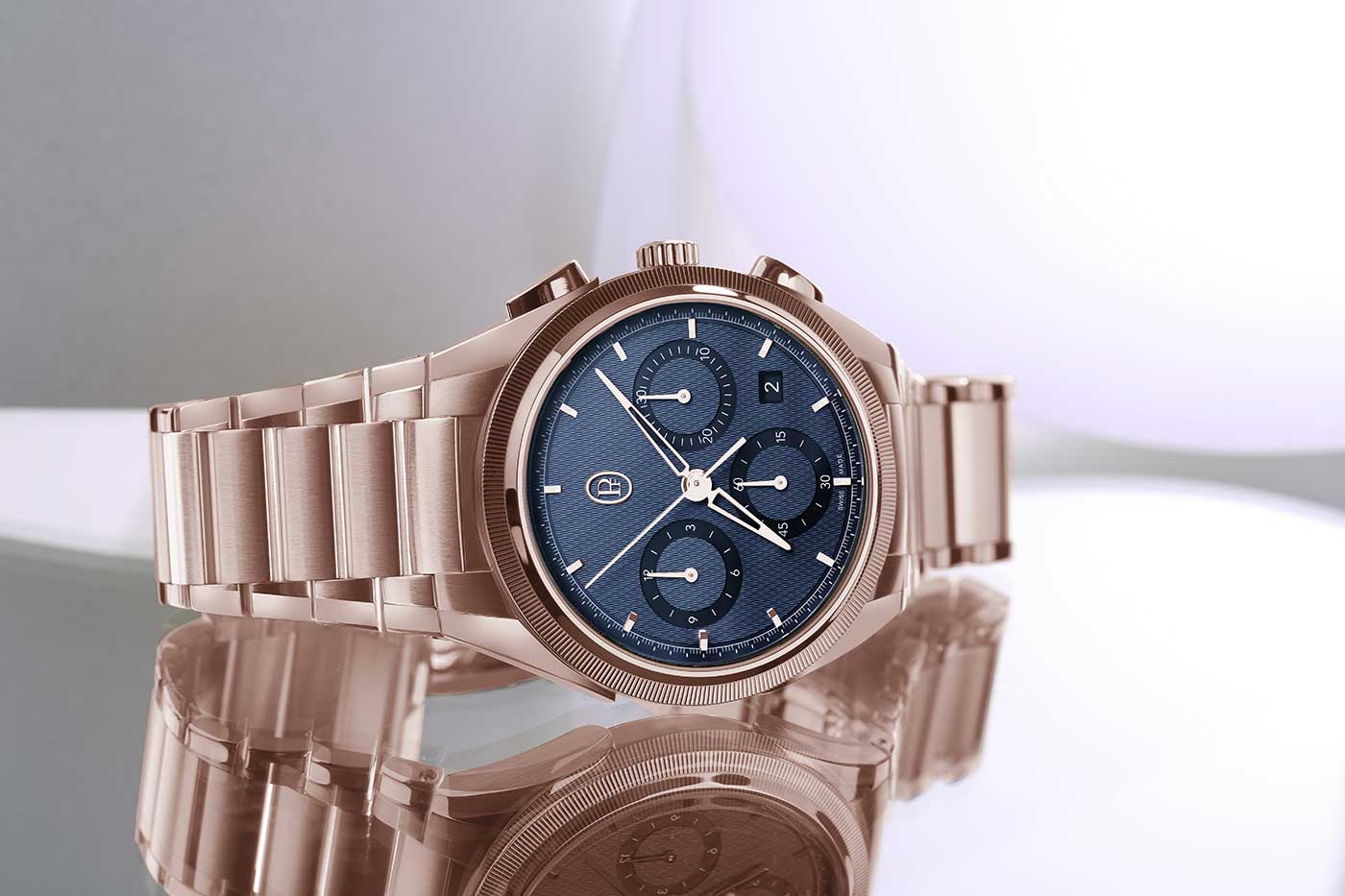 The Tonda PF collection inaugurates a new brand signature. The PF logo appears at 12 o'clock, nestled in a vertical, oval, double-edged appliqué with extensive finishings, a harbinger of the level of care put into the collection. The indices of each timepiece are set across two levels of the dial, while the Grain d'Orge guilloché dial pattern is the finest imaginable. Any smaller and it would have become invisible. Any larger, it would have become obvious, therefore defeating the purpose of this line: imperceptible refinement, entire dedication to exclusivity, modern permanence.
The Tonda PF is an entirely new collection of timepieces within the Tonda family, featuring Parmigiani Fleurier's most distinctive complications from the outset. This includes the Tonda PF Micro-Rotor, a slim, pared-down, high-end two-hander with platinum micro-rotor. The Tonda PF Chronograph features an almost flush dial and an integrated high frequency chronograph movement. The Tonda PF Annual Calendar with retrograde date demonstrates how discretely and astutely advanced indications can be integrated into a pared-down design. All three models are available in steel with platinum knurled bezel or entirely crafted in 18ct rose gold.
At the top of the range, Parmigiani Fleurier is grooming a limited series of the Tonda PF Split Seconds Chronograph. Fitting for a 25th Anniversary, its 25 pieces feature a dial, case and bracelet made of platinum 950, whose high frequency, openworked, split seconds chronograph movement is built out of solid gold.
Sartorial Savvy
Everywhere the eye lands on a Tonda PF, there's a particular texture, form, detail to be seen and enjoyed. This is not ornament, ostentation or opulence. This is a mature, sartorial approach to watchmaking, where cloth is replaced by metal and weaving by dial pattern. The cutting and fitting of the shoulders and waistline take on the form of case and bracelet. Like in a Neapolitan or Sicilian workshop, these are entirely focused on silhouette, fluidity, proportions and taste. Like any jacket that originates in those institutions of male elegance, the Tonda PF is tailored to withstand the passing of time and trends, and remain.
Its specific hands are made of solid gold. Slim and long, they're almost entirely openworked and of completely new design. The bezel, a direct heritage from the Tonda collection, features a sleek, polished part and another that's been knurled, and is crafted out of solid platinum 950 for the steel models. Rather than using the same steel as the rest of the case and bracelet, Parmigiani Fleurier has elected to work with this highly precious metal. Not for the sake of exclusivity, but because it provides a better, shinier play with light and a more artisanal feeling once polished by hand.
The case band on all four references of the Tonda PF line deserves closer examination. It is not straight, but slightly bassiné, i.e. wider near the bezel and narrower on the wrist. This provides the overall design with a sense of increased slimness. The surface is horizontal-satin-finished all around as is the upper surface of the lugs.
The Tonda PF Chronograph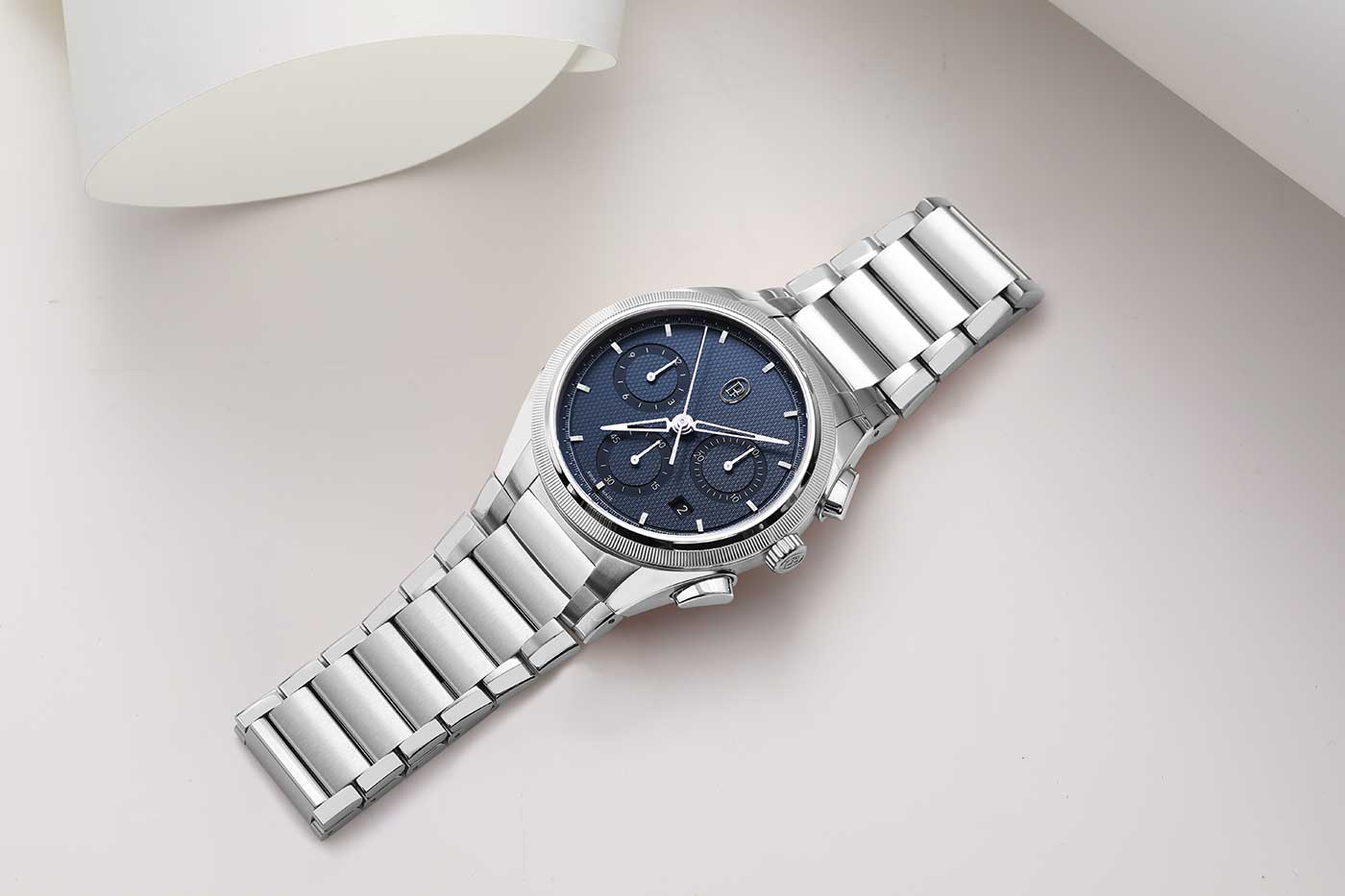 The 42 mm Tonda PF Chronograph exemplifies how a particular design can shift according to the specific requirements of a complication. The 5 Hz Caliber PF070 is an integrated, high frequency, column wheel movement with small seconds and two registers. Integrating three counters on the Tonda PF Chronograph's thinly guilloché dial demands finesse.
Parmigiani Fleurier maintains an almost flush surface by using thinly sandblasted minute track and counter outlines on the discrete blue dial. The pushers have been fused with the profile of the Tonda PF Chronograph's lugs. This model, along with the Tonda PF Annual Calendar, premieres a new oscillating weight in 22ct rose gold, widely openworked with a central PF logo medallion.
A Purist's Delight for Those in the Know
All Tonda PF timepieces speak first and foremost to their owner and wearer. On point, extensive, highly studied details build up to a general result which endow the whole Tonda PF collection with acute contemporary elegance. Not in an ornamental manner. This is not a conspicuous object of luxury. This is the incarnation of a culture of savoir faire that addresses a certain crowd, able to recognize its sense of refinement.
As Guido Terreni, CEO of Parmigiani Fleurier so eloquently sums up: "We have conceived the Tonda PF for the watchmaking purists of tomorrow. An uncompromising crowd of a select few, seeking personal hedonistic pleasure, who are savvy in watchmaking, appreciate sartorial craft on their timepieces, and have a strong sense of style and refinement."
 PARMIGIANI FLEURIER
Taking its name from its founder, watchmaker and restorer Michel Parmigiani, the fine watchmaking brand was founded in 1996 in Fleurier, in the Swiss valley of Val-de-Travers. With its own watchmaking center ensuring its independence, the brand has both full control over the production process and unique creative freedom. For over twenty years, the Parmigiani Fleurier signature has resided within timepieces that command the utmost respect, in harmony with watchmaking traditions. They are the labor of a lifetime – that of Michel Parmigiani, the talented individuals who assist him, and the special relationship between the Manufacture and the masterpieces of the past, enabling it to invent a bold future.
TONDA PF CHRONOGRAPH
Product Technical Specifications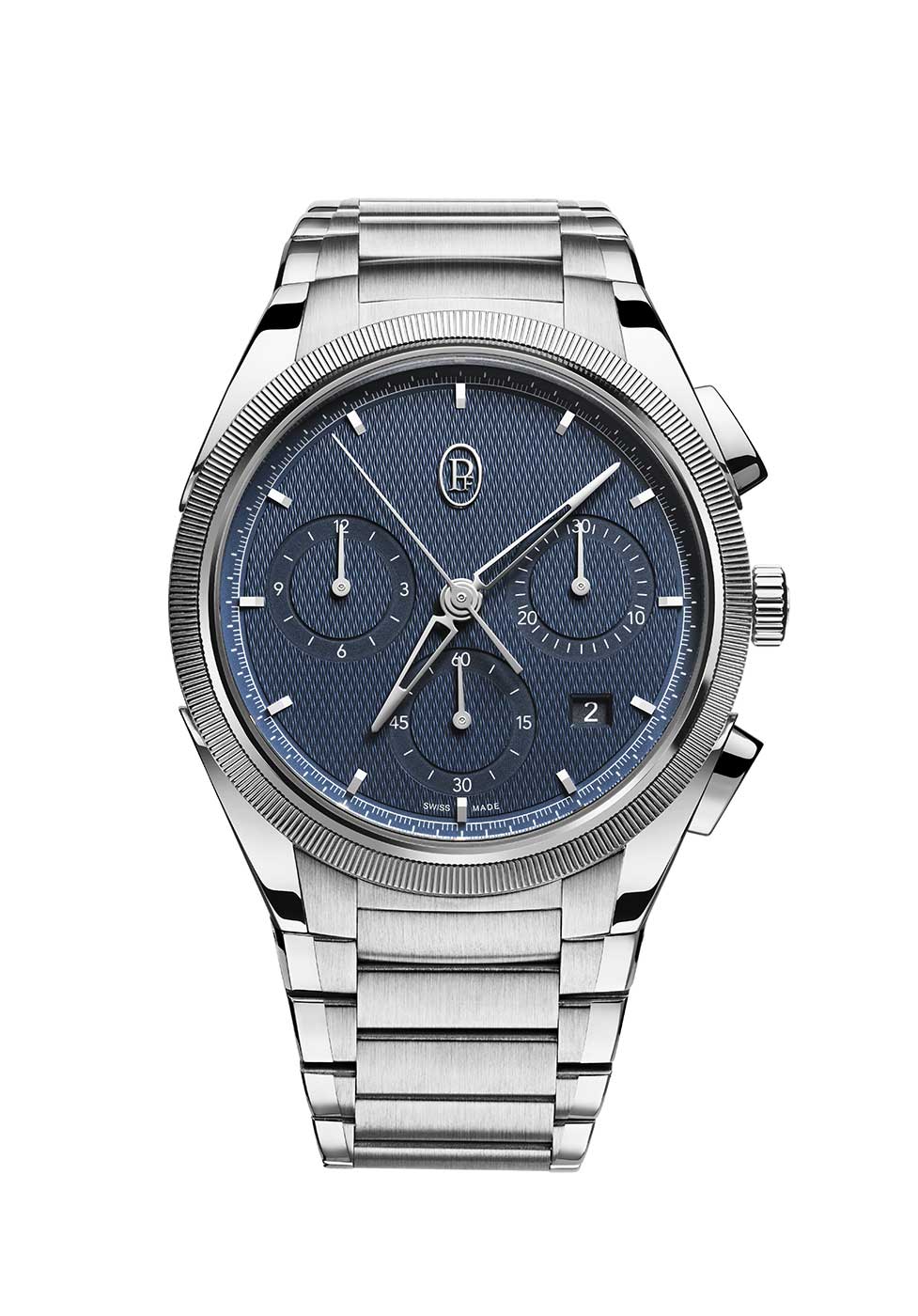 Ref: PFC915-1020001-100182
RSP: 28,000 CHF
Functions: hours, minutes, small seconds, date and chronograph
CALIBER
PF070 – COSC-CERTIFIED AUTOMATIC MANUFACTURE MOVEMENT WITH INTEGRATED CHRONOGRAPH
Power reserve: 65 hours
Frequency: 36,000 Vph (5 Hz)
Jewels: 42
No. of components: 315
Diameter: 30.6 mm
Thickness: 6.95 mm
Decoration: satin-finished open worked bridges, hand-beveled edges
Oscillating weight: skeletonized, 22ct rose gold¸ polished and sand-blasted
CASE
Polished and satin-finished medical stainless steel with platinum 950 hand-knurled bezel
Diameter: 42 mm
Thickness: 12.4 mm
Crown: Ø 6 mm, screwed-in
Glass: ARunic anti-reflective sapphire
Case back: sapphire glass
Engraving on case back: serial number & "PARMIGIANI FLEURIER" & "36'000 Alt/h"
Water resistance: 100 m
DIAL
Color: blue
Finishing: Grain d'Orge guilloché
Indices: hand-applied rhodium-plated appliqués
HANDS
Hours and minutes: 18ct gold rhodium-plated skeletonized delta-shaped
Chronograph and small seconds: steel rhodium-plated
BRACELET
Polished and satin-finished medical stainless steel bracelet
Closure: medical stainless steel folding clasp
TONDA PF CHRONOGRAPH
Product Technical Specifications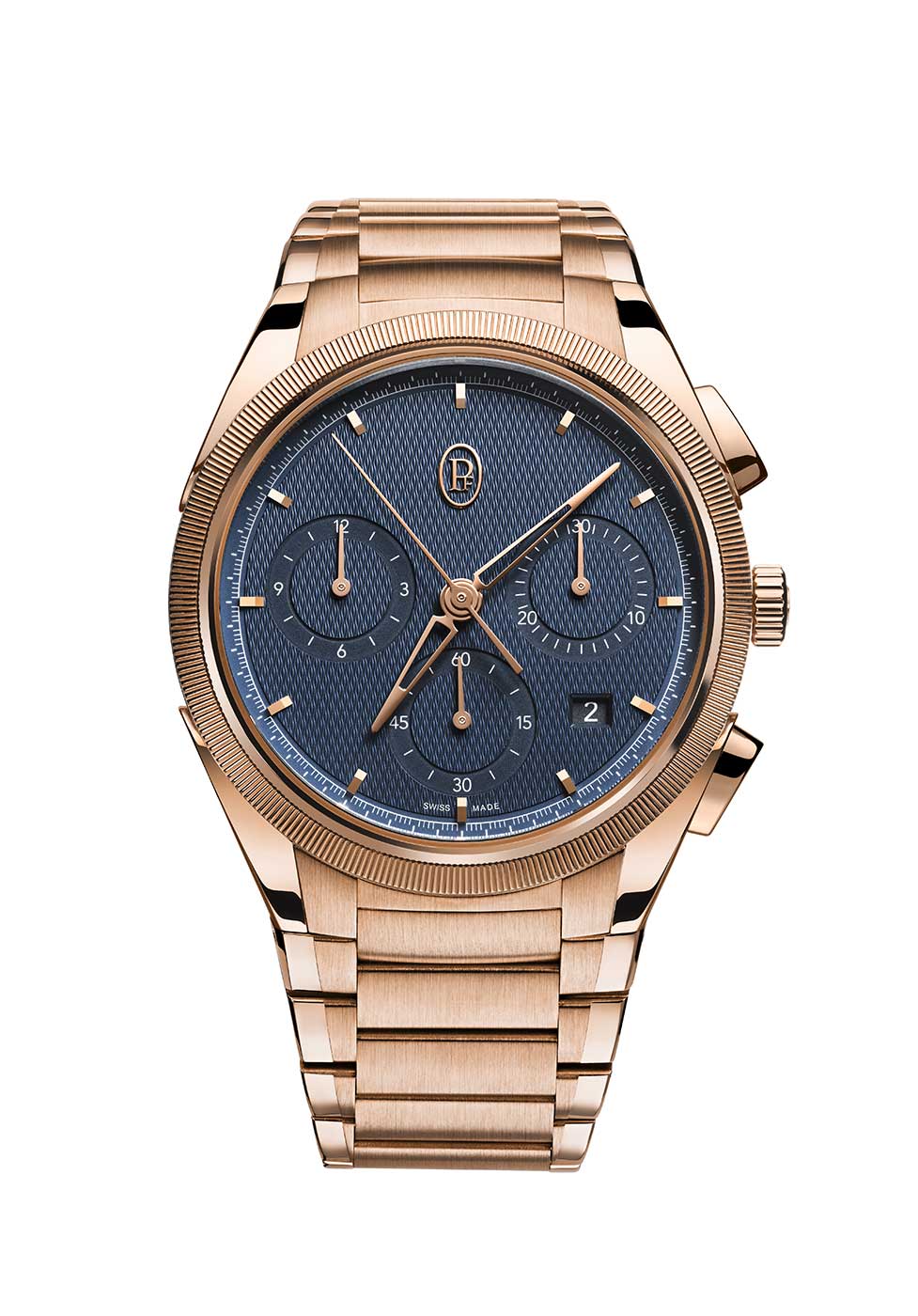 Ref: PFC915-2020001-200182
RSP: 63,000 CHF
Functions: hours, minutes, small seconds, date and chronograph
CALIBER
PF070 – COSC-CERTIFIED AUTOMATIC MANUFACTURE MOVEMENT WITH INTEGRATED CHRONOGRAPH
Power reserve: 65 hours
Frequency: 36,000 Vph (5 Hz)
Jewels: 42
No. of components: 315
Diameter: 30.6 mm
Thickness: 6.95 mm
Decoration: satin-finished open worked bridges, hand-beveled edges
Oscillating weight: skeletonized, 22ct rose gold¸ polished and sand-blasted
CASE
Polished and satin-finished eco-friendly 18ct rose gold with hand-knurled bezel
Diameter: 42 mm
Thickness: 12.4 mm
Crown: Ø 6 mm, screwed-in
Glass: ARunic anti-reflective sapphire
Case back: sapphire glass
Engraving on case back: serial number & "PARMIGIANI FLEURIER" & "36'000 Alt/h"
Water resistance: 100 m
DIAL
Color: blue
Finishing: Grain d'Orge guilloché
Indices: hand-applied 18ct rose gold appliqués
HANDS
Hours and minutes: 18ct rose gold skeletonized delta-shaped
Chronograph and small seconds: steel rose gold-plated
BRACELET
Polished and satin-finished eco-friendly 18ct rose gold bracelet
Closure: eco-friendly 18ct rose gold folding clasp