In 2021, the House of BOVET is featuring turquoise guilloche dials across its collections. The iconic Récital 27, Récital 23 and Monsieur Bovet are some of the -timepieces adorned in this stunning color.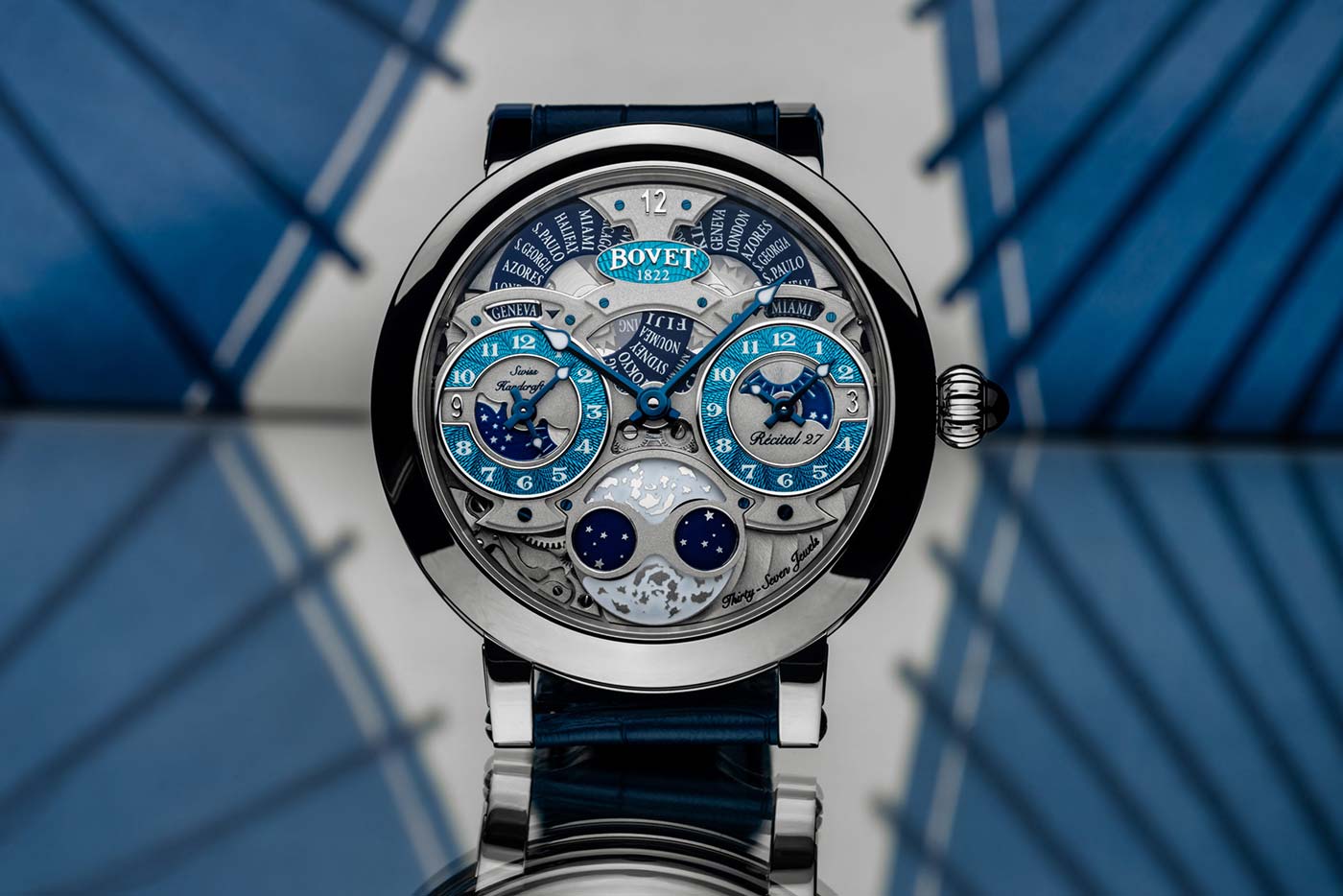 BOVET 1822 is known for its incredible dials, and the new turquoise guilloché dials do not disappoint. The dial-makers in the manufacture have expressed all of their skill by designing a dial that is equally complex and dazzling.
Guilloché is an ornamental technique that has been in use since the Middle Ages, though it was first used in the watchmaking industry in the 18th century. BOVET has used guilloché to great effect throughout its long history, and it is a welcome addition here, with its deep colors and mesmerizing pattern.
Here the guilloché pattern is applied to the base dial in the Manufacture, then topped with layer upon layer of translucent colored lacquer by our in-house artisans. Once the lacquer has dried, it is polished so that the pattern of the guilloché can be revealed and catch the light as the timepiece moves.
These guilloché dials are special, because they have a color-changing quality when the light hits them. From one angle, it looks like a deep, dark blue, but from another angle, it looks bright turquoise. You can get lost in these dials just by turning the timepiece in your hand, admiring the dial.
The new edition of the Récital 27 timepiece now features a turquoise guilloché dial. Using their extensive experience, BOVET 1822's watchmakers designed Récital 27 by making great use of the emblematic "writing slope" case's proportions and thus meeting collectors' expectations by offering them no fewer than three time zones.
The choice of three time zones is not insignificant. Historically, Maison BOVET was founded in three separate time zones simultaneously. Indeed, when it was founded on May 1, 1822, the Bovet brothers were already present in Switzerland, London and China. Beyond this historical anecdote, the three time zones offer collectors an answer suited to the modern world and to the immediacy of communications on a global scale.
A dome moon phase indicator completes the information appearing on the timepiece's dial. Its surface is engraved to evoke the lunar surface and for heightened realism, the lower sections hand-filled with Super-LumiNova®. The precision mechanism used to drive the moon phase requires correction only once every 122 years.
Available in grade 5titanium and in 18K red gold, the Récital 27 is offered in a limited edition with lovely turquoise guilloche dials.
Récital 27
TECHNICAL SPECIFICATIONS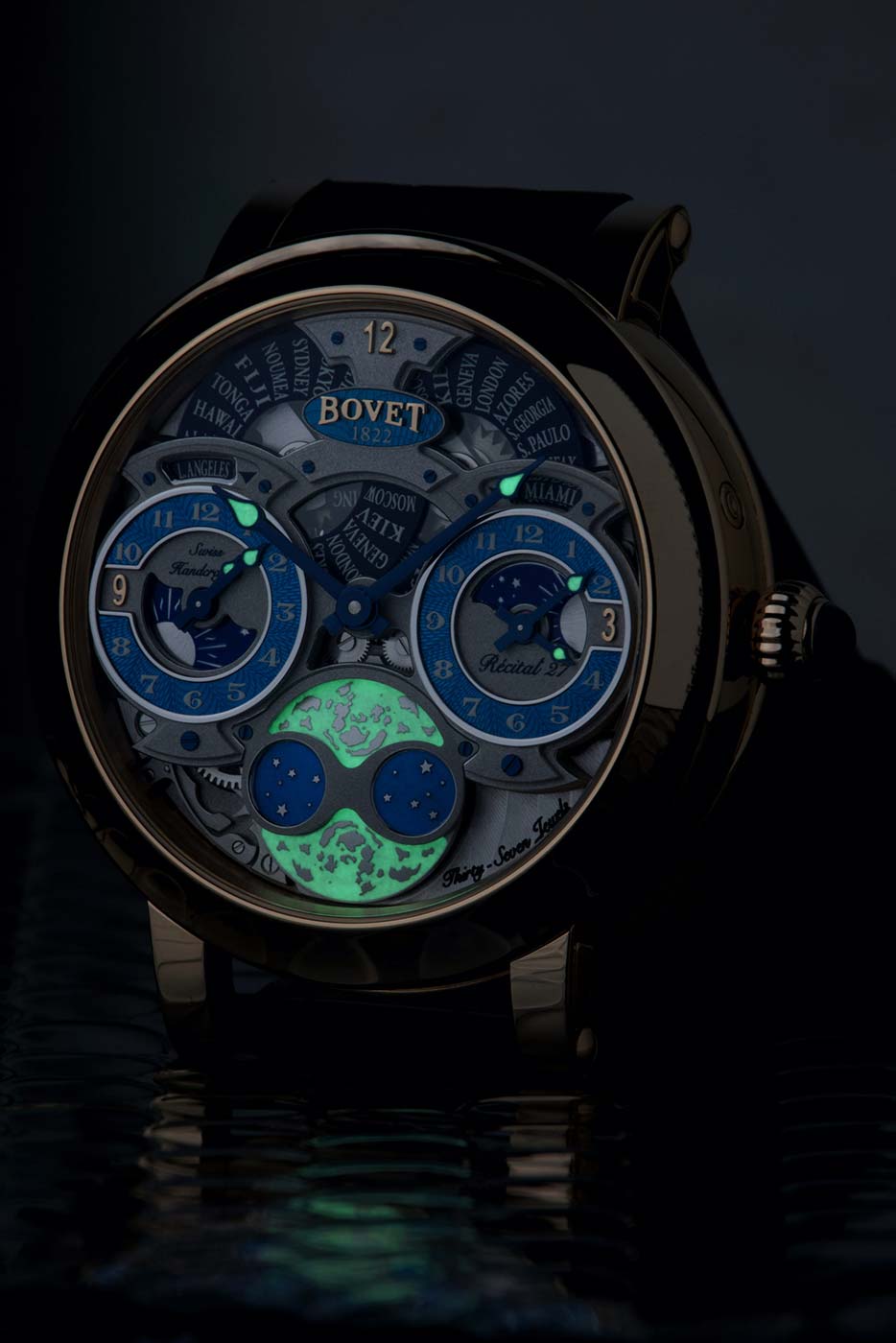 Reference Number: R270011/01,titanium
R270011/46, 18 K redgold
LIMITED EDITION 60 timepieces
CASE
Type: Dimier « writing desk » case
Diameter: 46.30 mm
Thickness: 15.95 mm
Material: titanium or 18K red gold
Bracelet: Full skin alligator
Buckle: 18K white or red gold ardillon
Water resistance: 30m
Caliber: 17DM04-3FPL
Type: Hand wound movement
Diameter: 13½ '''with 16'''module
Frequency: 21,600V/h
Power reserve: 7 days
Functions: Hours, minutes, 2nd time zone (hours and minutes), 3rd time zone (hours and minutes), 24 cities indicator and day/night indicator for 2nd and 3rd
time zone, double hemisphere moonphase and power reserve indicator, sub-seconds on the back
DIAL: Guilloché Turquoise with Lotus flower motif
GUARANTEE: 5 years
PRICES: USD 78'500.- (R270011/01)
USD 84'000.- (R270011/46)
Récital 23
Elegant hour and minute hands gracefully glide over the off-set turquoise guilloche dial, which makes room for the precision moon phase of the Récital 23. In addition, every hour, when the hour and minute hands overlap, their atypical designs form the shape of a heart, outlined in negative space.
Presented in the form of a hemispherical dome, the moon phase indicator majestically corresponds to the volume of the "writing slope" case. The dome's surface is engraved to evoke the lunar surface and filled with luminescent material. This feat is all the more remarkable due to the indicator's camber. It is read via a three-dimensional circular aperture that singlehandedly requires over a day's work to be manufactured and decorated. The precision mechanism used to drive the moon phase requires correction only once every 122 years.
Keen to develop useful complications that would allow everyday use of the timepiece, Mr. Raffy — BOVET 1822's Owner —sought to incorporate a push button into the cabochon of the crown so as to be able to adjust the moon phase. The latter is therefore easily modified without needing to use the slightest tool.
Timeless and symbolic, the new limited edition Récital 23 represents the values which drive Mr. Raffy and the artisans of BOVET 1822: passion for fine watchmaking, and a devotion to perpetuate BOVET 1822's illustrious history with noble new expressions of the timekeeping art.
Récital 23
TECHNICAL SPECIFICATIONS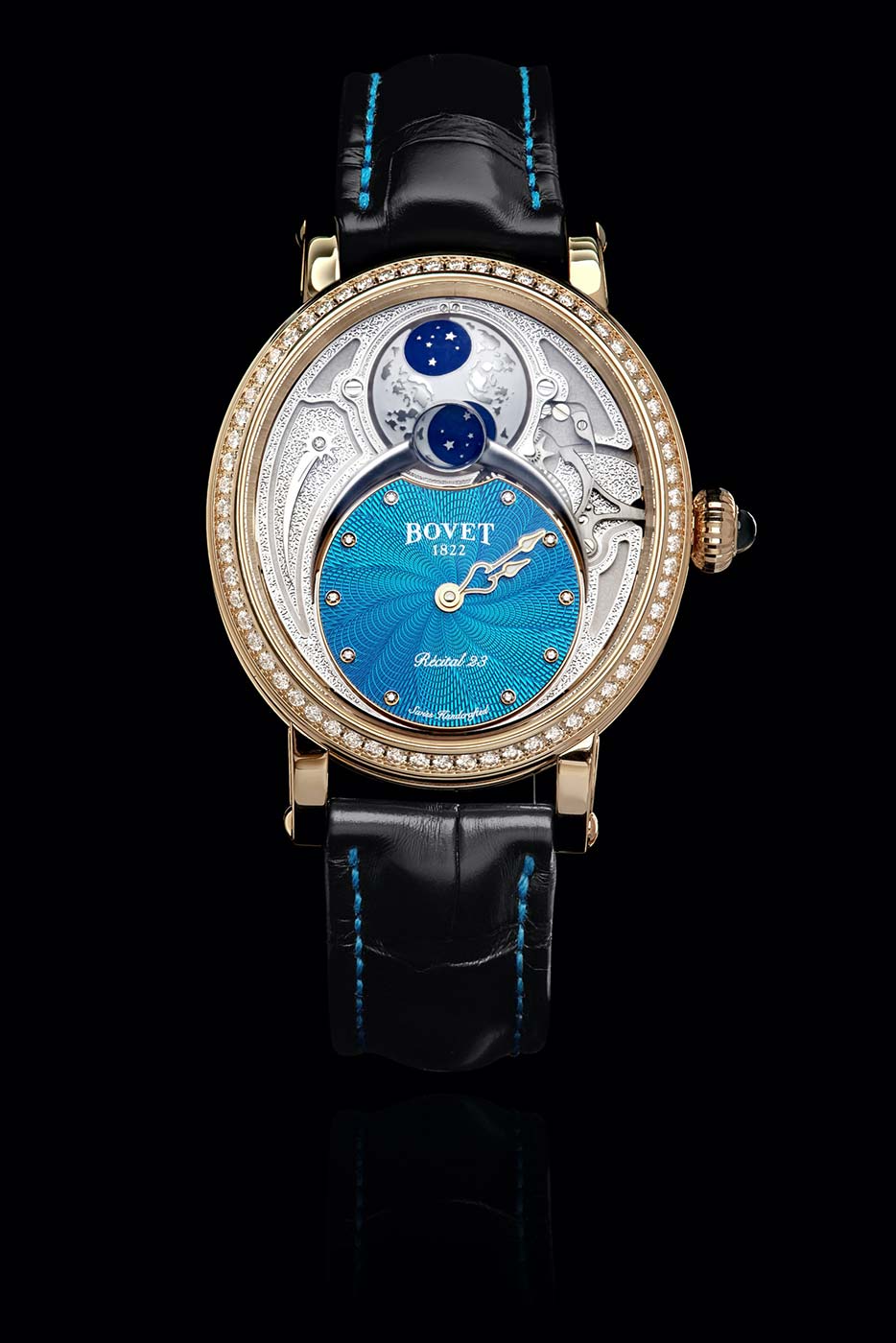 Reference Number: R230012/02/SD1, 18K red gold, Guilloché Turquoise dial
R230011/XX/SD14, 18K red gold, Guilloché Turquoise dial
Limited Edition to 60 timepieces
CASE
Type: Dimier « writing desk » case
Diameter: 43 x 38.70 mm
Thickness: 14.40 mm
Material: 18K red or white gold
Bracelet: Full skin alligator
Buckle: 18K red or white gold ardillon
Setting Case: 174 round cut diamonds (0.99 ct)
Bezel: 72 round cut diamonds (1.00 ct)
Water resistance: 30m
MOVEMENT
Caliber: 11DA17-MP
Type: Self-winding movement
Diameter: 11½''' with 17½''' x 12¾''' module
Frequency: 28,800 V/h
Power reserve: 62 hours Functions Off-centre hours and minutes, moon phase
DIAL: Guilloché Turquoise with 10 round diamond indexes
PRICES: USD 62'000.- (R230012/02/SD1)
USD 118'000.- (R230011/XX/SD14)
Monsieur Bovet
Since its launch in 2015, Monsieur Bovet has become the symbol of timepieces featuring the iconic patented Amadéo® convertible case, which allow you to transform your timepiece from the wrist (and show both sides, with reversed hand fitting) to a pocket/pendant watch to a desk clock, all without any tools. Its elegance, understated design, and two faces make it a fitting timepiece for every moment in the life of the modern man.
This precious timepiece is powered by an in-house movement with double co-axial seconds with seven days of power reserve from a single barrel. This extraordinary power reserve demonstrates how BOVET's artisans and watchmakers have perfectly mastered the art of energy, meticulous hand-crafting finishes on each of the movement's components, following the traditional methods that the Bovet brothers used back at the dawn of the 19th century. All this combines to reduce the friction of the components in the movement, meeting the highest criteria in fine watchmaking. The guilloché motif on Monsieur Bovet's two dials is an extension of the House of BOVET's symbol since 1822: a lotus flower with twelve petals that symbolizes the twelve hours on the dials.
BOVET 1822's craftsmen have once again skillfully combined their talents to create these special timepieces. The procedure to produce these dials is extremely delicate, and yet guarantees the legendary excellence of the dials and timepieces that Maison BOVET 1822, dedicated to art and engineering brilliance, has been manufacturing for almost two centuries.
Monsieur Bovet
TECHNICAL SPECIFICATIONS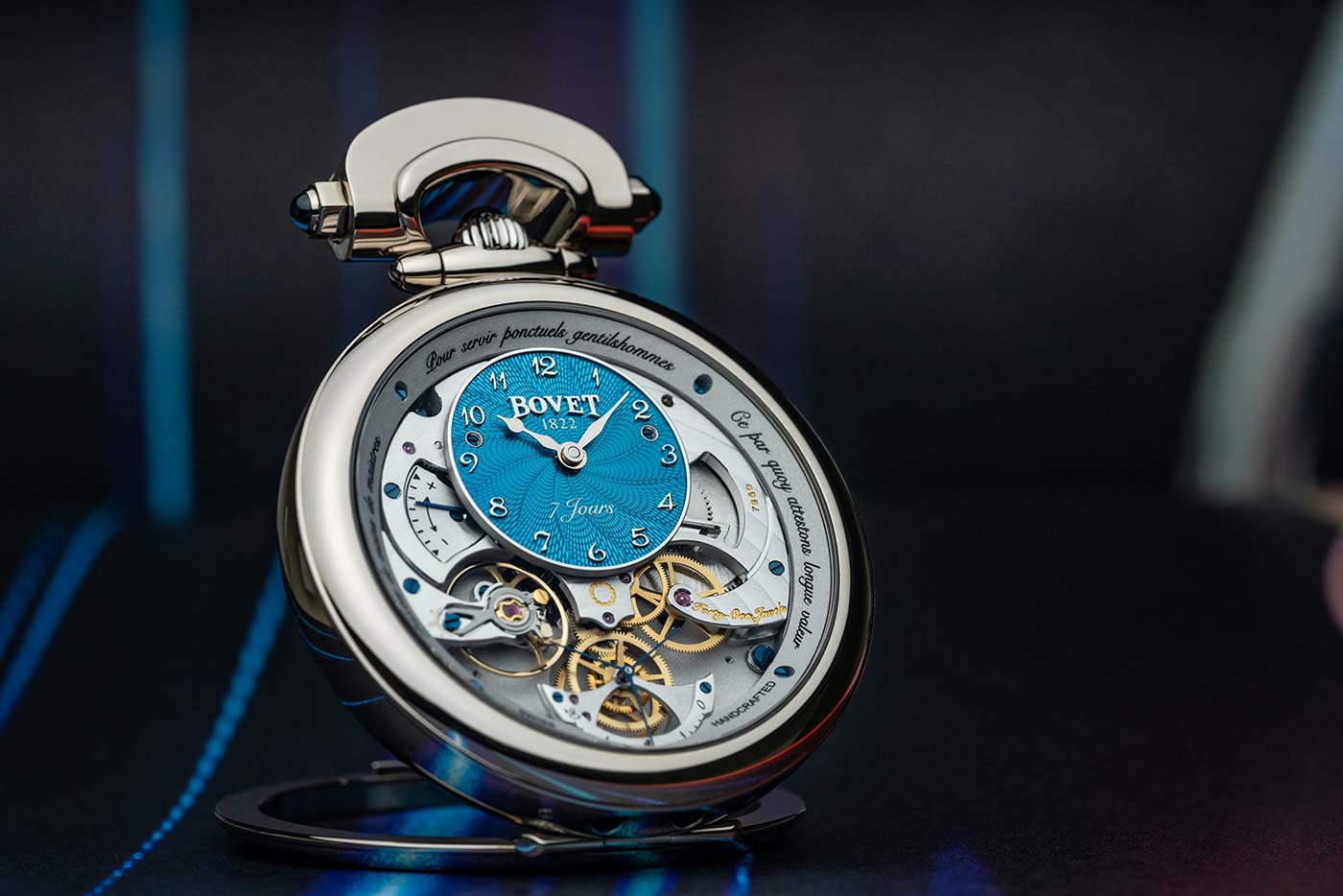 Reference Number: AI43030/07 (18K white gold)
AI43031 (18K red gold)
Limited Edition to 60 timepieces
CASE
Type: Amadéo® convertible system
Diameter: 43 mm
Thickness: 12.35 mm
Material: 18K red or white gold
Strap: Full-grain alligator
Buckle: 1 8K red or white gold ardillon
Chain: 18K gold-plated silver or rhodium-plated silver
Water resistance: 30m
MOVEMENT
Caliber: 13BM09A1
Type: Hand-wound
Diameter: 13 ¾'''
Frequency: 21,600 vph
Power reserve: 7 days
Functions: Hours, minutes, double coaxial seconds, reversed
hand-fitting, (hours, minutes and seconds), power
reserve indicator
DIALS: Turquoise guilloche with Lotus flower motif
PATENTS: Convertible Amadéo® case
Double coaxial seconds
WARRANTY: 5 years
PRICES: USD 60'000.- (red gold)
USD 63'000.- (white gold)