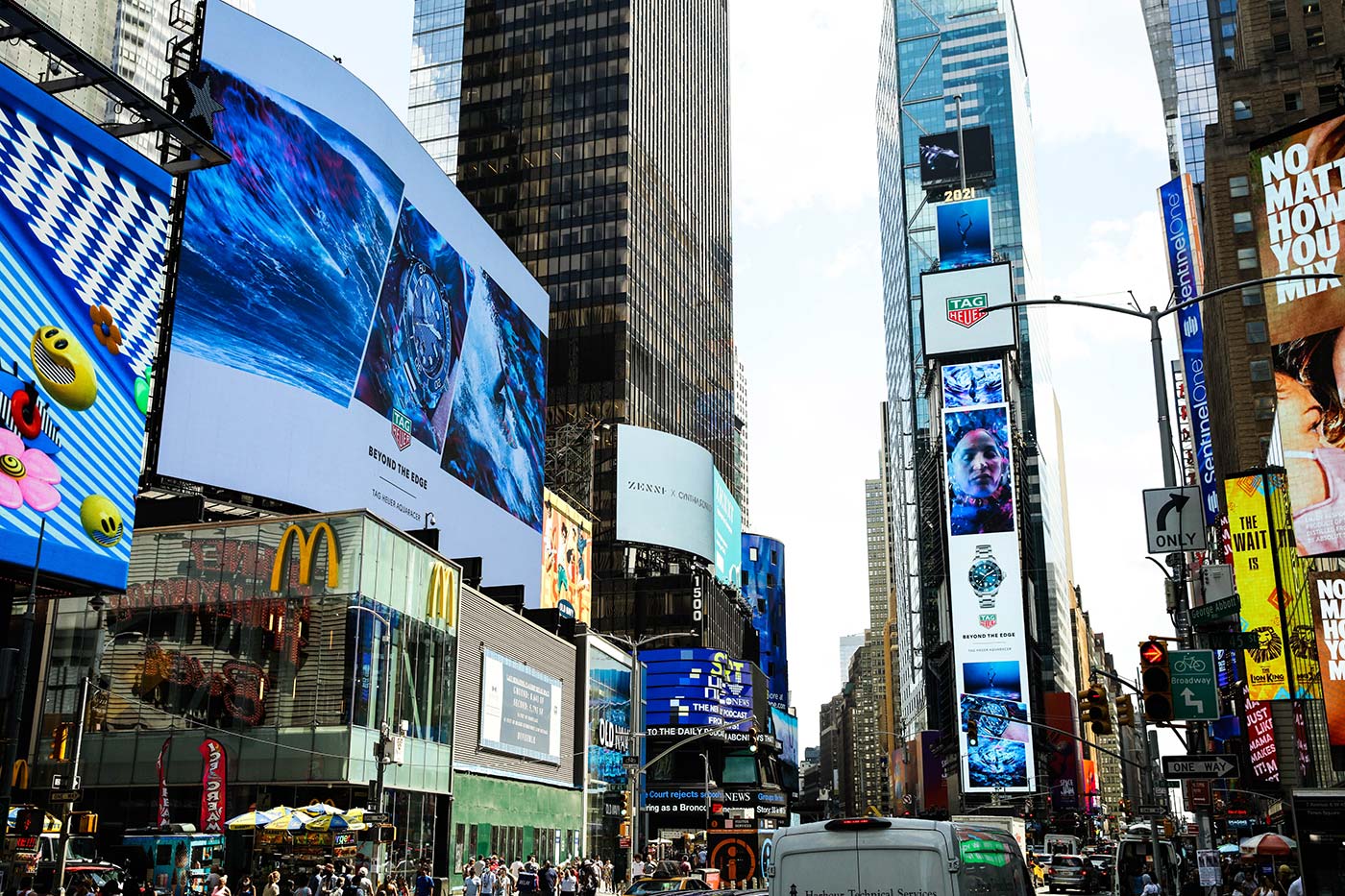 Following the reveal of its new TAG Heuer Aquaracer campaign "Beyond the Edge" on 24th June 2021, TAG Heuer pays further tribute to the launch of the new TAG Heuer Aquaracer Professional 300 collection with larger-than-life displays in Time Square, New York City, Piccadilly Lights, London, as well as at the Y&J in Melbourne starting today.
La Chaux-de-Fonds, Switzerland 29th June 2021 : To celebrate the launch of the new TAG Heuer Aquaracer Professional 300, the ultimate luxury tool watch, the Swiss luxury watchmaker is taking over these iconic and bustling locations starting June 28th
With these larger-than-life displays in the heart of the most dynamic cities in the world, the brand unveils its new creative campaign, "Beyond the Edge", sublimating the art and power of extreme watersports,
in an explosion of saturated colors and vibrant energy.
The public will be mesmerized by the journey into transcendent ocean depths, following free divers, surfers and cliff divers as they conquer their own fears and limits to find themselves.
Video created by DDB Paris and directed by young Swiss filmmaker Jonas Egi, three outstanding athletes explore their own limits: TAG Heuer Ambassador and big wave surfer Kai Lenny, the freediving champion, videographer and Friend of the Brand Julie Gautier, as well as the talented cliff diver Robin George.
On the crest of a giant wave, in the blue depths of the ocean, and flying through the air …
"We're proud and excited to see the new TAG Heuer Aquaracer come to life in such a breathtaking campaign where the forces of the extremes reveal what we are really made of and performance is forever redefined", explains George Ciz, Chief Marketing Officer for TAG Heuer, "We look forward to introducing this tough yet elegant collection to our local clientele and matching them with a companion for their next adventure, big or small."
The campaign pays tribute to the launch of the new TAG Heuer Aquaracer Professional 300 collection, the ultimate luxury tool watch, which was unveiled at Watches and Wonders Geneva 2021, and which
is now available in retail stores. Appreciated by active, style-conscious watch lovers who push their limits, explore the seas and go beyond the edge, it emerges with a bright new look, new materials and a new lease of life as it sets a new high-water mark for ergonomic, extreme-performance mechanical watches. Designed for work and play, and to soak up nature's harshest challenges, it's a pure symbol
of TAG Heuer's fearless, avant-garde spirit.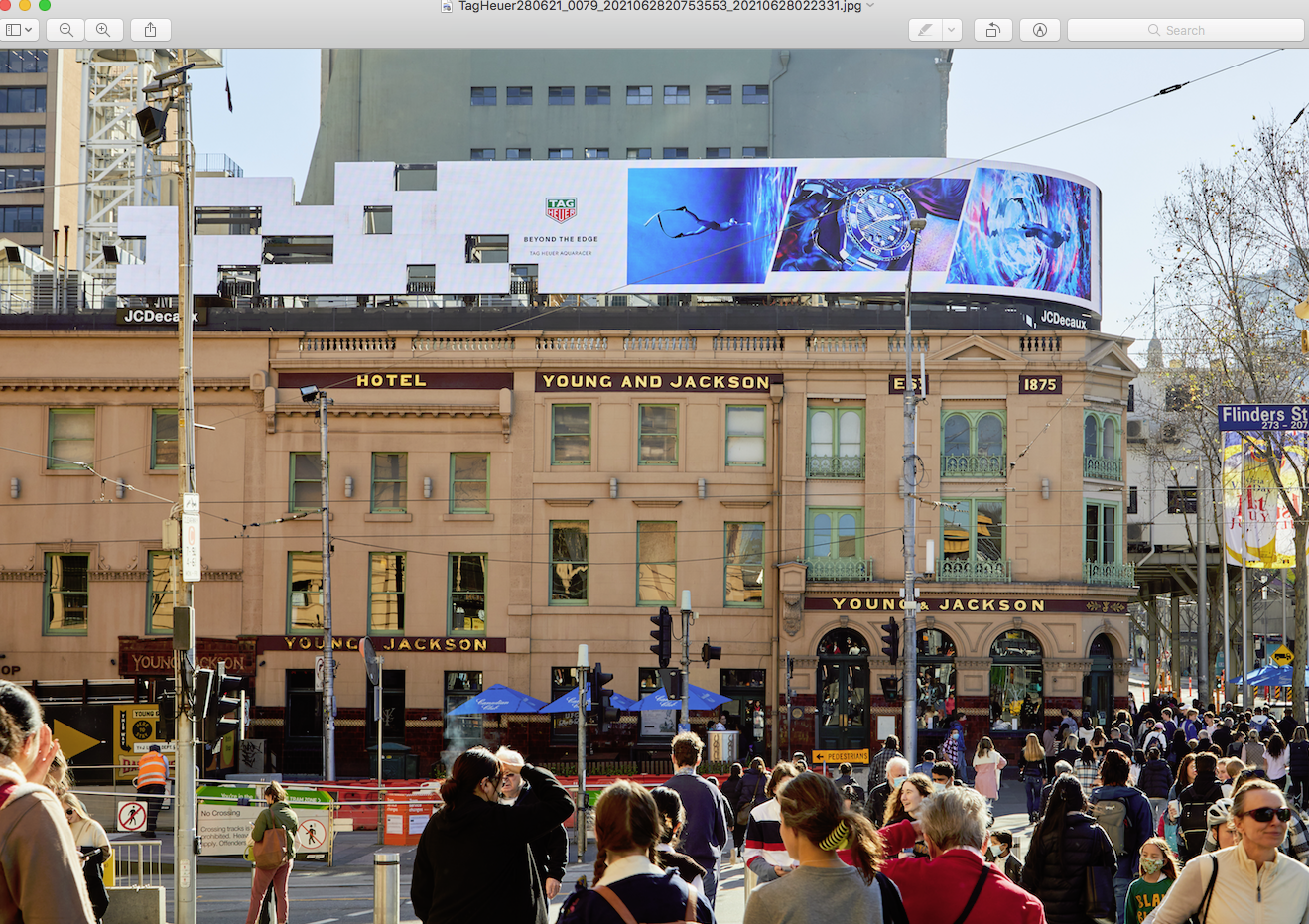 @TAGHEUER
#TAGHEUERAQUARACER
#BEYONDTHEEDGE
About TAG Heuer
TAG Heuer, founded in 1860 by Edouard Heuer in the Jura Mountains of Switzerland, is a luxury watch brand that is part of LVMH Moët Hennessey Louis Vuitton SE ("LVMH"), the world's leading luxury group.
Based in La Chaux-de-Fonds, Switzerland and with four production sites, TAG Heuer has 1470 employees and is active in 139 countries. TAG Heuer products are available online on www.tagheuer. com for select countries and in 160 boutiques and 3,000 points of sale worldwide. The company is headed up by Frédéric Arnault, CEO of TAG Heuer.
For 160 years, TAG Heuer has demonstrated pure avant-garde watchmaking spirit and a commitment to innovation with revolutionary technologies that have included the oscillating pinion for mechanical stopwatches in 1887, the Mikrograph in 1916, the first automatic-winding chronograph movement – Calibre 11 – in 1969 and the first luxury smartwatch in 2015. Today, the brand's core collection consists of three iconic families designed by Jack Heuer – TAG Heuer Carrera, Monaco and Autavia – and is rounded out with the contemporary Link, Aquaracer, Formula 1 and Connected lines.
Capturing TAG Heuer's motto, "Don't Crack Under Pressure", are prominent partnerships and brand ambassadors that express the brand's passion for action and high performance.
www.tagheuer.com
@TAGHeuer
Downloads:
All press material can be obtained free of charge at https://presscorner.tagheuer.com/directlogin
For further information, please contact:
Tiziana Tedeschi
International PR Director TAG Heuer
+41 (0)79 255 99 01
tiziana.tedeschi@tagheuer.com
Fabiola Bobbio
International PR Manager TAG Heuer
+41 (0)79 204 88 77
fabiola.bobbio@tagheuer.com
Julien Baudet
International PR Project Manager TAG Heuer
+41 (0)79 866 52 56
julien.baudet@tagheuer.com