Source:  Images and content by Vacheron Constantin
http://content.presspage.com/uploads/1999/87753436-44c3-4dca-81f7-5d1c6d575fd5/500_vac-suite-1755-14.jpg?10000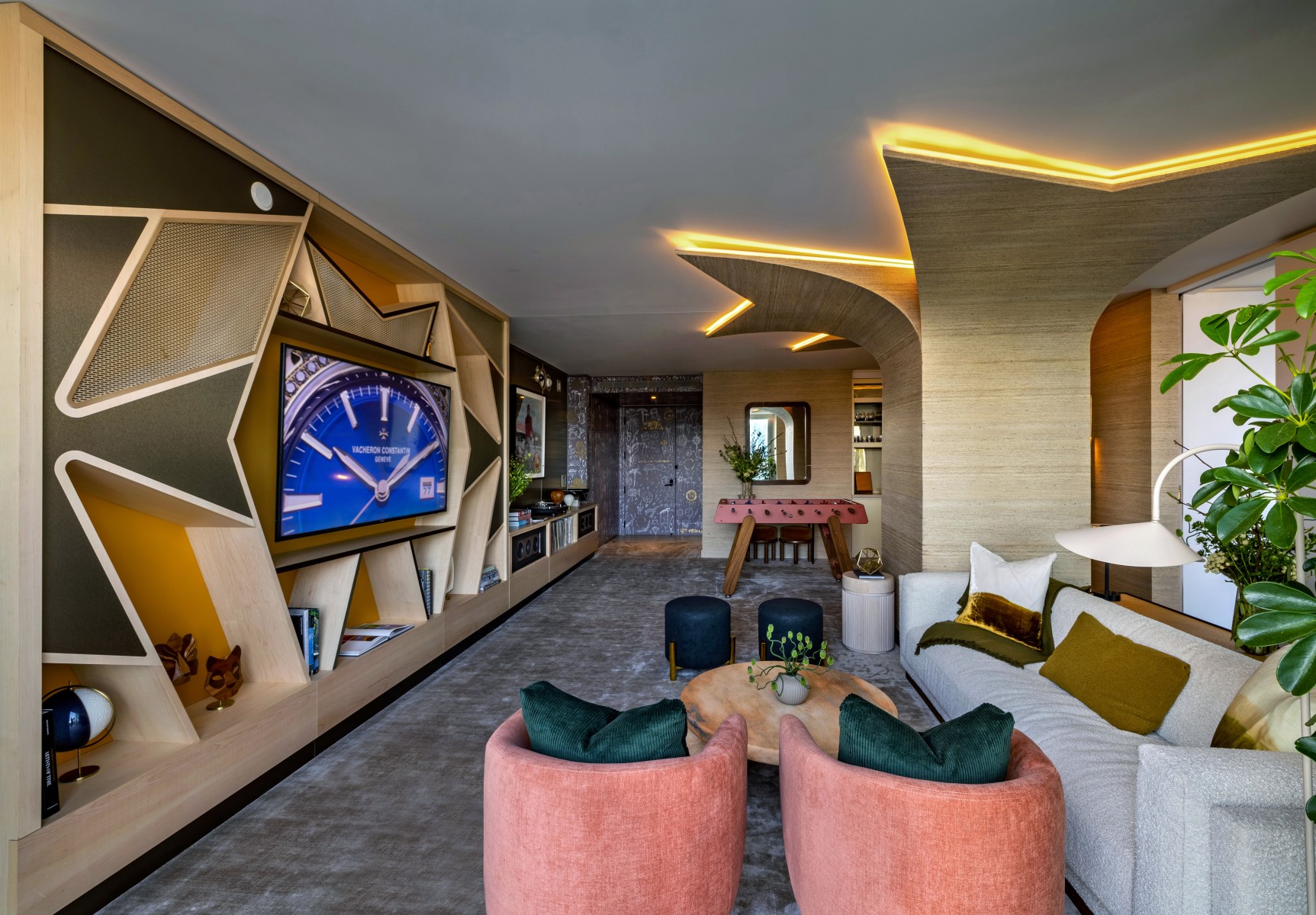 Suite 1755 offers a private, appointment-only space for connoisseurs and collectors while the Beverly Hills Boutique undergoes a complete renovation.
Historically important archive pieces will be on display alongside a full range of modern timepieces.
The designs and glamour of Hollywood are on full display across historic pieces, including a personal piece of actor and style icon Marlon Brando.
Vacheron Constantin announces Suite 1755, an intimate space celebrating high watchmaking and glamorous style of Los Angeles.
Swiss Haute Horlogerie manufacturer Vacheron Constantin announces Suite 1755, located at the West Hollywood Edition, which pays tribute to the art of high watchmaking and the glamour of Hollywood. Offering guests a uniquely conceived space to enjoy during the total renovation of the Rodeo Drive Vacheron Constantin Boutique, Suite 1755 beckons visitors to explore Vacheron Constantin's long-standing quest for excellence, innovation, and artistry in a wholly new way.
Los Angeles, CA, April 27th, 2023
Vacheron Constantin, the luxury Swiss watchmaking Maison with over 265 years of expertise and continuous history, announces the launch of Suite 1755, combining haute horlogerie excellence with the glamour of Hollywood to create a uniquely intimate space to explore both. Located in the West Hollywood Edition, Suite 1775 offers a private, immersive experience which will run from April 27th to early July, 2023.
Suite 1755: an immersive, experiential space
Taking inspiration from Los Angeles' rich history of influential art and culture, Suite 1755 offers a unique space to experience the confluence of the art of fine watchmaking and the decadence and style of Hollywood. The space offers a completely unique experience – modeled after a midcentury LA bungalow to reflect a relaxed, private setting for connoisseurs to engage with Vacheron Constantin on a new level. Throughout the space, guests will be immersed in art by famed Los Angeles artist Sid Avery, who famously shot intimate moments of Old Hollywood's' most private stars such as Marlon Brando and Elizabeth Taylor, as well as by emerging LA-based artists Gregory Siff and Gena Milanesi.
Within Suite 1755, guests will channel the glamour of Hollywood alongside daring and timeless designs from Vacheron Constantin's archive. From Art-Deco inspired pieces crafted during the Roaring 20's, to a Vacheron Constantin gifted to Marlon Brandon by Zsa Zsa Gabor in 1954, to a rare Metiers D'Art Kalla Haute Couture reminiscent of the unique piece owned by Elizabeth Taylor, unexpected and bold designs across the decades will be on display, illustrating Vacheron Constantin's history of unexpected elegance in design which has made the Maison a favorite of style icons the world over. The archival pieces are complimented by a complete range of modern timepieces which reflect Vacheron Constantin's continued pursuit of high watchmaking, sophistication, and glamour.
"Vacheron Constantin has always had distinctive style, putting a twist on classic elegance, which is a large part of why we have been so embraced by Hollywood throughout the years. Suite 1755 celebrates this connection and the shared creative spirits between Vacheron Constantin and Los Angeles. It provides a unique opportunity for our guests to gain a deeper understanding of the Maison's heritage, craftsmanship and technical excellence. I look forward to welcoming connoisseurs and watch enthusiasts to this beautiful new space to experience Vacheron Constantin." says Alexander Schmiedt, President of Vacheron Constantin Americas.
A Commitment to Art & Culture
Throughout its long history, Vacheron Constantin has demonstrated a deep commitment to the arts. Across the Americas, Vacheron Constantin has hosted a series of exhibitions to showcase work by American artists including performance artist and sculptor Chris Burden, photographer Cory Richards, contemporary pop artist Jojo Anavim, filmmaker Louis Schartzberg and interdisciplinary New York artist Melissa McGill. Additionally, the Maison's global partnership with the Louvre, embodies Vacheron Constantin's unwavering dedication to artistic craft and the archiving, conservation and restoration efforts required to perpetuate the related arts and crafts. Suite 1755 marks the next chapter in Vacheron Constantin's continued relationship with the artistic community and embracing creativity in all forms.
A 190 year love story with America
In 1831, Jacques Barthélémi Vacheron wrote a letter stating his intent to expand business to the United States, and in 1832 the company established its first agent in New York. By the twentieth century, Vacheron Constantin timepieces could be found on the wrists of Hollywood Icons including actors Marlon Brando and Elizabeth Taylor, as well as eminent Americans such as members of the Rockefeller family, Henry and William James, and automobile manufacture James Ward Packard to name a few. Of the many innovative and historically important Vacheron Constantin timepieces, special references inspired by American clients include one of the first large wristwatches for aviators, a series of pocket watches for the U.S. Corps of Engineers during WWI, and just a few years later, the cushion-shaped "American 1921", a classic yet daring tilteddial design created for the American market.
———————————————————————————–
Sum-up
Vacheron Constantin announces the launch of 'Suite 1755', a brand discovery experience that pays tribute to the glamour of Hollywood and art and music culture of Los Angeles, combining High Watchmaking excellence with the heritage of LA. Located at the West Hollywood Edition, the appointment-only experience will run from April 27th to early July, 2023. The appointmentonly, immersive space allows guests to explore the Maison's culture and history of watchmaking in an environment which showcases the unique artistic influences of Los Angeles. The limited time space distills haute horlogerie through the lens of art and culture.
About Vacheron Constantin
Founded in 1755, Vacheron Constantin is the world's oldest watch Manufacture in continuous production for over 265 years, faithfully perpetuating a proud heritage of watchmaking excellence and stylistic sophistication through generations of master craftsmen. At the pinnacle of Haute Horlogerie and understated elegance, the Maison creates timepieces with unique technical and aesthetic signatures, and an extremely high level of finishing touches. Vacheron Constantin brings to life unparalleled heritage and a spirit of innovation through its collections: Patrimony, Traditionnelle, Métiers d'Art, Overseas, Fiftysix, Historiques and Égérie. It also offers its discerning clientele of connoisseurs the rare opportunity to acquire unique and bespoke timepieces by means of its "Les Cabinotiers" department.
A Celebration of Art and Artists
About Sid Avery
Sid Avery is known for his unique photographs of of golden-age Hollywood's greatest stars, capturing private moments that were previously kept away from public eyes – Marlon Brando taking out the trash, Elizabeth Taylor sunbathing, Anthony Perkins waxing his car. Sid gained access to nearly every major Hollywood personality of the mid-20th century and, through his disarming charm and honest compassion, had the rare privilege to capture images of them as their unguarded, authentic selves. "That's Hollywood for you, then and now—a precious, private village where the citizens either live in glass houses or barricade themselves behind fortresses," critic Josef Woodard wrote in the Los Angeles Times in a review of of Sid Avery's work. "[His] photographs gain charm with the passage of time, as we look back on the pre-counterculture era with longing. Innocence isn't what it used to be."
About Gena Milanesi
Gena Milanesi is a self-taught artist whose work oscillates between abstract and figurative, each complimentary of the other with feminine overtones. In recent works, the final picture is a record of deliberate movements that almost interrogate a conversation between her use of mixed media. Milanesi's practice is an instinctive exploration of calculated and spontaneous gestures. As a dual-citizen of the United States & United Kingdom & spending many years in Scotland throughout her life, she often reverts to her roots as a source of inspiration. Milanesi currently works/lives in Los Angeles and guest lectures at the University of Southern California, Marshall School of Business.
About Gregory Siff
Gregory Siff was born in Brooklyn, New York in 1977, and now resides and works in Los Angeles. Painting in a purposeful yet playful manner, his work exhibits meaning that is literal yet open for interpretation of nostalgia and childhood. Capturing happy moments while also tackling more serious topics, like the "Black Lives Matter" campaign, Gregory Siff does not shy away from using his art to initiate a conversation. He creates his iconic "storyboards" with each image representing an emotional or creative state of mind the artist considers to be a meaningful fragment of life.
———————————————————————————–
EXHIBITION INFORMATION
Suite 1755 at the West Hollywood Edition
Dates
April 27th to early July, 2023
Time
Appointment Required
10:00am – 5:00pm
Location
The Edition
9040 W. Sunset Blvd.
West Hollywood
California, 90069