Source:  Images and content by Vacheron Constantin
http://content.presspage.com/uploads/1999/500_vac-ginza-flagship-1.jpg?10000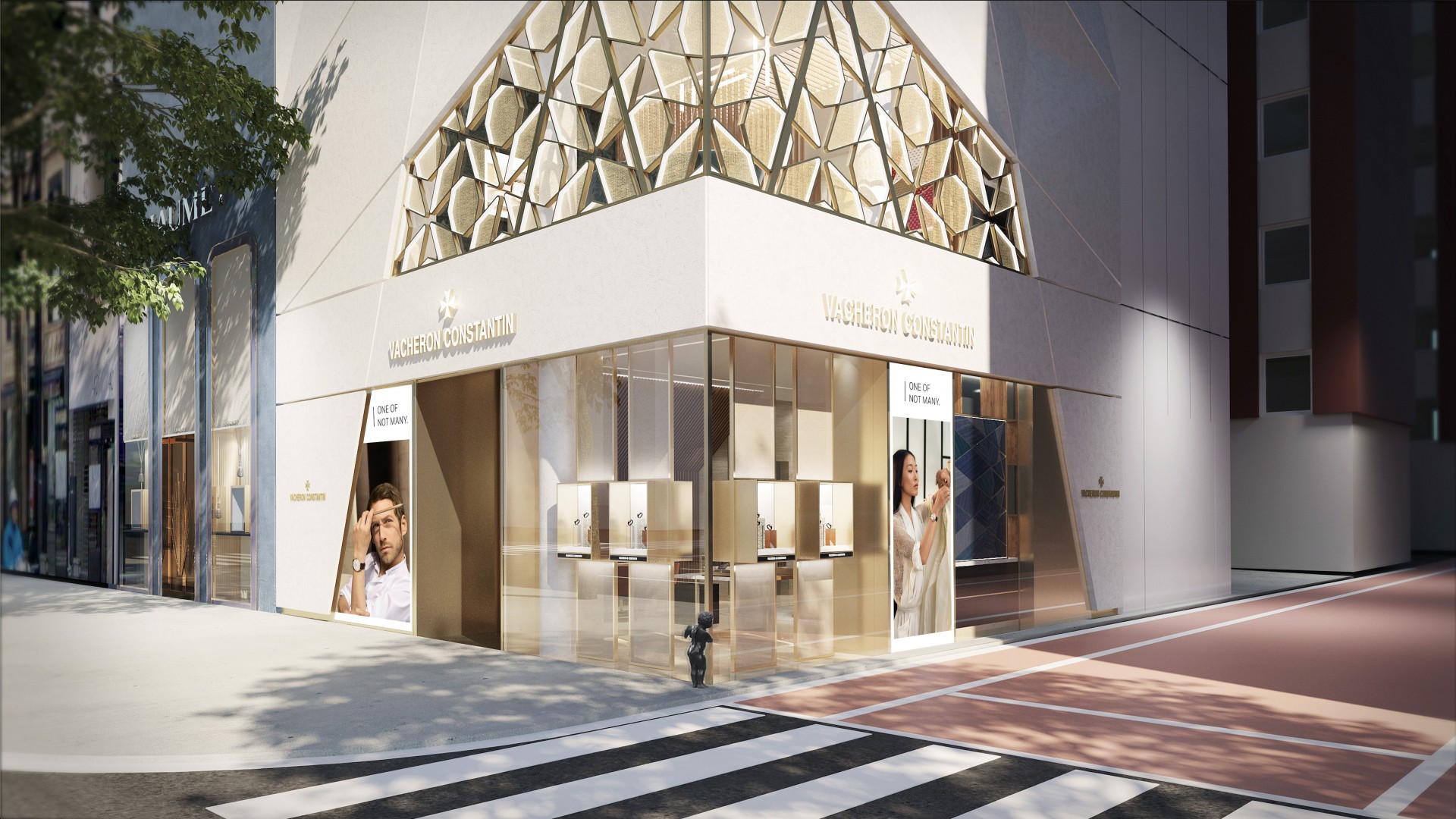 Vacheron Constantin opens its flagship boutique in Ginza on December 5th 2021.

Customer-first experiences include an in-house watchmaker, customised strap/bracelet service, and the first permanent Les Collectionneurs vintage offer in Japan.

To celebrate this flagship, a selection of Les Cabinotiers single-edition timepieces is exceptionally showcased.

Artworks from the renowned Japanese illustrator, Sugio YAMAZAKI, is exhibited on this occasion.
Tokyo, October 2021 – Luxury Swiss watchmaker Vacheron Constantin, the world's oldest watch Manufacture in continuous production for over 266 years, is delighted to announce the opening of a new flagship in the heart of Tokyo, in Ginza at 4-chome. This new Ginza boutique pays tribute to the Maison's longstanding history with Japan which dates back to 1917 and to the commitment to outstanding customer service.
"We are delighted to welcome enthusiasts and connoisseurs to Vacheron Constantin's world of Haute Horlogerie and tradition. This new flagship gives us a wonderful opportunity to further develop our enduring relationship with Japanese clients and offer them best-in-class service. We hope that its prominent location and outstanding façade inspired by the Maison's emblem, the Maltese cross, will contribute to establish it as one of Ginza's finest landmarks", said Vincent Gouget, Vacheron Constantin Japan Managing Director.
The story of Vacheron Constantin and Japan
In the 19th century, Geneva was already an international crossroads and a must-visit for the Japanese public keen on acquiring high-precision timepieces, members of the diplomatic corps, people passing through for leisure purposes, aristocrats, and many others. Acknowledged for expertise and the quality of its products, Vacheron Constantin naturally acquired a considerable portion of this clientele.
At the beginning of the 20th century, there were already records of Japanese customers purchasing watches at Vacheron Constantin in Geneva. The Maison was introduced into Japan after signing an exclusive contract with an import agency in 1917.
In 1921, Vacheron Constantin earned recognition from some famous figures including Inazo NITOBE, author of the book entitled Bushido; Baron Tetsutaro Megada, appointed Deputy Secretary-General of the League of Nations and also a member of the Japanese imperial family. In 1937, HRH Prince Chichibu Yasuhito (1902-1953, brother of Mikado Hirohito) and Princess Setsuko, known as "Princess Chichibu" visited the Vacheron Constantin boutique in Geneva and signed the guest book at this occasion. In 1953, His Majesty the Emperor Emeritus Akihito (the 125th Emperor of Japan) visited the Vacheron Constantin boutique and Manufacture workshops. He was welcomed by Léon Constantin and discovered the various stages involved in the production of watches.
In-house watchmaker, customer-first service
As a demonstration of the Maison's commitment to customer-centered service, the second floor opens onto a watchmaking bench intended to encourage interaction with an in-house watchmaker and which will be flanked by a custom strap/bracelet station featuring an innovative watch display instrument.
Ginza Flagship will be one of the very few boutiques in the world to permanently showcase a selection of "Les Collectionneurs" vintage timepieces. According to a defined yearly schedule, rotating exhibitions of historical timepieces from the Maison private heritage collection in Geneva will also be on display.
Introducing the Vacheron Constantin collection
The new Ginza flagship houses the complete Vacheron Constantin collections from simple to high complications, as well as boutique-exclusive models, the first permanent Les Collectionneurs vintage watch offering, and a rotating Les Cabinotiers assortment.
Les Collectionneurs
Chosen with patience and talent by the Maison's heritage department specialists, Les Collectionneurs is a curated collection of vintage Vacheron Constantin watches that have been restored and are offered with the same warranty given to contemporary collections. Previously only available at dedicated annual events in Vacheron Constantin boutiques around the world, a rare selection will be featured at the Ginza Flagship, which thus becomes one of the few boutiques to host a permanent range of Les Collectionneurs vintage timepieces.
Les Cabinotiers
Les Cabinotiers, Vacheron Constantin's approach to single-piece editions, showcases the Maison's amazing wealth of creative and technical talent. Les Cabinotiers department combines excellence and dedication, with a group of master watchmaking professionals who use their wide-ranging scientific knowledge in the latest technical breakthroughs and 18th-century watchmaking crafts to perpetuate Vacheron Constantin's tradition of innovation. Creating both bespoke timepieces in response to customers' requests as well as timepieces conceived by Vacheron Constantin master-watchmakers, Les Cabinotiers is about translating dreams into reality in mechanical and artistic terms and consistently pushing the boundaries of what is possible in watchmaking today.
Art collaboration with illustrator Sugio YAMAZAKI
The Ginza boutique showcases exclusive artworks created in collaboration with Japanese illustrator and multi-award-winning picture book author, Sugio YAMAZAKI.
His style of work features a classical Japanese aesthetic that has been appreciated and used in numerous books and products. On this occasion, he created new artworks inspired by the Maison's brand image and its vision of 'Classic with a Twist'.
What inspired him most for this project were everyday scenes that caught his eye while walking around Ginza with a camera: in particular, the painting of a couple walking along the streets of Ginza, which is one of the four pieces displayed in the showcase by the store window, clearly shows the source of his inspiration. "I wanted to capture what I felt while walking around Ginza and enclose it in a small showcase made of glass", said YAMAZAKI. In addition, an installation piece resembling a Christmas tree is adorned with decorations of Tokyo's famous landmarks, such as the Kaminarimon and the Tokyo Tower. The artworks are full of originality, combining Japan's unique nostalgic with the essence of pop art that was popular in the United States in the 1950s. These extraordinary pieces warmly celebrate the upcoming holiday season and the opening of the Vacheron Constantin Ginza Boutique.
Boutique address:
Vacheron Constantin Ginza flagship
Boutique address: 4-3-9 Ginza, Chuo-ward, Tokyo
Monday-Sunday: 12:00-20:00