When the fastest Swiss woman in history runs for Hublot
A figure in the Swiss athletics revival, Mujinga Kambundji is the fastest Swiss woman in history and the first to break the legendary 11-second barrier for the 100m. She also holds the national records for the 60m, 200m and 4 x 100m. Her bronze medal for the 200m in Doha in 2019 made her the first sprinter in the history of Swiss athletics (male or female) to step onto the podium of a World Championship. An exemplary and inspiring journey for an extraordinary woman who behaves like an ordinary woman. This aura and determination led her to be named Swiss Sportswoman of the Year in 2019. With national titles, triple European bronze medals, international podiums and a ticket to the Olympics in the bag, Mujinga is on the starting blocks. Back on the track after a nine-month break due to an injury, she is returning stronger and more determined than ever, and is still improving her own records and times. On the eve of the Tokyo Olympic Games, she is joining the Hublot family. With her Hublot watch on her wrist, she firmly intends to set the track alight.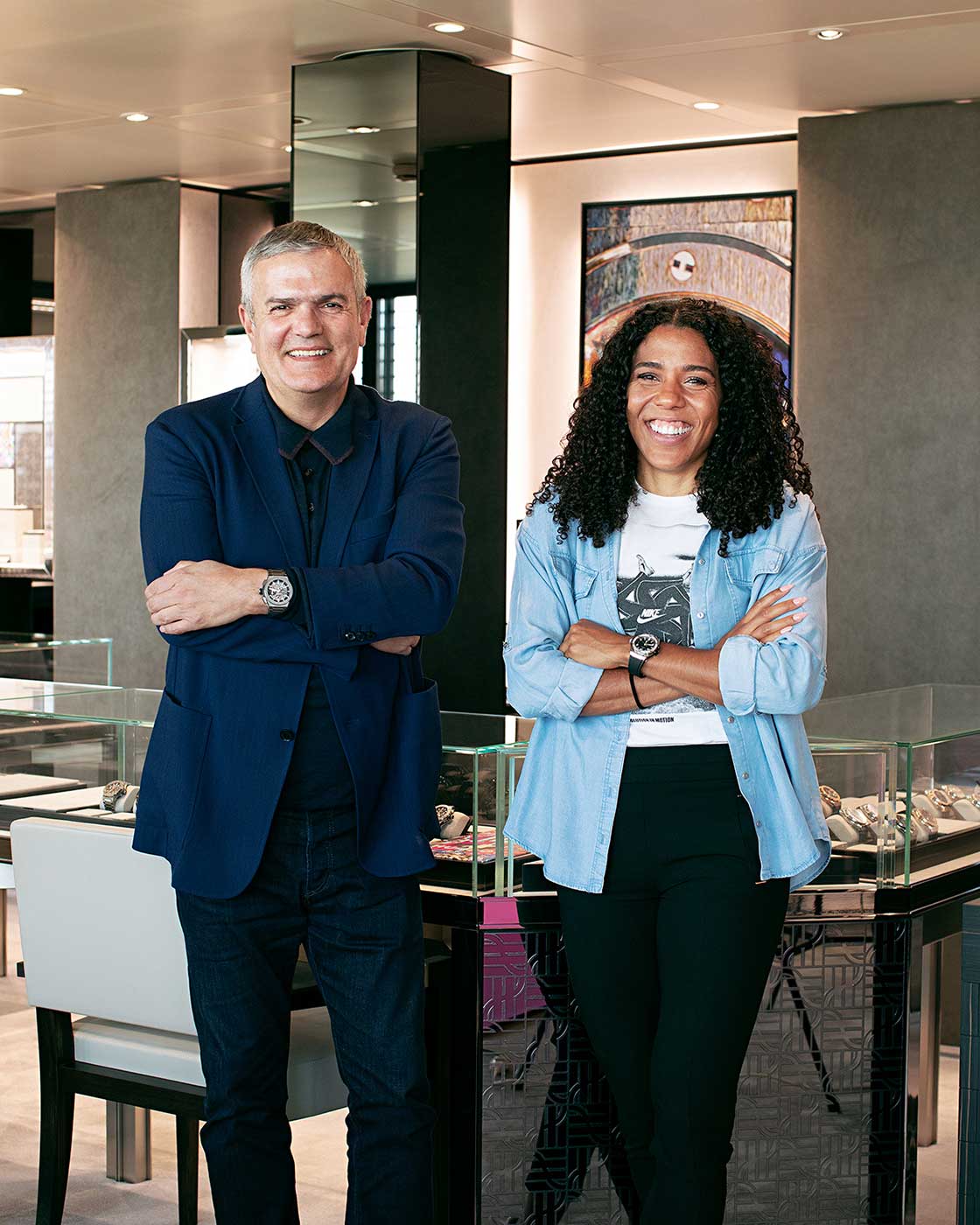 Time and measuring time is a big part of my everyday life, I am always challenging my times, so I am very happy to join the Hublot family and its ambassadors who all share this desire to be first, unique and different. When I undertake something, it is to succeed and to do better than the previous time; I'm always thinking about the next goal, improving myself, surpassing myself, whilst keeping the passion I have for racing. I would, of course, love to get a place in the final of the 100m and 200m or the relay at the Games. I am focusing on what I can control and influence: my fitness and my training sessions. I like to test my limits, on the track everything is a question of hundredths of seconds, a time that I'm now going to challenge with a Classic Fusion on my wrist!"
Mujinga Kambundji
We are very proud to welcome Mujinga into our Hublot family. She embodies this generation of the revival in Swiss athletics. Generous and funny, she is focused on her goals without taking herself too seriously, and is accessible, human and authentic. It is these qualities that we like at Hublot, these athletes who are inspiring the next generation. She is sure of herself and keeps her feet firmly on the ground, even if, in reality, she literally flies during her races, which has earned her the nickname "The Queen of Swiss Sprint". She naturally reaches the speed that we like at Hublot, a speed embodied by Usain "Lightning Bolt" and today confirmed by "The Queen of Swiss Sprint". Mujinga's passion and determination have shaped her for competition; for her, to further reduce her times is a personal challenge, and one she manages masterfully. She draws her balance from her family and we are happy to now be part of her adoptive family."
Ricardo Guadalupe
HUBLOT CEO
Looking back over the journey of a champion with golden feet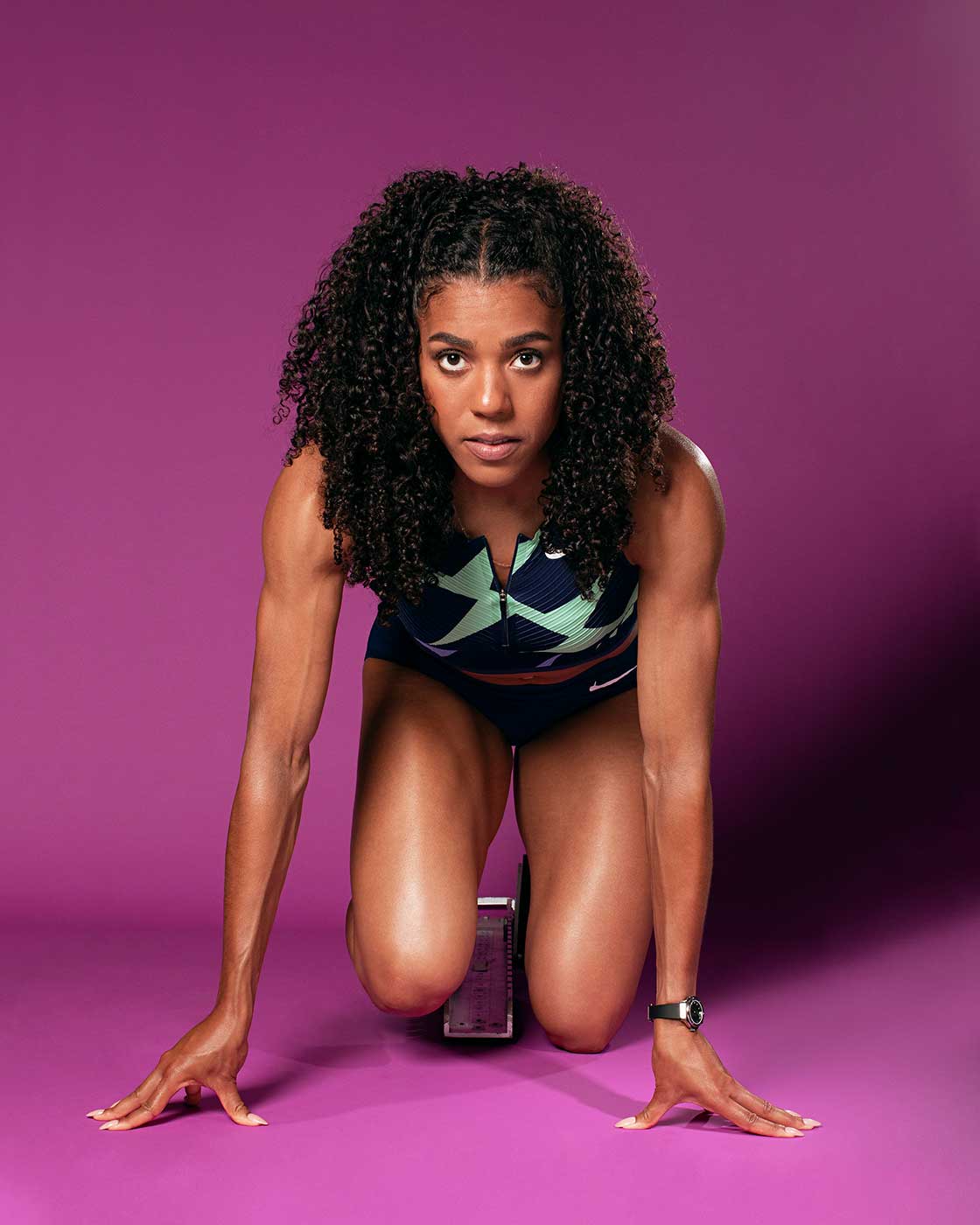 Berne is very dear to Mujinga's heart, as the city where she was born and grew up. Moreover, it is where she does most of her training, at the Wankdorf as she continues to call it. Mujinga reached her first podium running bare foot with her older sister, Kaluanda, in Berne of course, aged seven years old. After this race, she received her first running shoes. Sprinting is a family affair for the Kambundji. She and her three sisters have rhythm and timing in their blood. Whether on or off the track, Mujinga runs on adrenaline. Determined and humble, at ease in her track spikes, she knows exactly what she wants and where she's going. Her progression bears witness to this, as the 29-year old native of Berne has continually improved her own records every season. There is no doubt that this Olympic year will be no exception.
She has a contagious smile and a golden heart. Since 2015, Mujinga has also been an Ambassador for the Swiss Red Cross. Today, the athlete who runs the fastest for the Swiss flag is joining Hublot; it has to be said that the watchmaker likes to bring together those who challenge time and set records. The athlete nicknamed the "Queen of Swiss Sprint" is preparing to fly off to Tokyo, following a fast start to the season, having just won the 100m gold at the Swiss Athletics Championships in Langenthal and taken 3rd place in the 200m at the Diamond League meeting in Florence. These successes will serve as benchmarks and preparation for her third Olympic Games after London in 2012 and Rio in 2016.
Classic Fusion Titanium 33 mm
On her wrist, Mujinga Kambundji has chosen the minimalist Classic Fusion Titanium 33mm, a model with three hands—hours, minutes, seconds—and a date with optimal readability so as to keep only the very essence of time. She chose it in titanium, a light and resistant metal, an ideal ally for her performances. A black dial and black rubber strap for a watch that like her, is simultaneously simple and elegant, and naturally strong. An easy-to-wear timepiece , both on and off the track.