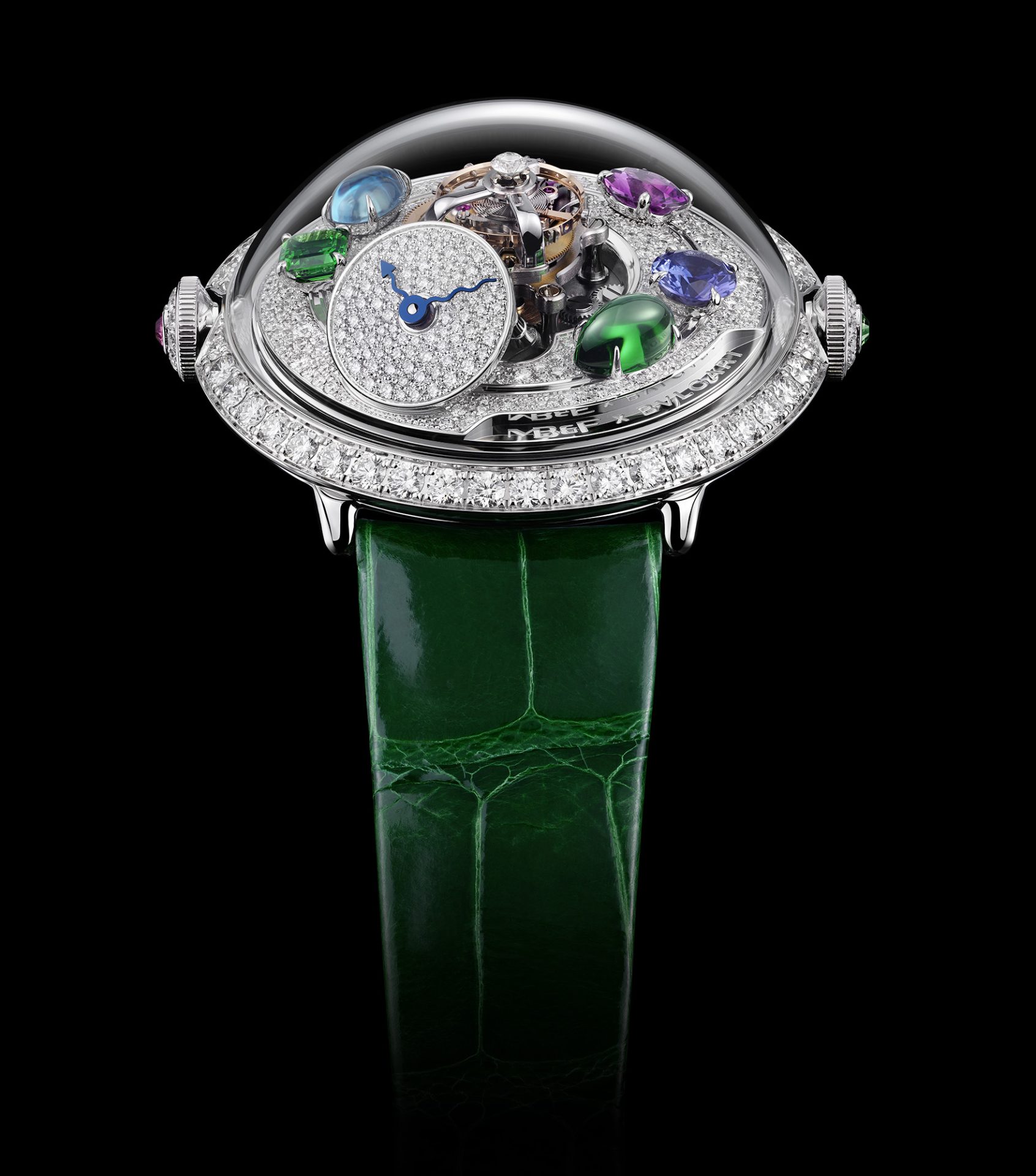 The story of the collaboration between Bulgari and MB&F is first and foremost that of an encounter – initially motivated by mutual professional respect and subsequently evolving into a strong friendship – between Bulgari's Product Creation Executive Director, Fabrizio Buonamassa Stigliani; and MB&F's Founder and Creative Director, Maximilian Büsser. The outcome is FlyingT Allegra, a joint and unexpected feminine creation merging various skills, but above all two mindsets.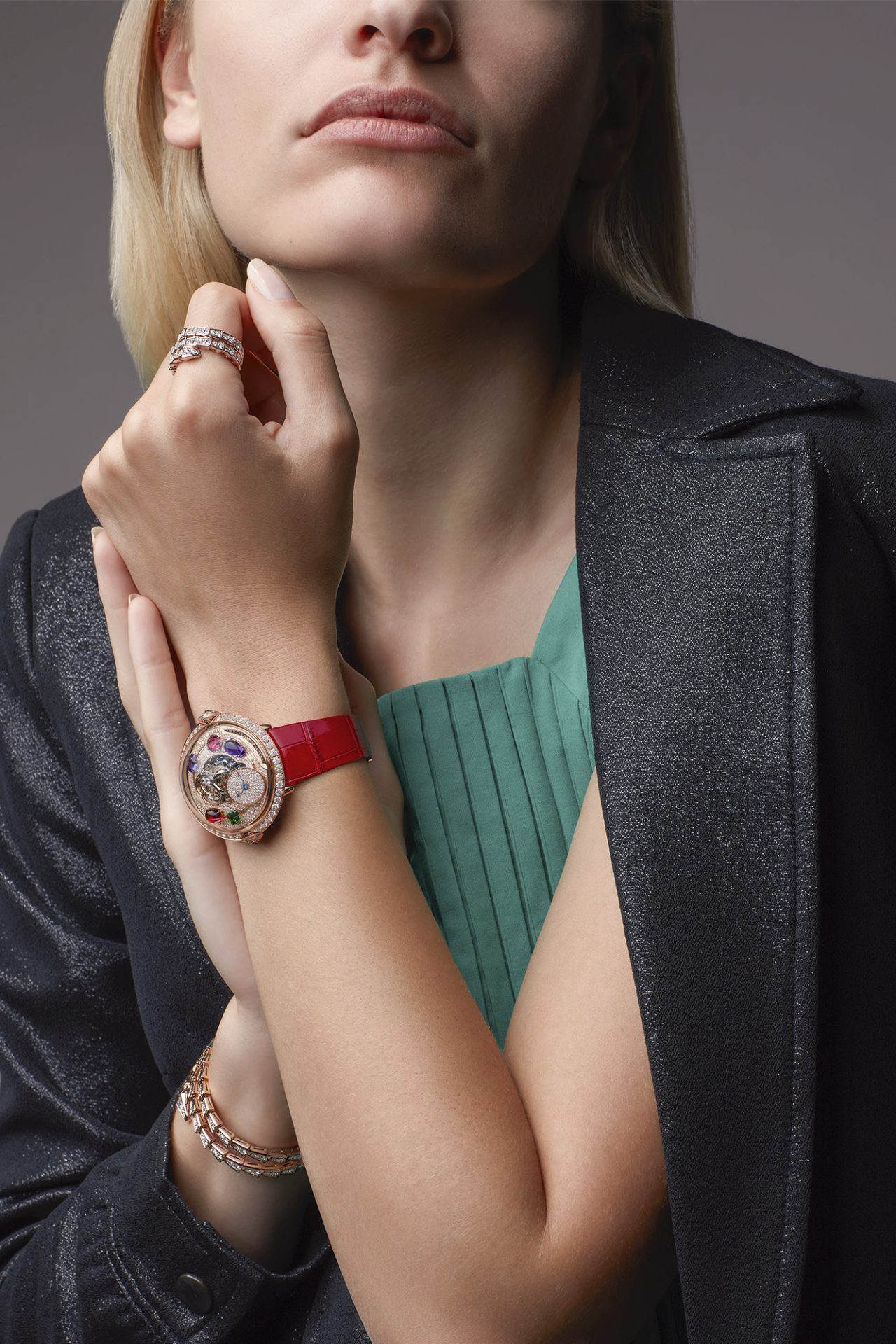 This story is also that of an unlikely connection, of two paradoxes combining to form a single, homogeneous and sophisticated whole. It is also the story of an encounter between two unusual and unconventional creative approaches. When MB&F and Bulgari decide to join forces, the result can only be extraordinary, in the truest sense of the word.
Both Bulgari and MB&F display strong character in their respective fields yet are also very different. The Rome-based Maison is known for its love of cabochon-cut coloured gems in jewellery watch creations, expressing Mediterranean warmth and exuberance – diametrically opposed to the currently prevailing classicism. Born in 2005, MB&F took the decision to design radical timepieces exploring previously uncharted conceptual territory within a watch industry environment characterised by stubborn conventionalism.
The two brands were thus bound to converge on a shared platform: that of their jewellery-making and mechanical audacity. MB&F works on volumes and complexity, while Bulgari creates two-dimensional models with a radically graphic aesthetic. The choice to revisit MB&F's Legacy Machine FlyingT was thus both natural and logical, since FlyingT Allegra incorporates both sensibilities.
Radical in terms of its architecture and construction, while exquisitely precious in terms of its opulent ornamentation, this creation was intended as a tribute to femininity. In its name FlyingT, the T stands for the initial of Max Büsser's wife, Tiffany, as well as for flying Tourbillon. In an ultimate refined touch embodying this sophisticated approach, the movement is designed in such a way that only its owner can read the time.
While this may seem simple, the reality is quite different. The movement is vertically built along a central axis orchestrating the overall architecture of the entirely visible mechanism. In this respect, the watch deliberately goes against tradition, since everything that is usually hidden is highlighted here in a three-dimensional construction.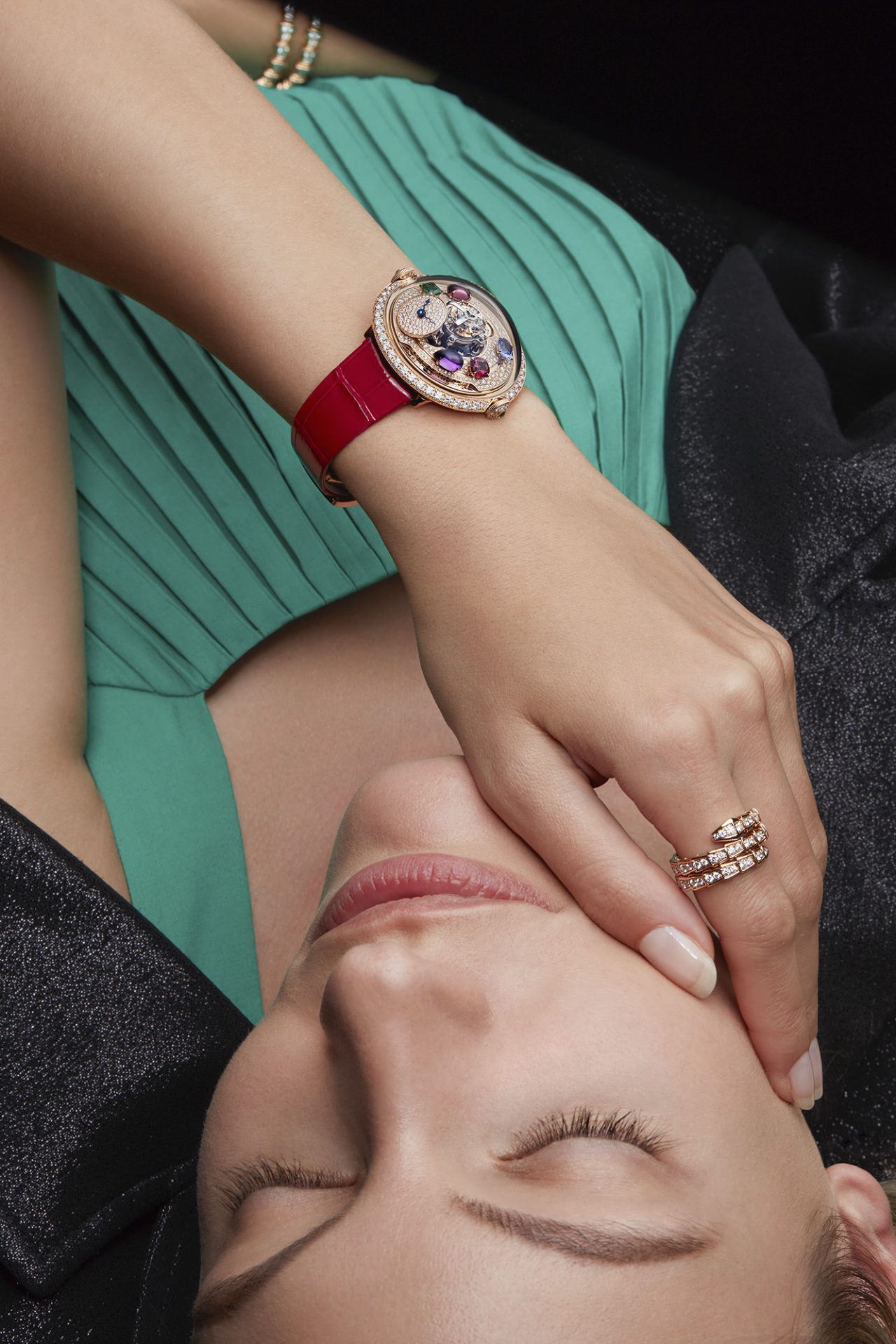 The upper end of the axis carries the diamond-set flying tourbillon and the balance, a vibrant technical organ against which the hours and minutes dial is set at a 50-degree angle, precisely defined so that the owner of the FlyingT Allegra is the only one who can read the time. The case-back reveals the sun-shaped oscillating weight: its gold sandblasted rays rotate on the ruthenium disc positioned above a platinum counterweight.
Between the regulating organ and the rotor, the barrel ensures an extremely generous 100-hour power reserve made possible by the reduction in the number of gears. A sapphire crystal dome tops this three-dimensional assembly, beneath which one can admire the organic life of the movement.
This unusual construction with its feminine-themed design could not have been more appropriate for Bulgari. The volumes of the watch – featuring a case entirely redesigned by Bulgari to give it a futuristic and opulent profile – are matched by those of the coloured stones. These gems serve to counterbalance the cold precision and micromechanical complexity of this model by instilling the Roman jeweller's warm and exuberant signature touch. For each of the 20 timepieces composing the two pink or white limited editions, jewellers have carefully selected tourmaline, tsavorite, diamonds, rubellite, amethyst, tanzanite and topaz, in an exceptional composition forming a full circle around the movement. The dial entirely paved with snow-set diamonds provides a dazzling backdrop.
In contrast to conventional high jewellery codes, Bulgari has always favoured the use of coloured stones rather than diamonds alone. Coloured gems enable the Rome-based Maison to create authentic compositions through a gradual process aimed at achieving harmony and chromatic power adapted to the design of the model. Cut is very important, and Bulgari favours the cabochon which ensures extreme clarity of the stone while emphasising the opulence of the creation. The cabochon cut perfectly matches the FlyingT Allegra's round and voluminous case.
This exceptional partnership goes far beyond the realm of the complicated feminine jewellery watch. It highlights two visions of the world, two interpretations of creativity that are radically different in form, yet which merge in substance within an integrated and harmonious co-creation vividly demonstrating the power of two.
ABOUT THE FLYING T ENGINE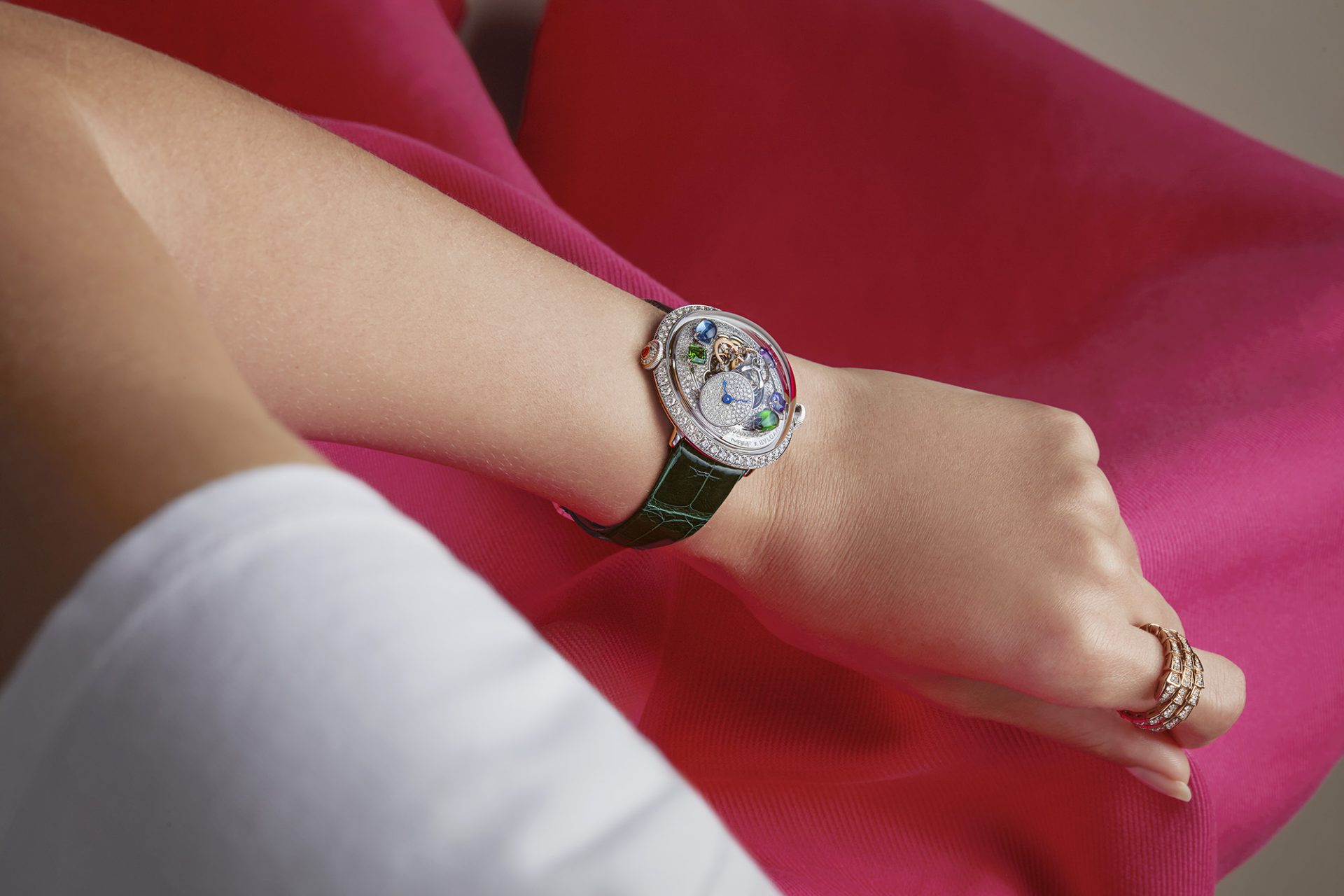 In a departure from most modern watch movements, which take a radial and co-planar approach to movement construction, the LM FlyingT engine utilises a vertical and co-axial approach. The cinematic flying tourbillon, which boldly projects beyond the dial-plate of LM FlyingT, is a visually stunning example of the rotating escapement and stands in stark contrast to other flying tourbillons, which usually do not venture past the confines of their surrounding watch dials.
Flying tourbillons, as their name suggests, are anchored only at their base, with no stabilising bridge to restrict lateral motion at the top. This increased need for overall rigidity is what causes the conservative placement of most flying tourbillons within their movements. Legacy Machine FlyingT breaks free of this limiting need for movement security and confidently displays its flying tourbillon in all its glory.
In order to display the time as precisely as possible on the 50° inclined dial, conical gears were employed to optimally transmit torque from one plane to another. The 280-component engine of Legacy Machine FlyingT has a power reserve of four days (100 hours), which is among the highest within MB&F.
MB&F x BULGARI – LM FLYING T ALLEGRA
TECHNICAL SPECIFICATIONS
20 pieces in 18K white gold and 20 pieces in 18K red gold diamond-set cases, with fully diamond-set dial plates, adorned with fine gemstones.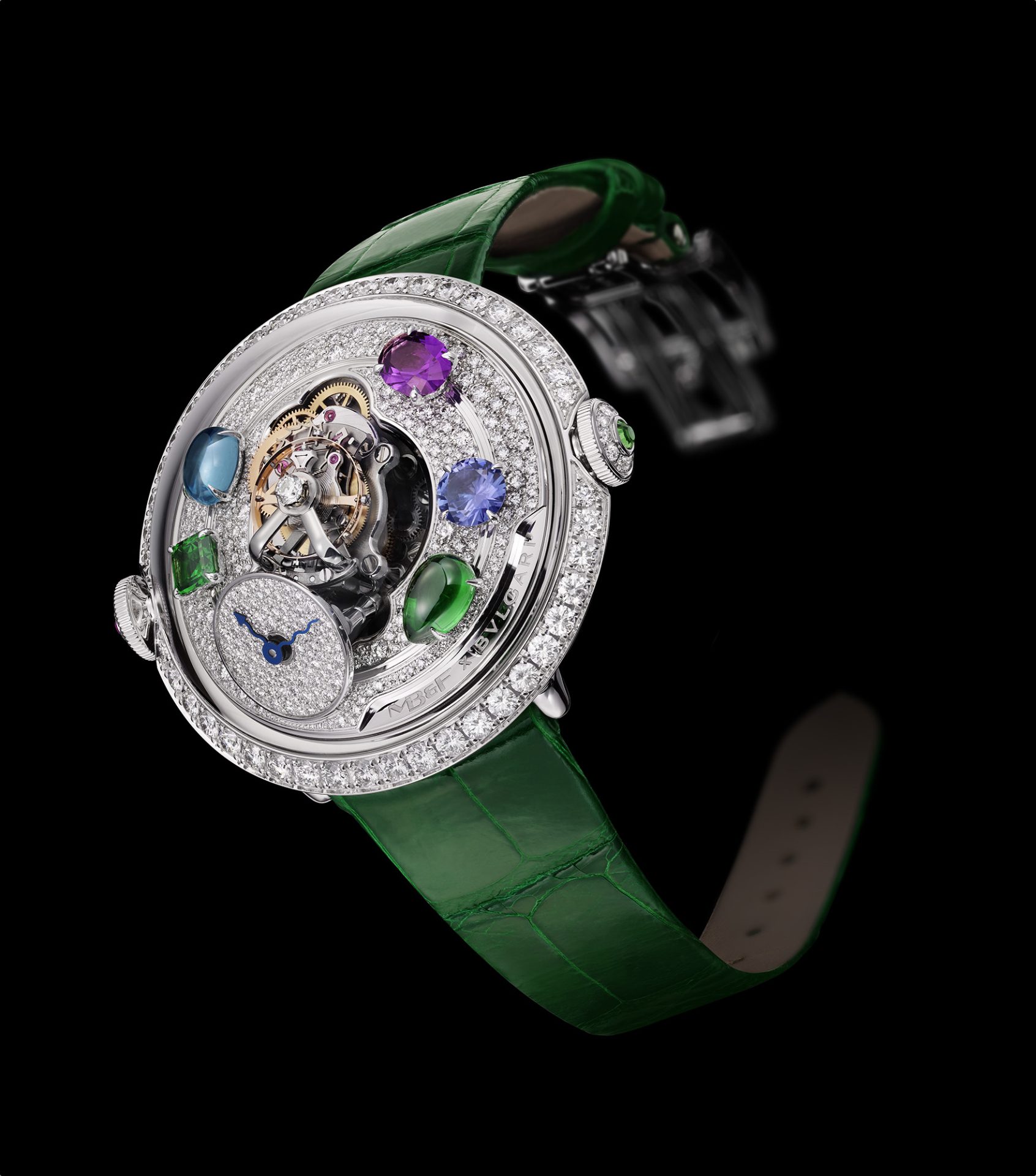 Engine
MB&F FlyingT movement featuring three-dimensional vertical architecture, automatic winding, conceived and developed in-house.
Central flying 60-second tourbillon.
Power reserve: 100 hours.
Balance frequency: 18,000bph / 2.5Hz.
Three-dimensional sun winding rotor in 18K 5N+ red gold, titanium and platinum.
Number of components: 280.
Number of jewels: 30.
Functions/indications
Hours and minutes displayed on a 50° vertically tilted dial with two serpentine hands.
Two crowns: winding on left and time-setting on right.
Case
Material: 18K white or red gold, set with diamonds.
High domed sapphire crystal on top with anti-reflective coating on both sides, sapphire crystal on back.
Dimensions: 39 x 20mm.
Number of components: 17.
Water resistance: 3ATM / 30m / 90'.
Stones
For the white gold version:
Brilliant-cut diamonds on the dial and crowns: ~ 0.24ct
Brilliant-cut diamonds on the case and buckle: ~ 2.80cts
3 tsavorites square, pear and round: ~ 1.33cts
1 oval topaz: ~ 0.71ct
1 oval amethyst: ~ 0.4ct
1 round tanzanite: ~ 0.43ct
1 round tourmaline: ~ 0.06ct
For the rose gold version:
Brilliant-cut diamonds on the dial and crowns: ~ 0.24ct
Brilliant-cut diamonds on the case and buckle: ~ 2.80cts
2 tsavorite square and round: ~ 0.38ct
2 tourmaline oval and round: ~ 0.64ct
1 oval tanzanite: ~ 0.47ct
1 pear amethyst: ~ 0.70ct
1 round rubellite: ~ 0.39ct
Strap & buckle
Alligator leather strap with white or rose gold pin buckle matching the case.
ABOUT BULGARI
Part of the LVMH Group, Bulgari was founded in Rome in 1884 as a jewellery shop. Known as the magnificent Roman jeweller and master of coloured gems, Bulgari has established a worldwide reputation for Italian excellence and enjoys renowned for its exquisite craftsmanship. The company's international success has evolved into a global and diversified luxury purveyor of products and services, ranging from fine jewels and high end watches to accessories and perfumes, and featuring an unrivalled network of boutiques and hotels in the world's most exclusive shopping areas.
Demonstrated through its numerous philanthropic partnerships, Bulgari deeply believes in innovating the present for a sustainable future through its commitment to Corporate Social Responsibility and giving back – to nature and to the community
'FRIENDS' RESPONSIBLE FOR THE LM FLYING T ALLEGRA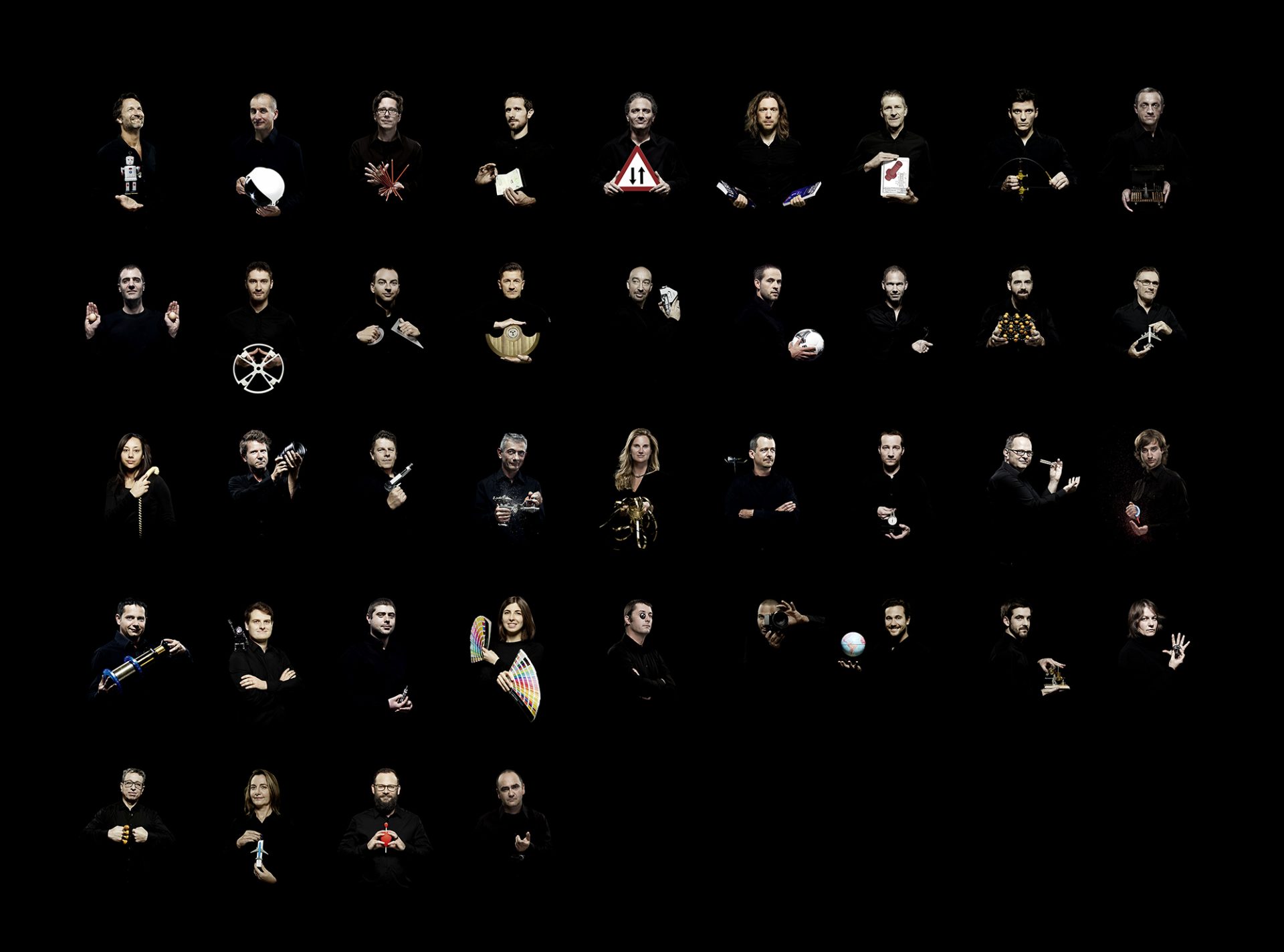 Concept: Maximilian Büsser / MB&F and Bulgari
Product design: Eric Giroud / Through the Looking Glass and Bulgari
Technical and production management: Serge Kriknoff / MB&F and Bulgari
R&D: Robin Anne, Thomas Lorenzato, Joey Miserez, Julien Peter and Michael Artico / MB&F
Case: Giuseppe Di Stefano / STG Creation
Profile-turning wheel/pinion/axis: Paul André Tendon / Bandi, Decobar Swiss, Gimmel Rouages and Le Temps Retrouvé
Springs and jumpers: Alain Pellet / Elefil Swiss
Mainspring and barrel: Stefan Schwab/ Schwab Feller and Atokalpa
Tourbillon: Precision Engineering
Plates and bridges: Benjamin Signoud / Amecap, Rodrigue Baume / Horlofab and DEM3, Marc Bolis / 2B8
Setting of diamonds (case, dial-plate and crowns): Giuseppe Di Stefano /STG Creation
Gemstone for dial-plate and crowns: Bulgari
Sun-shaped winding rotor: Jean-Philippe Chételat / Cendres et Métaux
Ball bearing: MPS Micro Precision Systems
Hand-finishing of movement components: Jacques-Adrien Rochat and Denis Garcia /
C.-L. Rochat
Sapphire glass: Sebal
Anti-refection treatment for sapphire crystals: Anthony Schwab / Econorm
Serpentine hands: Isabelle Chillier / Fiedler
Dial (discs for hours – minutes): Giuseppe Di Stefano / STG Creation
Movement assemblage: Didier Dumas, Georges Veisy, Anne Guiter, Emmanuel Maitre and Henri Porteboeuf / MB&F
In-house machining: Alain Lemarchand, Jean-Baptiste Prétot and Romain Camplo / MB&F
Quality Control: Cyril Fallet / MB&F
After-Sales service: Thomas Imberti / MB&F
Buckle: Giuseppe Di Stefano / STG Creation
Crowns: Giuseppe Di Stefano / STG Creation
Strap: Multicuirs
Presentation box: Olivier Berthon / Soixanteetonze
Production logistics: David Lamy, Ashley Moussier and Fanny Boutier / MB&F
Marketing & Communication: Charris Yadigaroglou, Vanessa André, Arnaud Légeret and Camille Reix / MB&F
M.A.D.Gallery: Hervé Estienne / MB&F
Sales: Thibault Verdonckt, Virginie Marchon, Cédric Roussel and Jean-Marc Bories / MB&F
Graphic design: Sidonie Bays / MB&F
Product photography: Denis Hayoun / Diode, Marc Ninghetto and Bulgari
Portrait photography: Régis Golay / Federal, Alex Teuscher and Bulgari
Website: Stéphane Balet / Idéative
Film: Marc-André Deschoux / MAD LUX
MB&F – GENESIS OF A CONCEPT LABORATORY
Founded in 2005, MB&F is the world's first-ever horological concept laboratory. With almost 20 remarkable calibres forming the base of the critically acclaimed Horological and Legacy Machines, MB&F is continuing to follow Founder and Creative Director Maximilian Büsser's vision of creating 3-D kinetic art by deconstructing traditional watchmaking.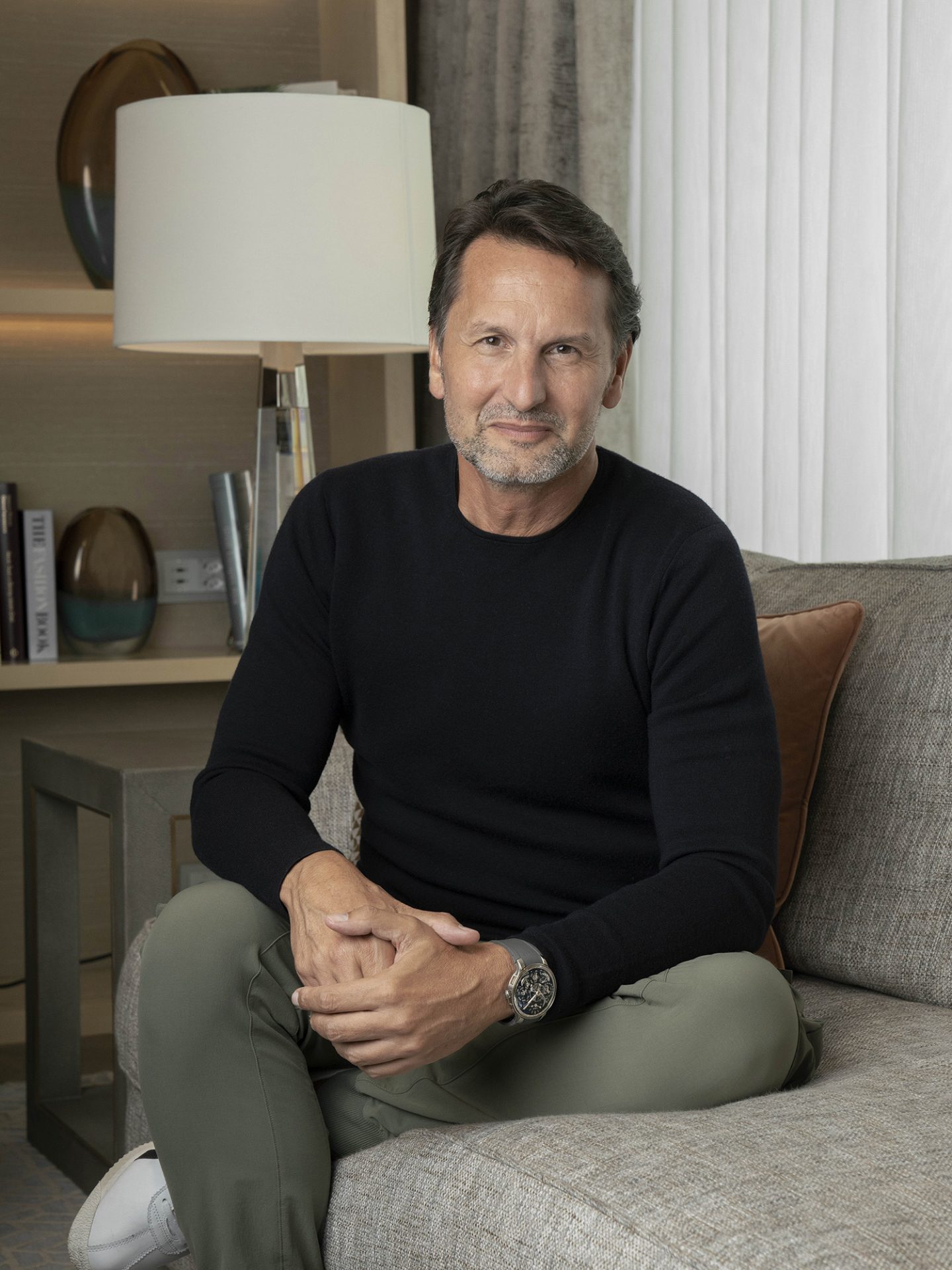 After 15 years managing prestigious watch brands, Maximilian Büsser resigned from his Managing Director position at Harry Winston in 2005 to create MB&F – Maximilian Büsser & Friends. MB&F is an artistic and micro-engineering laboratory dedicated to designing and crafting small series of radical concept watches by bringing together talented horological professionals that Büsser both respects and enjoys working with.
In 2007, MB&F unveiled its first Horological Machine, HM1. HM1's sculptured, three-dimensional case and beautifully finished engine (movement) set the standard for the idiosyncratic Horological Machines that have followed – all Machines that tell the time, rather than Machines to tell the time. The Horological Machines have explored space (HM2, HM3, HM6), the sky (HM4, HM9), the road (HM5, HMX, HM8) and the animal kingdom (HM7, HM10).
In 2011, MB&F launched its round-cased Legacy Machine collection. These more classical pieces – classical for MB&F, that is – pay tribute to nineteenth-century watchmaking excellence by reinterpreting complications from the great horological innovators of yesteryear to create contemporary objets d'art. LM1 and LM2 were followed by LM101, the first MB&F Machine to feature a movement developed entirely in-house. LM Perpetual, LM Split Escapement and LM Thunderdome broadened the collection further. 2019 marked a turning point with the creation of the first MB&F Machine dedicated to women: LM FlyingT; and MB&F celebrated 10 years of Legacy Machines in 2021 with the LMX. MB&F generally alternates between launching contemporary, resolutely unconventional Horological Machines and historically inspired Legacy Machines.
As the F stands for Friends, it was only natural for MB&F to develop collaborations with artists, watchmakers, designers and manufacturers they admire.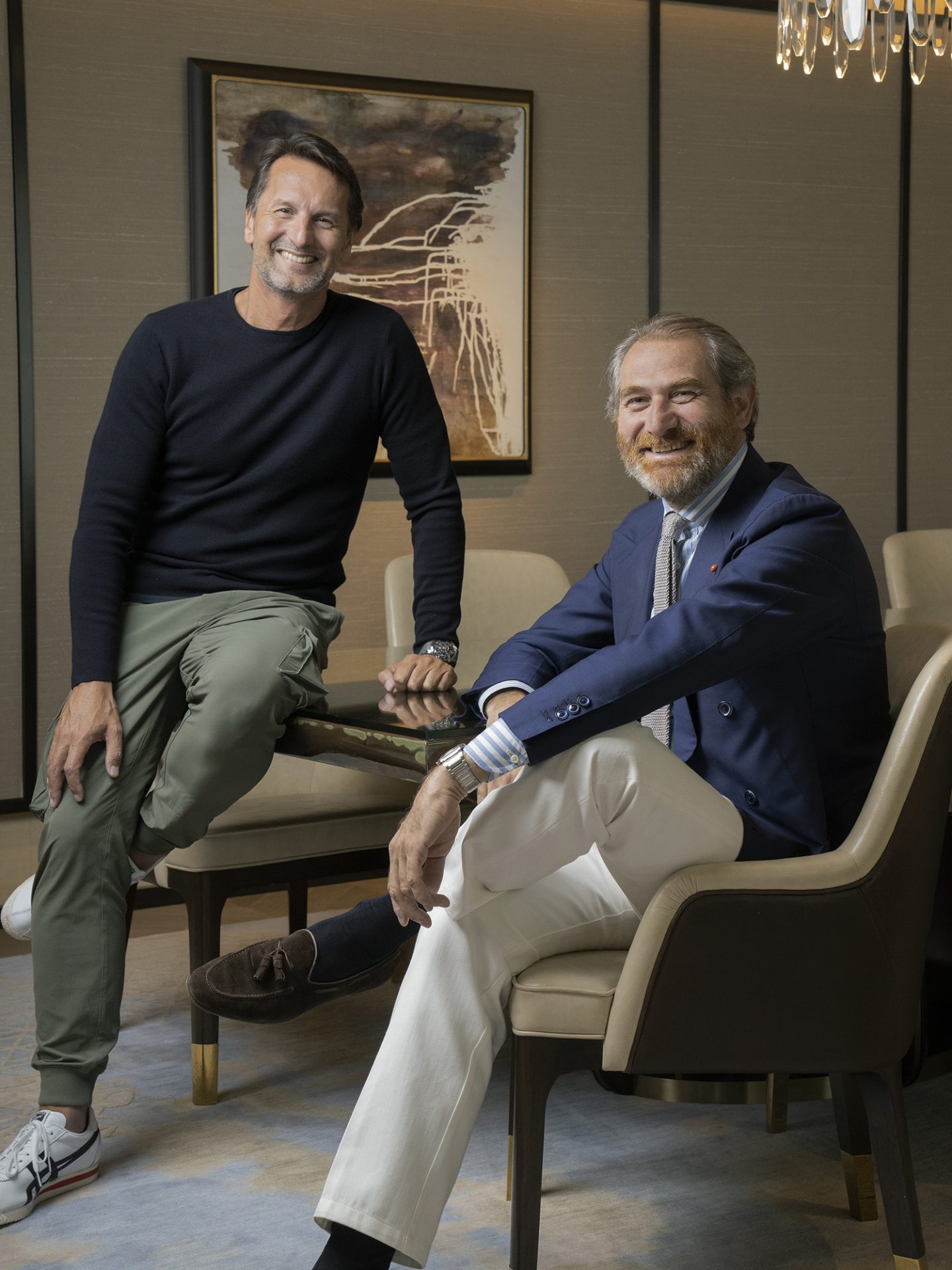 This brought about two new categories: Performance Art and Co-creations. While Performance Art pieces are MB&F machines revisited by external creative talent, Co-creations are not wristwatches but other types of machines, engineered and crafted by unique Swiss Manufactures from MB&F ideas and designs. Many of these Co-creations, such as the clocks created with L'Epée 1839, tell the time while collaborations with Reuge and Caran d'Ache generated other forms of mechanical art.
To give all these machines an appropriate platform, Büsser had the idea of placing them in an art gallery alongside various forms of mechanical art created by other artists, rather than in a traditional storefront. This brought about the creation of the first MB&F M.A.D.Gallery (M.A.D. stands for Mechanical Art Devices) in Geneva, which would later be followed by M.A.D.Galleries in Taipei, Dubai and Hong Kong.
There have been distinguished accolades reminding us of the innovative nature of MB&F's journey so far. 'To name a few, there have been no less than 7 awards from the famous Grand Prix d'Horlogerie de Genève: in 2021, MB&F received two prizes: one for LMX as the Best Men's Complication and one for the LM SE Eddy Jaquet 'Around The World in Eighty Days' in the 'Artistic Crafts' category, in 2019, the prize for Best Ladies Complication went to the LM FlyingT, in 2016, LM Perpetual won the Best Calendar Watch award; in 2012, Legacy Machine No.1 was awarded both the Public Prize (voted for by horology fans) and the Best Men's Watch Prize (voted for by the professional jury). In 2010, MB&F won Best Concept and Design Watch for the HM4 Thunderbolt. In 2015 MB&F received a Red Dot: Best of the Best award – the top prize at the international Red Dot Awards – for the HM6 Space Pirate.