Source:  Images and content by JAEGER-LECOULTRE'S REVERSO IN THE WORDS OF AMANDA SEYFRIED @ Jaeger LeCoultre.

https://content.presspage.com/uploads/2085/1920_jaegerlec-amandas-rever-02-107-alique-1920x1080.jpg?10000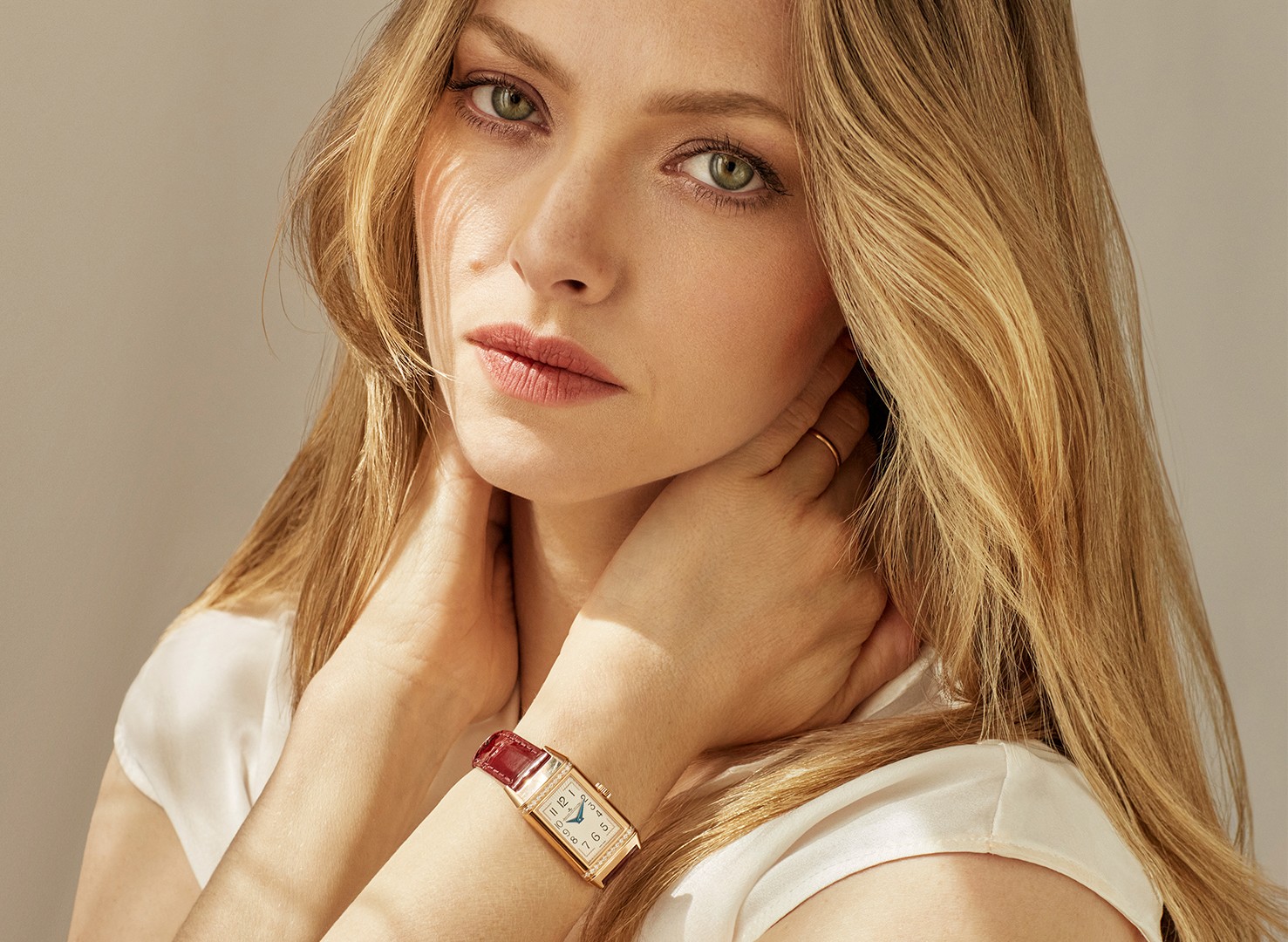 The elegant proportions also won her over, she adds: "It's so sleek and – while I don't want it to be any smaller – it's the perfect size because the case is longer and has a little bit of thickness. It lies really well on my wrist and feels like it fits everybody, any size – someone larger, or a petite woman like me."
For her first Jaeger-LeCoultre watch, Amanda loved the large face and classical round case of the Master Ultra-Thin Moon. Then came a Reverso: "It's funny because I was so attracted to the bigger face of the Master, and then when I got my first Reverso I was like, 'Oh wait, this is my favourite'," she laughs.
"My first Reverso is steel and has a portrait of my dog, Finn, engraved on the reverse side – which is a whole other level. It's a time piece and it's an heirloom – something that hopefully I can pass down from generations to generations. And to be able to take Finn with me everywhere on my wrist, is so cool."
For Amanda, the most important element of the Reverso is shared by all models. "You have choices to make," she explains. "And you can very easily and very satisfyingly switch it over. Sometimes I just play with it, because it's such a nice feeling when it clicks into place. And sometimes I have a hard time trying to figure out if it's going to be the reverse side or the watch face. It's jewellery, but it's practical jewellery."
"It's amazing that the design is 90 years old. It must have blown their minds back then because [the flip-over case] is so innovative. Nobody else does it," she adds. "And it still looks so modern. I think it's something about the lines – the watch face being the same width as the band. I think that's really beautiful."
"This design is still a statement. For people who love watches, it's a conversation piece because it's a Reverso – and because you don't know what you're going to see until you reveal the secret underneath the case… it's a beautiful surprise."