Source:  Images and content by Jaeger LeCoultre @ Jaeger LeCoultre.

https://content.presspage.com/uploads/2085/7cac0739-bd4e-4438-a705-0959cd443910/1920_jaeger-lecoultre-reversotributeduofacetourbillon-levitation-verso-16-9.jpg?10000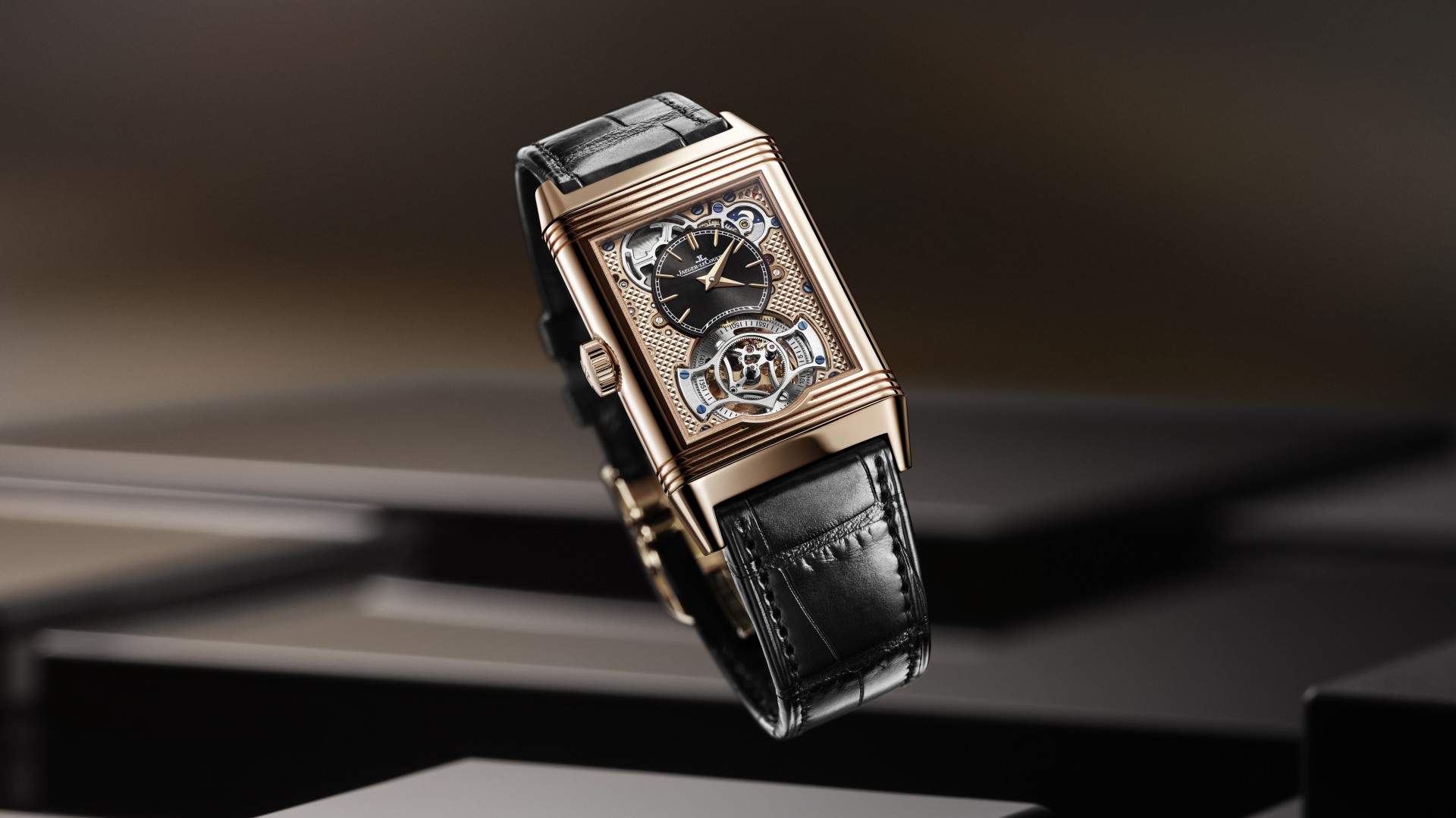 The Manufacture's expertise in tourbillons has grown steadily from that point, with its development of multi-axis tourbillons incorporating a variety of shaped balance springs. Its mastery of this regulating device – which improves timekeeping accuracy by neutralising the effect of gravity on a watch movement – was confirmed in 2009 when Jaeger-LeCoultre watches took first and second places in the International Chronometry Competition. Today, the expertise continues to expand, with the development of a series of new configurations, the most recent being in Calibre 847.
Uniting a flying tourbillon with the Duoface complication, this ultra-thin hand-wound movement comprises 254 components and measures just 3.9mm thick. To achieve this, Jaeger-LeCoultre's watchmakers had to completely rethink the tourbillon mechanism to reduce as much height as possible. As well as dispensing with the upper bridge, to which the balance wheel is normally fixed, they replaced the outer tourbillon cage with a ball-bearing system and attached the balance wheel to the centre of the tourbillon. Normally, the hairspring would be attached to the outer tourbillon cage; however, in the absence of such a cage, a new solution was required. Jaeger-LeCoultre invented (and has patented) a unique S-shaped balance spring; one end is attached to a fixed point at the centre of the tourbillon mechanism and the other end fixed to the balance wheel. The S-shape avoids the coils of the spring touching each other and makes the spring perfectly concentric to the tourbillon, which is essential for precision.
Comprising 62 components and weighing a mere 0,455 grams, this highly sophisticated tourbillon is eloquent testimony to the Manufacture's mastery of this regulating mechanism, as well as its status as one of the very few Manufactures to develop and produce its own hairsprings in-house.
The Duoface concept, a pillar of the Reverso collection since it was introduced in 1994, is a unique expression of the dual time zone complication, displaying local time on the front dial and home time on the reverse. The movement must turn the two sets of hands in opposite directions in order for them to move around their respective dials in the clockwise direction and display the correct time.
Adding to the mechanical elegance of the movement, all settings are controlled through the crown; this not only ensures simplicity of operation for the wearer but also preserves the aesthetic unity of the case.