Source:  Images and content by JAEGER-LECOULTRE PRESENTS THE REVERSO SECRET NECKLACE @ Jaeger LeCoultre.

https://content.presspage.com/uploads/2085/369db64d-07fd-4baf-b365-cd5daa0ddd75/1920_jaeger-lecoultre-reversosecretnecklace-levitation-recto.jpg?55799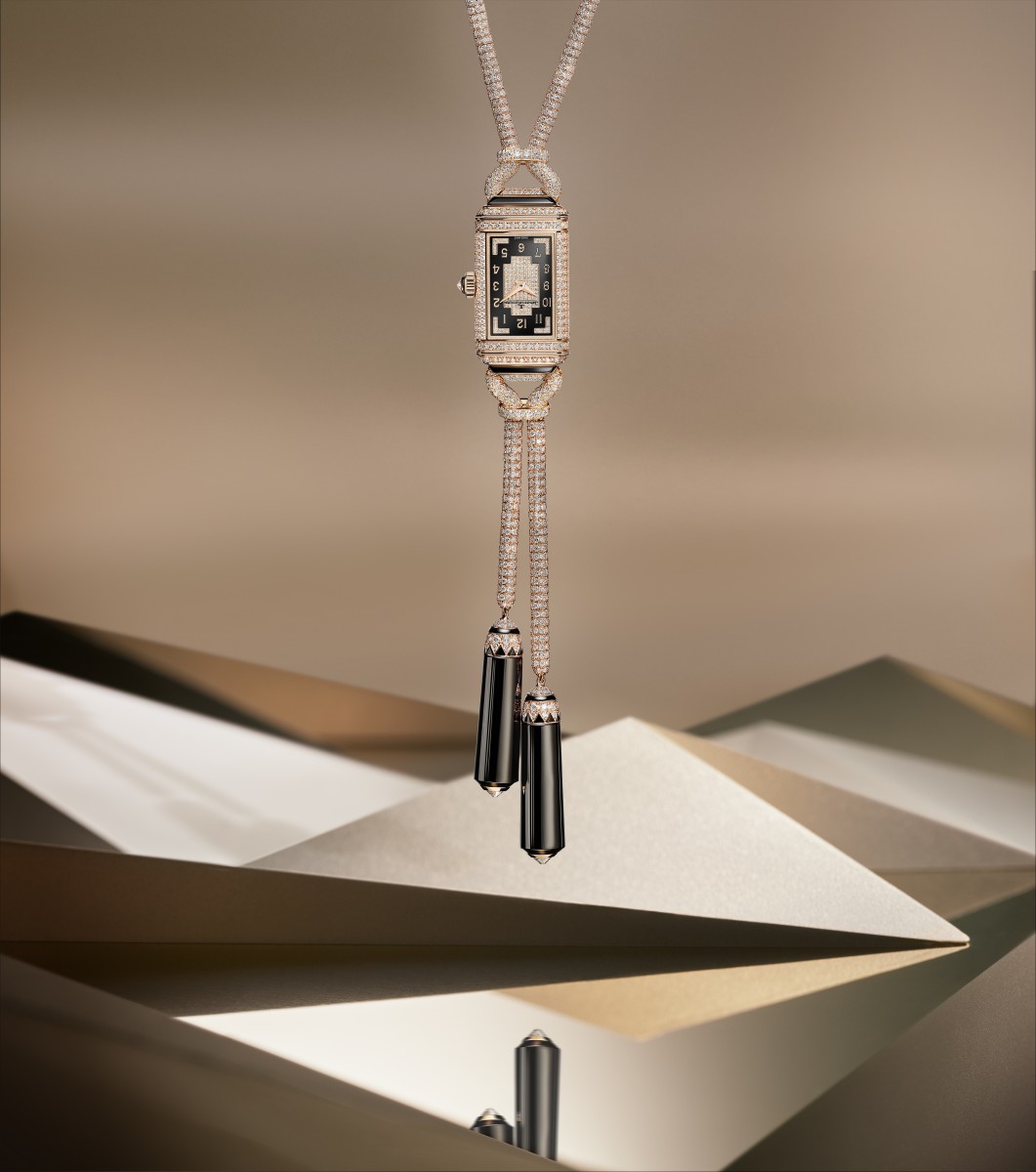 A timeless design reimagined as a jewel
Since 1931, no compromise has been made on the core design elements that define the Reverso – the horizontal gadroons that emphasise the rectilinear geometry of the case; the triangular lugs that appear to be a seamless extension of the case sides. Thanks to this distinctive, harmonious and highly functional case, the Reverso has become regarded as an icon of 20th-century design. Far from being a limitation, the faithful adherence to its codes has allowed Jaeger-LeCoultre's designers great creative freedom to constantly reinterpret its distinctive swivelling case without sacrificing its identity or integrity.
The Reverso Secret Necklace transforms the design icon into a graceful and exquisitely feminine sautoir, or long necklace. The cordonnet, the original black textile bracelet (literal translation: fine or small cord) seen on Reverso models of the 1930s has been reimagined as a supple chain of intricate diamond-set links and polished onyx beads, from which a richly gem-set Reverso is suspended. Two pendants of polished onyx charms add a refined flourish to this elegant new way of wearing the time.
Among High Jewellery watches there is a long history of secret watches – watches with a gem-set cover hiding the dial until the wearer wishes to read the time. The swivelling case of the Reverso is a twist on this idea, concealing the time when turned over. Although initially designed for purely practical reasons, the blank metal flip side of the case offers almost limitless potential for decoration with gem-setting, enamelling or engraving.
Worn with the case back turned to the front, the Reverso Secret Necklace is a beautiful Art Deco-inspired jewel that conceals its secret power of time-telling until the wearer chooses to reveal it; worn with the front dial showing, it is an exquisite timepiece that hides its reverse side like an enchanting, personal pleasure. It is notable that while the dial appears to observers to be upside-down, it is set that way so that the wearer can read the time naturally as she lifts the watch to her line of sight.