Source:  Images and content by Jaeger LeCoultre @ Jaeger LeCoultre.

https://content.presspage.com/uploads/2085/2383321f-0f9f-4fee-a080-bff0177b08b9/1920_jaeger-lecoultre-reversohybrisartisticacalibre179-recto-16-9.jpg?10000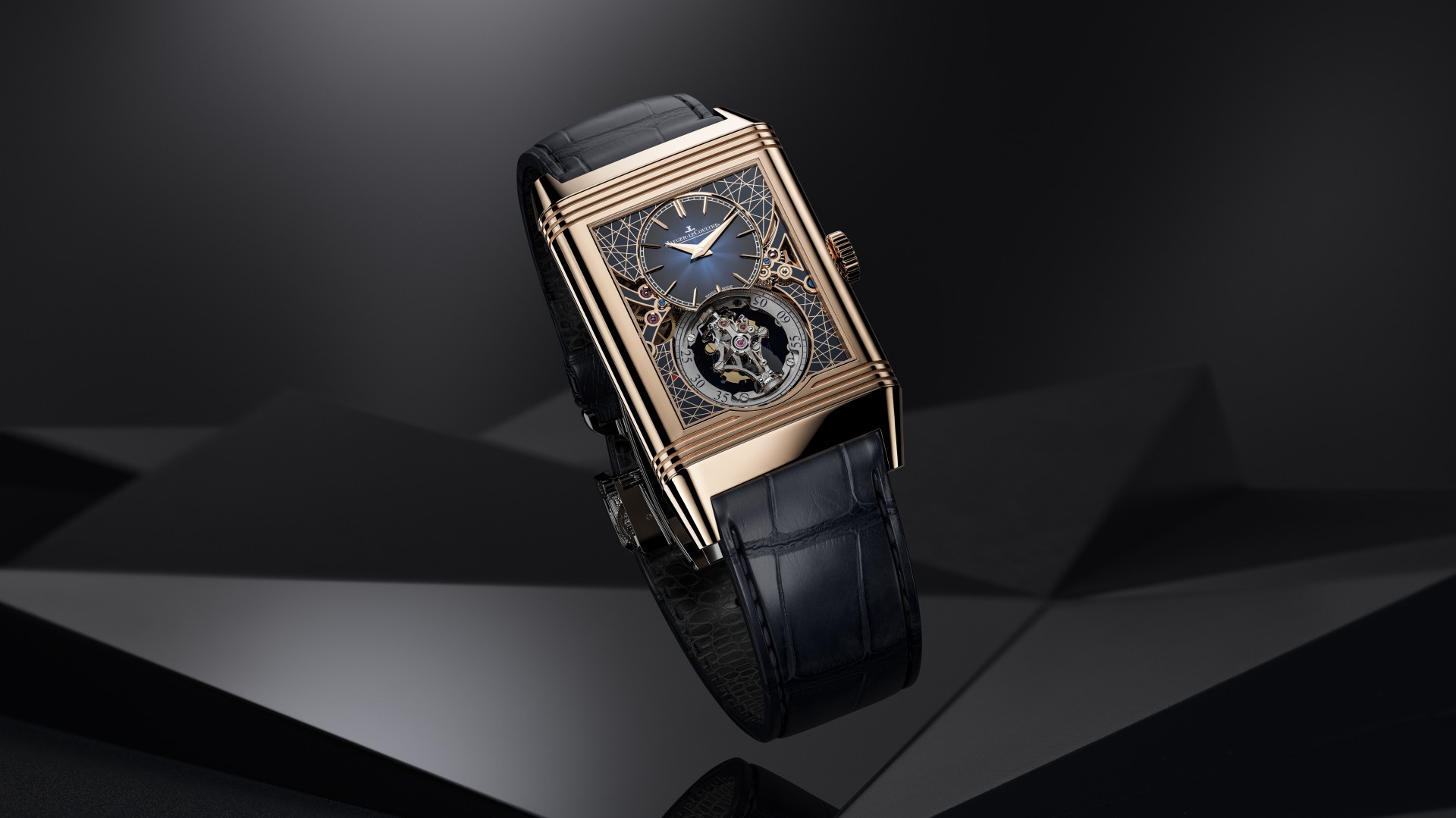 Designed according to the harmonious proportions of the Golden Ratio, the Reverso is known in watchmaking as a canvas for artistic expression – and in 2023, Jaeger-LeCoultre presents the Reverso Hybris Artistica Calibre 179. This artistic expression of the Calibre 179 marries the technical tour-de-force of the Maison's signature multi-axis tourbillon to the finest of artistic craftsmanship, harnessing the skills of the Manufacture's Métiers Rares® (Rare Handcrafts) artisans to elevate this timepiece to a new level.
A tour-de-force of mechanical ingenuity
Representing mechanical sophistication of the highest order, Calibre 179 features the fourth evolution of the multi-axis tourbillon, developed by Jaeger-LeCoultre's engineers specifically for the Reverso. The demand that the regulating mechanism be integrated into a movement that is shaped to follow the contours of the rectangular Reverso case and is slim enough to be comfortable on the wrist, makes the engineering feat all the more noteworthy. Moreover, Calibre 179 is a Duoface movement, displaying a different time zone on each dial as well as a 24-hour indicator for the second time zone on the reverse dial.
Visually enthralling to observe as it pirouettes around its twin axes, the structure of the Gyrotourbillon is highly complex: with a total of 123 components, it comprises one ultra-light titanium cage and a peripheral carriage mounted on ball-bearings; these two elements turn perpendicularly to each other at different speeds. The inner tourbillon cage rotates 360 degrees every 16 seconds and the peripheral carriage makes a full rotation once per minute; this peripheral carriage also provides a small seconds function, indicating the seconds on a ring that encircles the tourbillon aperture. A closer look reveals a blued semi-spherical balance spring beating at the heart of the mechanism, as well as the distinctive double-anchor shape of a Gyrolab balance 'wheel' – both elements paying testament to Jaeger-LeCoultre's tireless quest for greater precision and mechanical efficiency. In this quest, the Manufacture's engineers have created balance springs in several different forms over the years and this hemispherical shape, perfectly adapted to the hollow sphere at the heart of the Gyrotourbillon, adds aesthetic refinement as well as being highly efficient. The double-anchor shape of the Gyrolab was designed to reduce air friction and thus further enhance timekeeping accuracy.
Rather than being held in place by a conventional bridge, the tourbillon mechanism is supported by a ring of ball bearings. As a result, this flying gyrotourbillon appears to be floating in the space between the front and back dials of the Reverso, with no apparent means of support. The effect is amplified by the light reflected from the mirror-like surface of a polished blue lacquer disc positioned on the supporting cradle of the watch directly beneath the tourbillon aperture.