Hublot unveils the Big Bang Meca-10 Shepard Fairey in Los Angeles; exclusive timepiece co-designed with the artist
May 16, 2018 [Los Angeles, CA] – Tonight, luxury Swiss watchmaker Hublot and Shepard Fairey, American contemporary street artist, graphic designer, activist, and illustrator whose work inspired OBEY Clothing, announced the artist as an official brand ambassador, and unveiled an exclusive new timepiece titled the Big Bang Meca-10 Shepard Fairey. The Shepard Fairey collaboration and the Big Bang Shepard Fairey watch is the latest and most prominent addition to the "Hublot Loves Art" series.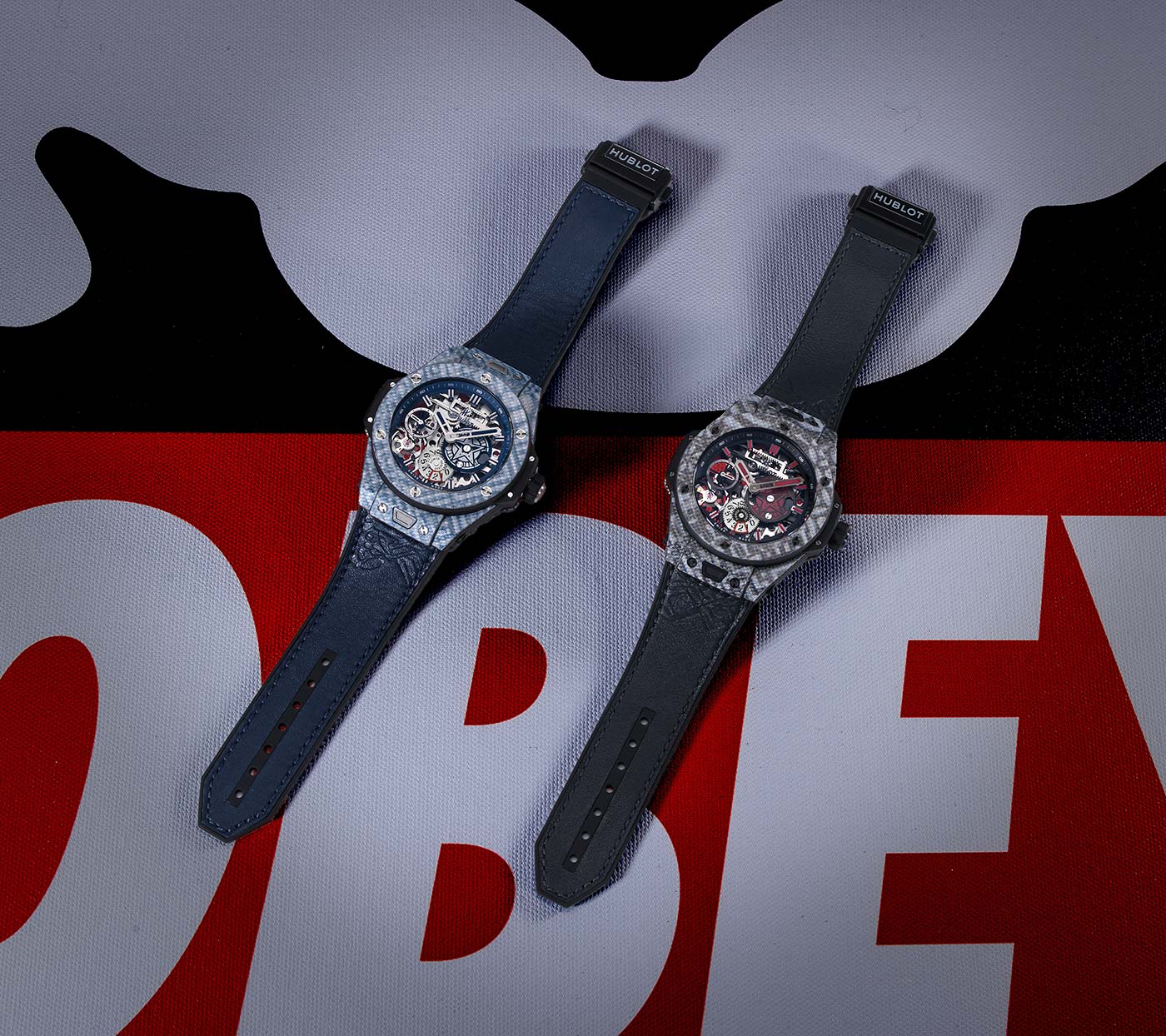 Hublot CEO, Ricardo Guadalupe first announced Shepard Fairey as part of the Hublot family, and together they unveiled the new Big Bang Shepard Fairey at the historic Mack Sennett Studios in the East LA neighborhood of Silver Lake, and celebrated with VIPs, media, influencers, and friends of the brand. Notable attendees include rock band Franz Ferdinand, comedian Joel McHale, artist LOVE WATTS, Spanish artist Okuda, curator of street art exhibition "Beyond The Streets" Roger Gastman, actor Duane McLaughlin, singer Petite Meller, and more. Throughout the evening, guests enjoyed street food, festive cocktails, and interactive entertainment including a live DJ set by Shepard Fairey himself! The location, founded in 1916, is one of the oldest surviving film studios in Los Angeles and the site of many early movies. The façade features a huge mural entitled, "American Dreamers" which was painted by Shepard Fairey and fellow artist Vhils in February 2018.
Shepard Fairey noted, "Hublot is about craftsmanship and a very refined execution and that to me is what my art is about: doing whatever it takes to create a visual that I think is important to create. The amazing thing about working with Hublot is that they say, 'we can try anything that you want'; they were very open to anything that I wanted to experiment with and they take a lot of pride in pushing the envelope in terms of technique. This is a luxury timepiece so there's no limitation to the length that Hublot will go to execute something in a beautiful and sophisticated way."
Ricardo Guadalupe, CEO of Hublot, commented, "Hublot and Fairey share a disruptive approach to their art, that is consistently first, unique, different. Deliberately thought-provoking and brilliantly controversial, Fairey is an icon and a legend in his field. Once again, Hublot teams with the best of the best. For the first time, the street art star gives life to a miniature 'mural' on a time object. The ever-creative rebel has transformed our Big Bang Meca-10 into a canvas on which he distils his iconic aesthetic codes. The watch becomes a creative work fusing the Hublot take on watchmaking with Fairey's street art."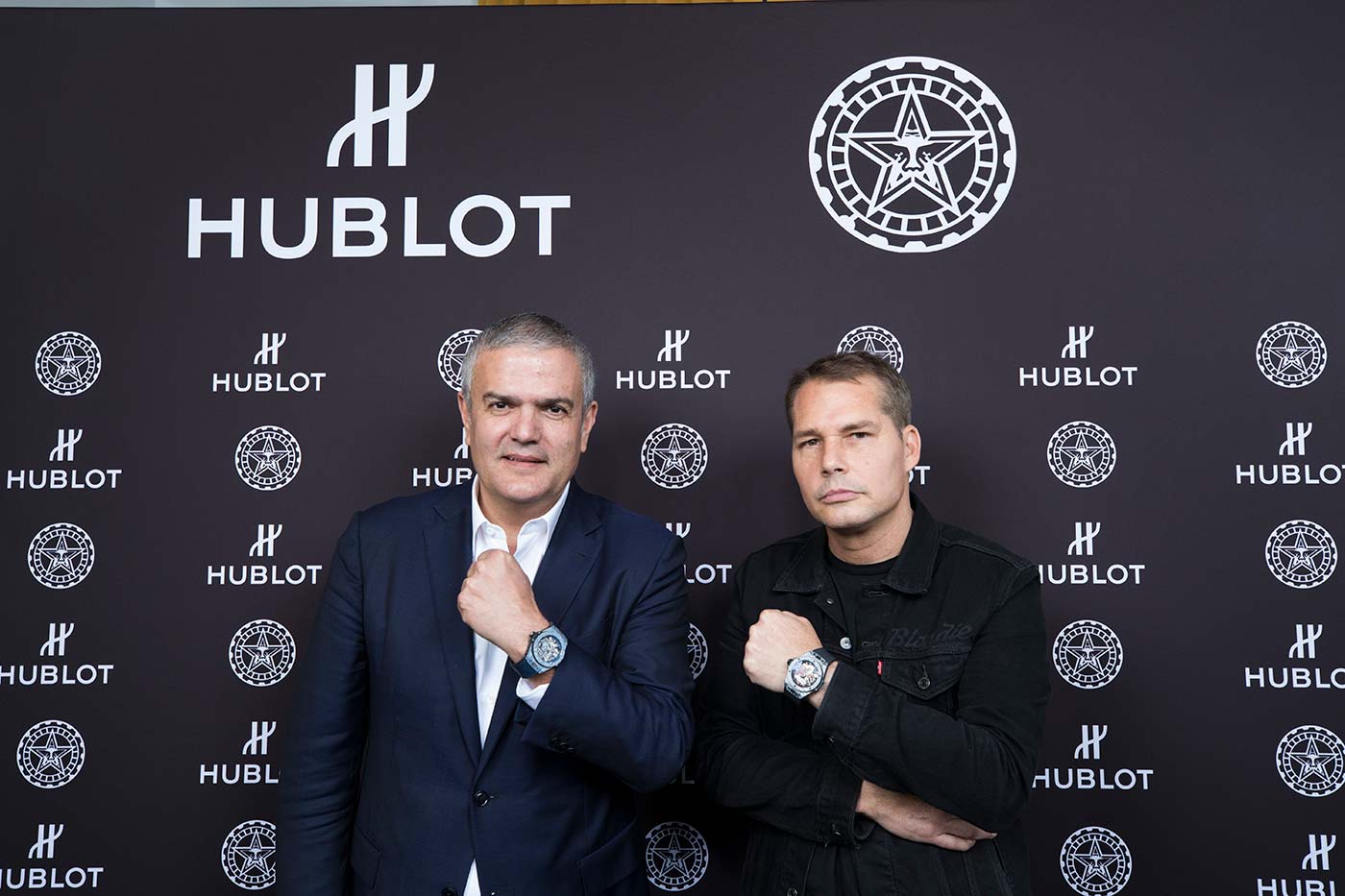 The evening also served to unveil the Big Bang Meca-10 Shepard Fairey, co-designed with the artist. The model is part of the Big Bang Meca-10 family, a newer innovation on Hublot's signature style with the brand's in-house movement, a gear-driven mechanical aesthetic, and a 10-day power reserve. The timepiece showcases an unusual architectural design based around a construction set, with a stylized skeleton revealing the originality of a cogwheel power reserve indicator.
Developed over a span of two years, its manually-wound skeleton calibre, with a 10-day power reserve, contains 223 parts. A testament to beauty and technical expertise, it has two barrels parallel to the power reserve indicator: a cogwheel system with two rakes sliding along a horizontal axis. Accentuating this mechanical architecture, an opening at 3 o'clock sees Shepard Fairey's "STAR GEAR" logo and unveils a red dot when the movement is nearing the final days of its power reserve, while a gearwheel at 6 o'clock indicates the exact number of days remaining and the regulating organ, coupled with the small second regulator, appears at 7 o'clock.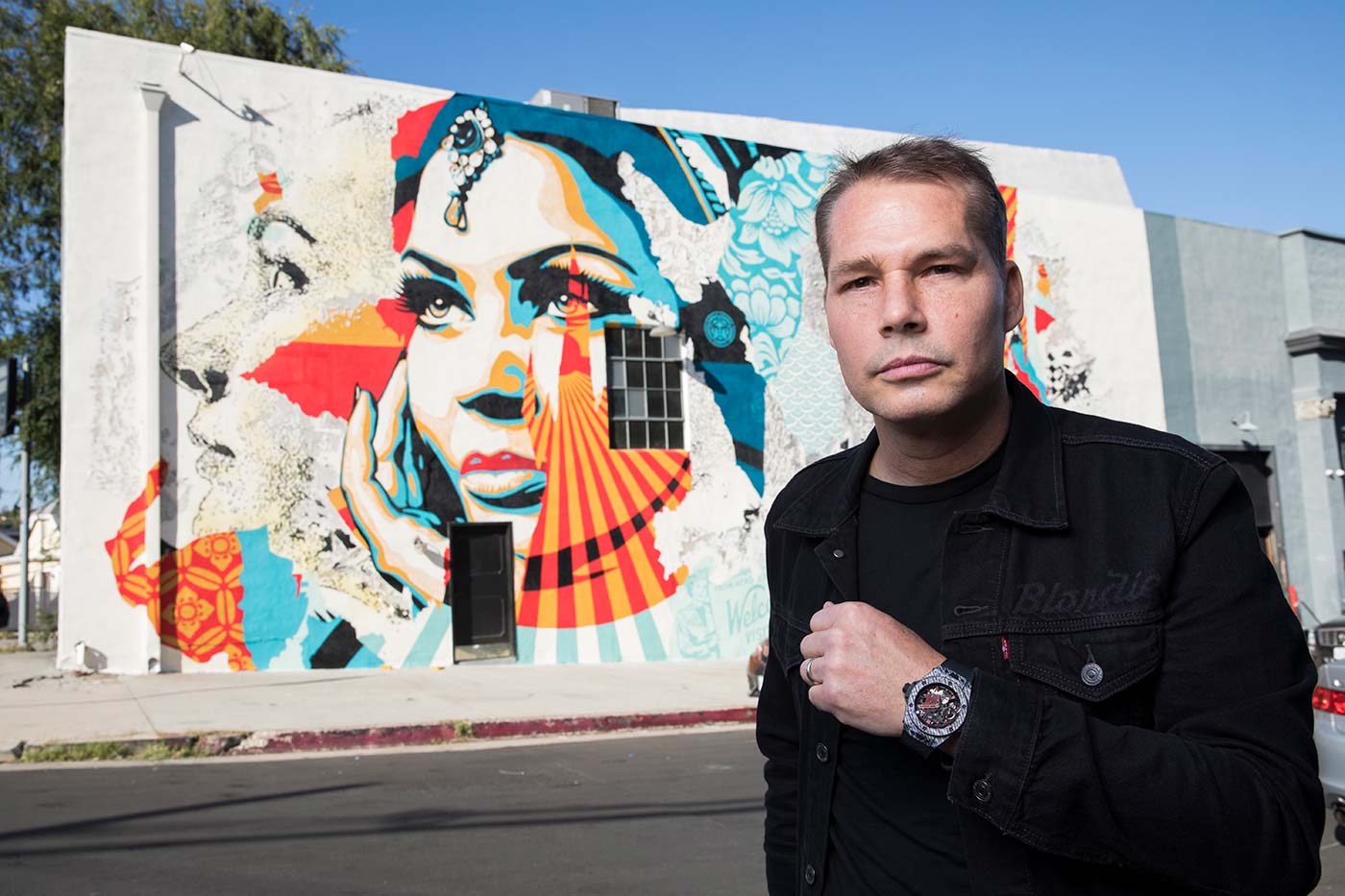 Another key technical feature is Hublot's patented "one click" mechanism, which allows the watch strap to be changed quickly and easily to offer variety. Stylistically, the Texalium™ case wears a tribal, floral pattern to mimic the artist's work, which extends throughout the straps. Additionally, the "Star gear" logo can be found in the 3-o'clock sub dial, which further builds on the overall steampunk vibe. The timepieces come in black and navy blue colorways. Moreover, each piece comes in a presentation case containing a signed and numbered letterpress print "Star Gear Collage Red" or "Star Gear Collage Blue" by the artist, framed in concrete, as an extension of the design and color of the corresponding watch.
Shepard Fairey's art is prominently found throughout various districts of Los Angeles and all over the world. His most recognizable work is his OBEY art project challenging viewers to question authority found on the streets or on a t-shirt, as well as the Barack Obama "Hope" poster which became an iconic representation of the 2008 U.S. presidential campaign. More recent political / humanitarian work of note was "Liberté, Egalité, Fraternité" (Liberty, Equality, Fraternity) created in the wake of the Paris terrorist attack of 2016 following the artist's massive 2015 "Earth Crisis" installation at the Eiffel Tower supporting environmental responsibility. Fairey was the first-ever artist to have art installed on the Eiffel Tower. The Hulu documentary OBEY GIANT, was released in late 2017 and includes a view of the artist's "life, art and dissent."
LINK TO IMAGES:
https://www.dropbox.com/sh/6bzl0zgljrwrvea/AADJfQAfbXzTs0jvcWNo-9poa?dl=0
US MEDIA CONTACTS:
Paul Wilmot Communications
Taylor Boozan – tboozan@paulwilmot.com
INTERNATIONAL MEDIA CONTACTS:
Annabelle Galley – a.galley@hublot.ch
ABOUT HUBLOT
Hublot – A different way to progress» say those who know this unique Swiss luxury watch company, where each and every moment moves forward to create the future at breathtaking speed. A dream initiated and developed by Hublot's Chairman Jean-Claude Biver with CEO Ricardo Guadalupe when they took control of the brand in 2004. These two men are responsible for turning the Hublot brand into a genuine success story in which the Big Bang, Classic Fusion, and Grandes Complications Collection represent the symbols of a constantly evolving tradition.
From in-house watch complications, including award-winning minute repeaters and tourbillons, to revolutionary materials such as patented and scratch resistant Magic Gold, colored Texalium carbon fiber, and transparent sapphire cases to world class collaborations such as Ferrari, FIFA™ World Cup, and Italia Independent, Hublot characterizes itself through the «Art of Fusion» philosophy, bringing tradition into the future. For more information, visit www.hublot.com
ABOUT SHEPARD FAIREY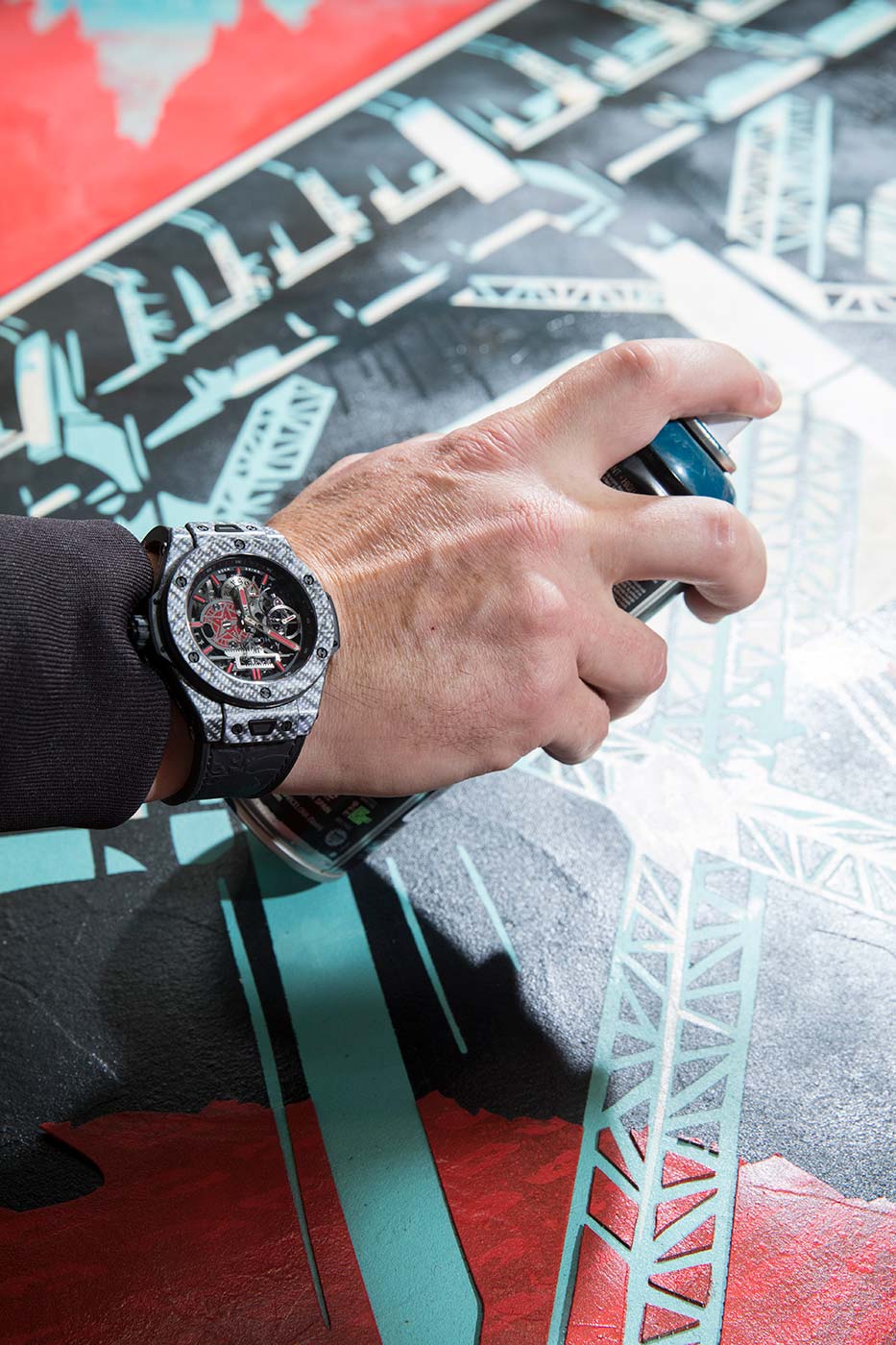 Shepard Fairey was born in Charleston, S.C. He received his Bachelor of Fine Arts in Illustration at the Rhode Island School of Design in Providence, R.I. In 1989 he created the "Andre the Giant has a Posse" sticker that transformed into the OBEY GIANT art campaign, with imagery that has changed the way people see art and the urban landscape. His work has evolved into an acclaimed body of art, which includes the 2008 "Hope" portrait of Barack Obama, found at the Smithsonian's National Portrait Gallery.
After 29 years, his stickers, guerilla street art presence, and more than 85 public murals are recognizable worldwide. His works are in the permanent collections of the Museum of Modern Art (MoMA), the Victoria and Albert Museum, the Smithsonian's National Portrait Gallery, the Boston Institute of Contemporary Art, the San Francisco Museum of Modern Art, and many others.
Fairey most recent exhibition "Damaged" was his largest-ever solo fine art exhibition, which ran in Los Angeles November 11, 2017 through December 17, 2017. "Damaged" received record attendance with more than 25,000 people visiting and experiencing the art firsthand.
BIG BANG MECA-10 "SHEPARD FAIREY GREY" & BIG BANG MECA-10 "SHEPARD FAIREY BLUE"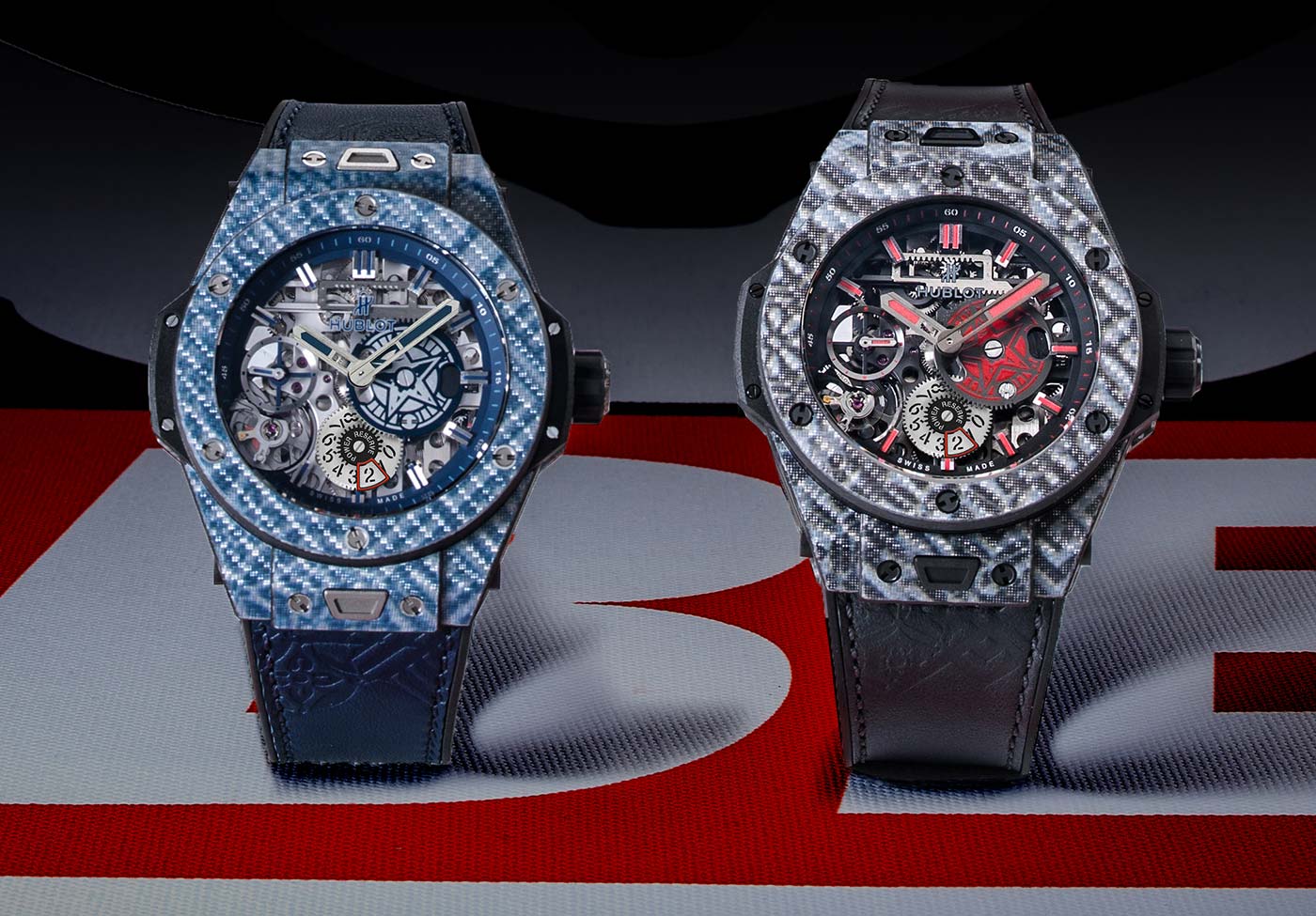 Technical Specifications:
Reference: 414.YF.1137.VR.SHF18 / 414.YL.5179.VR.SHF18
Limitation: Limited Edition N°XXX/100 each
Diameter: 45 mm
Thickness: 15.95mm
Water Resistant: 10 ATM (100m)
Case: Carbon Fiber and Light Texalium Upper Layer
Grey Decor Designed by "Shepard Fairey" / Blue Decor Designed by "Shepard Fairey"
Bezel: Carbon Fiber and Light Texalium Upper Layer
Grey Decor Designed by "Shepard Fairey" / Blue Decor Designed by "Shepard Fairey"
Bezel Lug: Black composite resin
Lateral inserts: Black composite resin
Screws « H »: Polished and microblasted titanium black PVD
Glass: Sapphire with anti-reflective treatment whit logo Hublot printed inside
Crown: Satin-finished and microblasted black PVD with black rubber insert
Case back: Carbon Fiber and Light Texalium Upper Layer
Engraved Limited-Edition N°XXX/100 each
Case back Glass: Sapphire with interior anti-reflective treatment
Dial: Mat black skeleton / Mat blue skeleton
Satin-finished black-plated appliques with red luminescent /
Satin-finished rhodium-plated appliques with blue luminescent
Hands: Satin-finished black-plated with red luminescent /
Satin-finished rhodium-plated with blue luminescent
Movement: Caliber Hublot HUB1201
Type: Manufacture manual-winding skeleton power reserve
Dimensions: Diameter 34.80mm, Thickness 6.80mm
No of Components: 223
Jewels: 24
Frequency: 3 Hz (21'600 A/h)
Power reserve: ~ 10 Days
Strap: Black rubber and grey calf with embossed design by "Shepard Fairey" /
Black rubber and blue calf with embossed design by "Shepard Fairey"
Buckle: Titanium deployant buckle clasp