H. Moser & Cie. is proud to join the fight against Duchenne Muscular Dystrophy by participating for the fourth time in the Charity Auction organised by the Monegasque Association against Muscular Dystrophy through the Only Watch campaign. This auction will be held on November 6th, 2021 in Geneva. For this occasion, the Schaffhausen-based Manufacture has created a unique piece, showcasing several of its bold signature codes. H. Moser & Cie. has brought the Streamliner Cylindrical Tourbillon Only Watch to life by combining Vantablack® – the super-black coating reputed to be the darkest man-made substance in existence – with its three-dimensional movement equipped with a cylindrical hairspring, housed in the Streamliner case.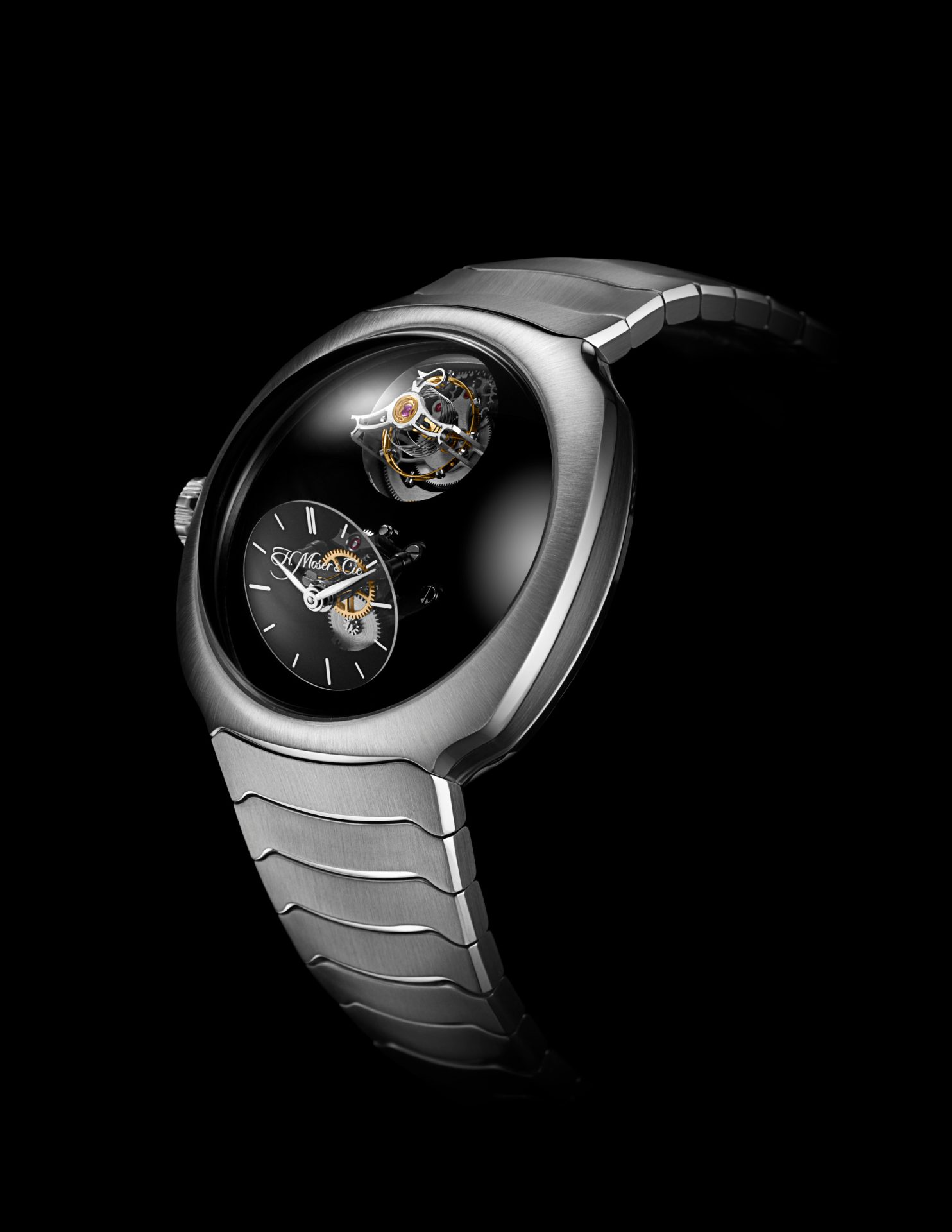 A shaped watch with a steel cushion case 40 mm in diameter, water-resistant to 12 ATM, the Streamliner Cylindrical Tourbillon Only Watch is designed as sculptural work of art, and is topped with a domed sapphire crystal. Its movement was developed in collaboration with MB&F for a special edition launched in 2020 and highlights the balletic dance of the 1-minute flying tourbillon equipped with a cylindrical hairspring. Invented in the 18th century, the cylindrical hairspring rises perpendicularly around the upper stem of the balance spindle. A frequent feature on marine chronometers at the time, it offers the advantage of developing concentrically. Thanks to the cylindrical hairspring, fitted with a Breguet curve attached at two points, friction on the pivots is reduced and isochronism is greatly improved. Owing to its specific shape, the cylindrical hairspring is also extremely difficult to produce, taking ten times longer than a traditional hairspring. This hairspring was developed and produced by Precision Engineering AG, H. Moser & Cie.'s sister company. H. Moser & Cie. chose a dial in Vantablack® to accentuate the depth of the cylindrical tourbillon movement. Reputed to be the darkest substance in existence, this super-black Vantablack® coating is used in astrophysics for telescopes and by the military as thermal camouflage, to increase the stealth level of certain equipment. It is composed of juxtaposed carbon nanostructures. When a photon hits Vantablack®, this material absorbs 99.965% of the light. As our eyes need reflected light to perceive what we are looking at, Vantablack® is perceived as the absence of matter, a black hole. Radiating the full power of its perfect blackness, the Vantablack® highlights the beauty of the flying tourbillon in an ultra-contemporary, refined and timeless manner. It also accentuates the hours and minutes dial, which is made from sapphire and tilted at a 40° angle, so that the wearer is the only one able to discern its secrets.
The curves of the case extend to the integrated steel bracelet, which is elegantly arced to follow the line of the wrist, with the unique design of the links ensuring a perfect fit. Highly complex in construction, this bracelet has extremely fluid lines, based on organic forms. All the links are articulated and feature a gentle wave combining a vertical brushed finish with polished surfaces. The Streamliner Cylindrical Tourbillon Only Watch will be on display in Monaco during the Monaco Yacht Show from September 22nd to 25th, 2021. The Only Watch 2021 collection will then go on tour in Europe, Asia, the Middle East and the USA, before finishing in Geneva on November 6th , 2021.
H. Moser & Cie.'s own and unique take on Haute Horlogerie.
TECHNICAL SPECIFICATIONS – STREAMLINER CYLINDRICAL TOURBILLON ONLY WATCH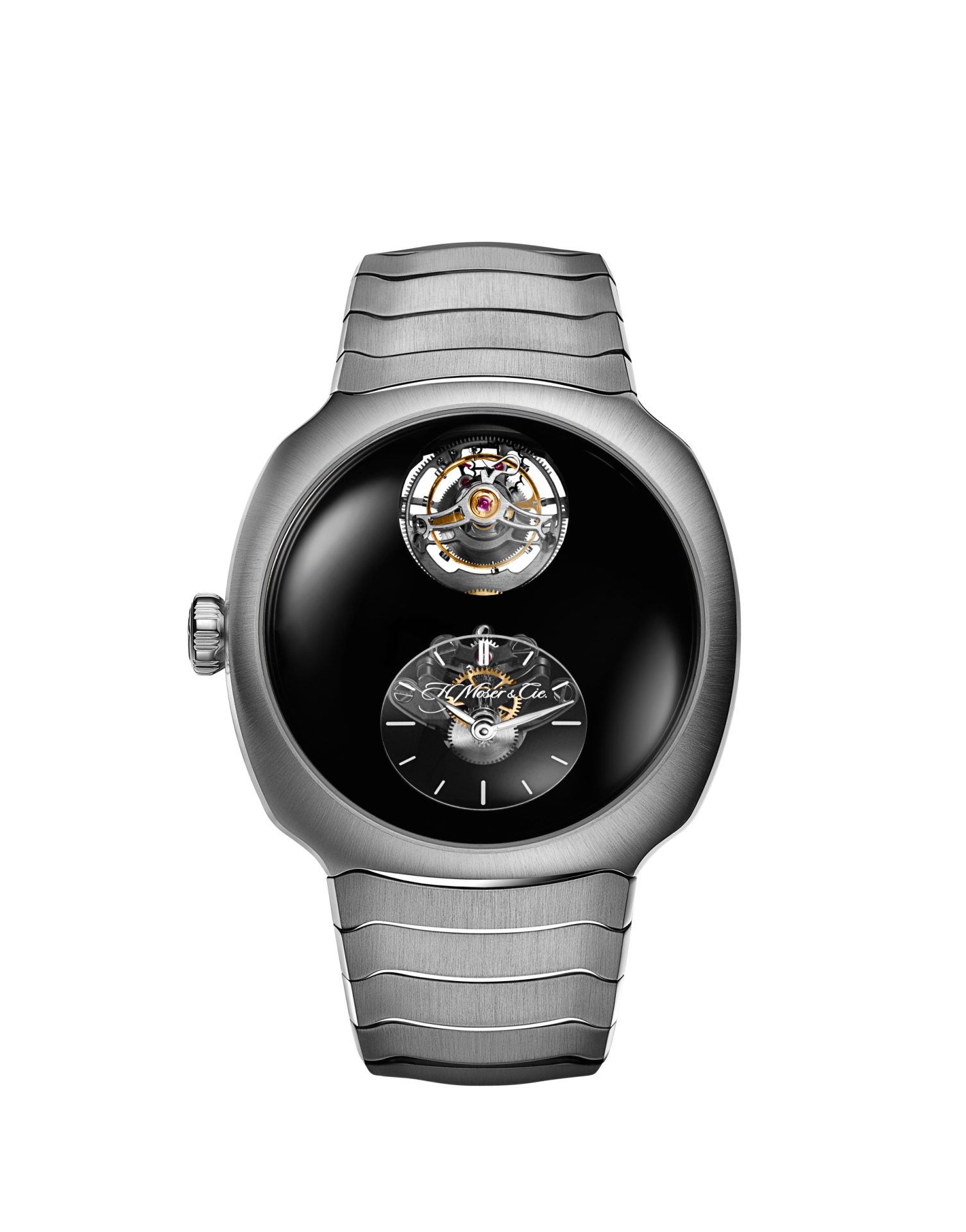 Reference 6810-1200, steel model, main dial in Vantablack®, hours and minutes dial in sapphire, integrated
steel bracelet, unique piece
Case
Steel topped by a highly domed sapphire crystal
Diameter: 40.0 mm
Height without sapphire crystal: 10.0 mm
Crown at 9 o'clock, engraved with an "M"
See-through case-back
Water resistance to 12 ATM
Dial
Main dial in Vantablack®
Hours and minutes dial in sapphire tilted at a 40° angle positioned at 6 o'clock
Leaf-shaped hour and minute hands
Movement
HMC 810 three-dimensional automatic Manufacture calibre
Diameter: 32.0 mm or 14 ¼ lignes, height: 5.5 mm
Frequency: 21,600 Vib/h
29 jewels
184 components
Automatic bi-directional pawl winding system
Oscillating weight in gold with engraved H. Moser & Cie. logo
Power reserve: minimum 72 hours
Cylindrical hairspring
1-minute flying tourbillon at 12 o'clock with skeletonized bridge
Functions
Hours and minutes
Bracelet
Integrated steel bracelet
Folding clasp with three steel blades, engraved with the Moser logo
Half-links available
REFERENCE & PHOTOS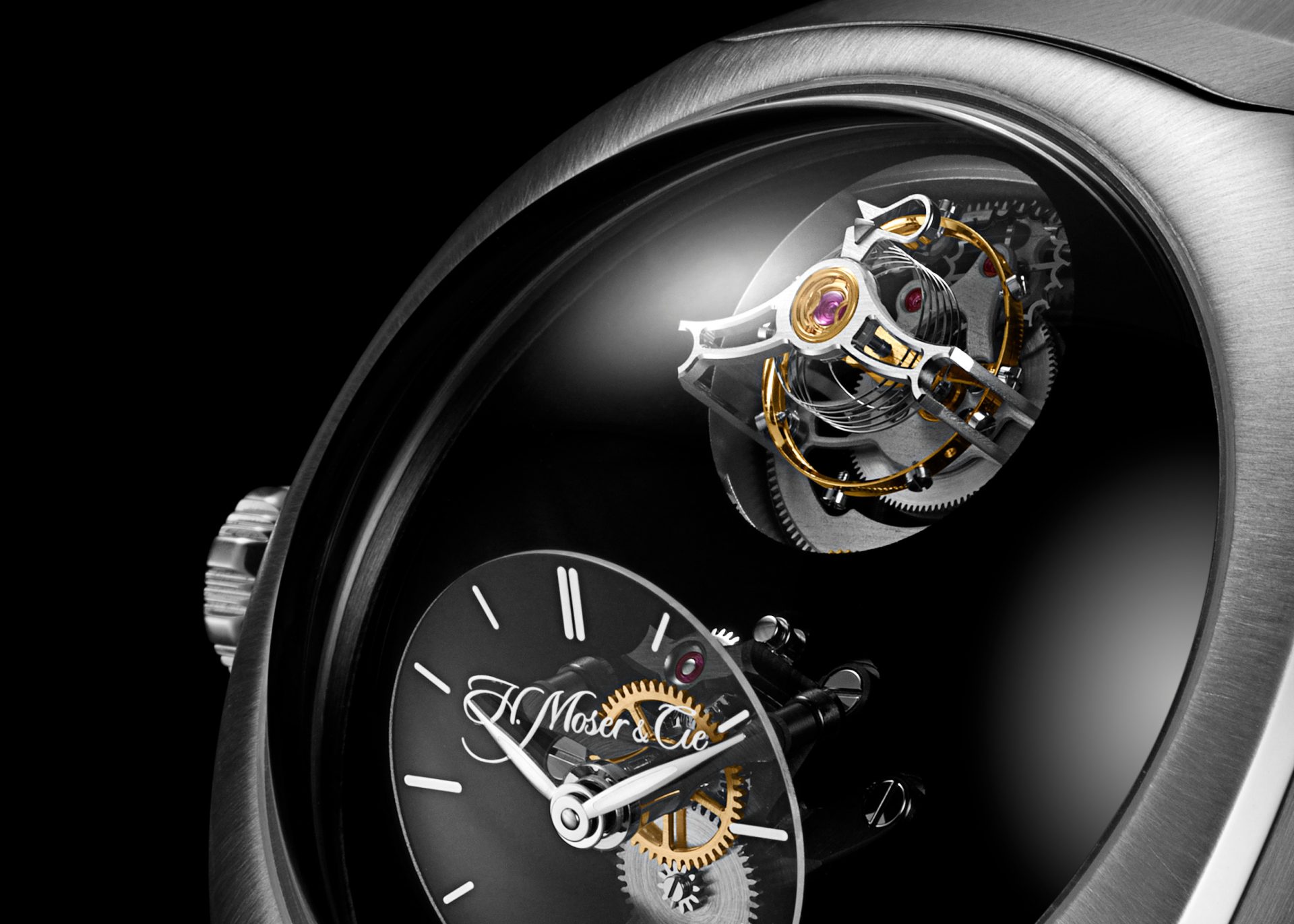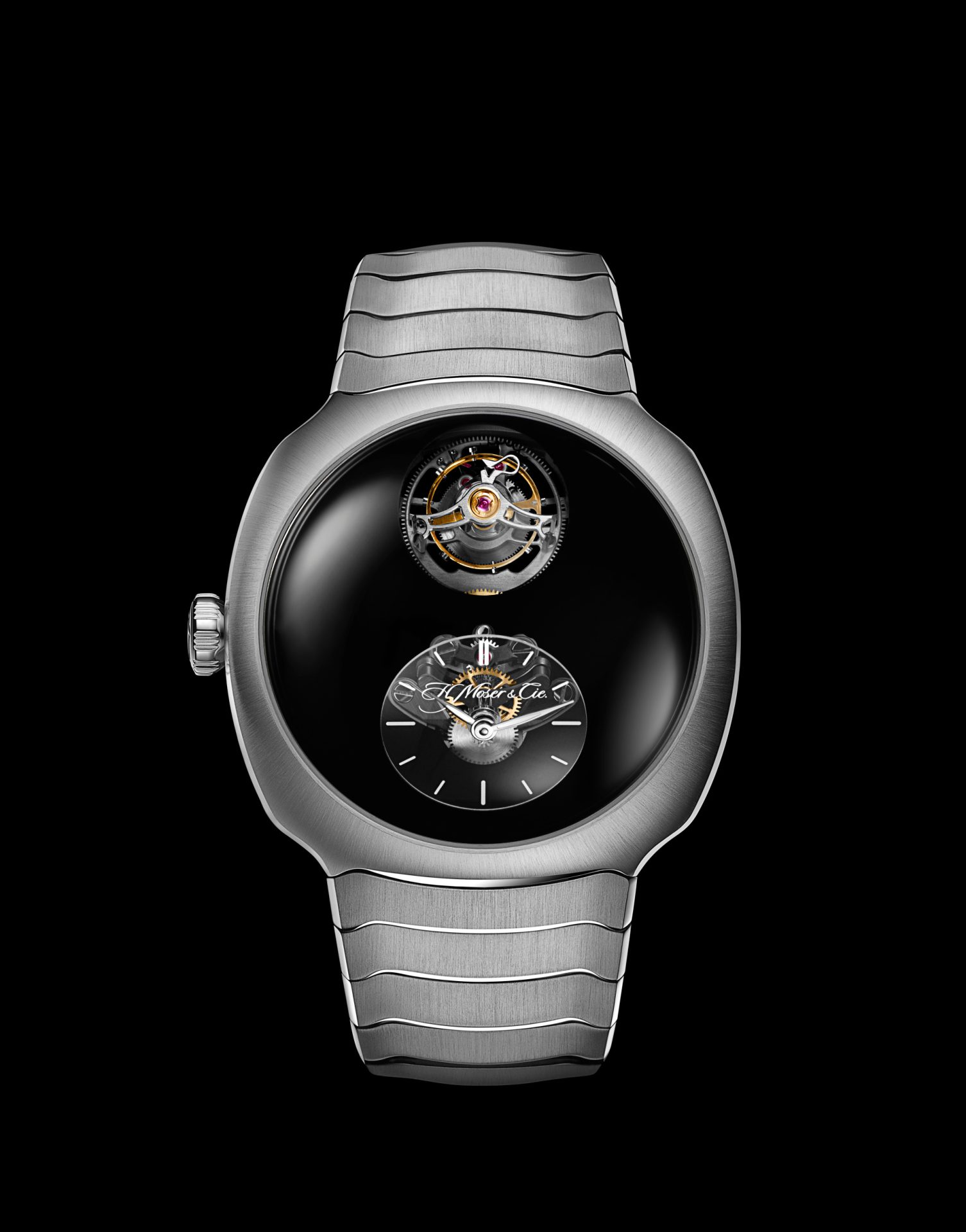 Streamliner Cylindrical Tourbillon Only Watch, ref. 6810-1200, steel model, main dial in Vantablack®, hours
and minutes dial in sapphire, integrated steel bracelet, unique piece
CONTACT
Nathalie Cobos, T +41 76 319 03 09, press@h-moser.com
H. MOSER & CIE.
H. Moser & Cie. was created by Heinrich Moser in 1828. Based in Neuhausen am Rheinfall, it currently employs around 60 people, has developed 14 in-house calibres to date and produces more than 1,500 watches per annum. Through its sister company Precision Engineering AG (PEAG), H. Moser & Cie. manufactures parts such as regulating organs and balance-springs, which are used for its own production as well as to supply its partner companies. Independent company incorporated into Moser Watch Holding in 2012, Precision Engineering AG specialises in watch components for escapements, from their initial design to the production of a quality product ready to be integrated into the watch movement it must regulate. H. Moser & Cie. is honoured to have a Moser family member with the company as Honorary Chairman and President of the Heinrich and Henri Moser Foundation. The aim of the Moser Foundation, created by one of Heinrich Moser's descendants, is to keep the family history alive and seek out antique pieces for the Moser Museum, located in Charlottenfels Manor, Heinrich Moser's family home. With its substantial watchmaking expertise and highly acclaimed experience in the sector, MELB Holding holds shares in H. Moser & Cie. and Hautlence. MELB Holding is an independent family group, based in the heart of the legendary Vallée de Joux.