THE ART OF FUSION BRINGS TOGETHER TWO EXCEPTIONAL PARTNERS: HUBLOT AND THREE MICHELIN STAR CHEF ENEKO ATXA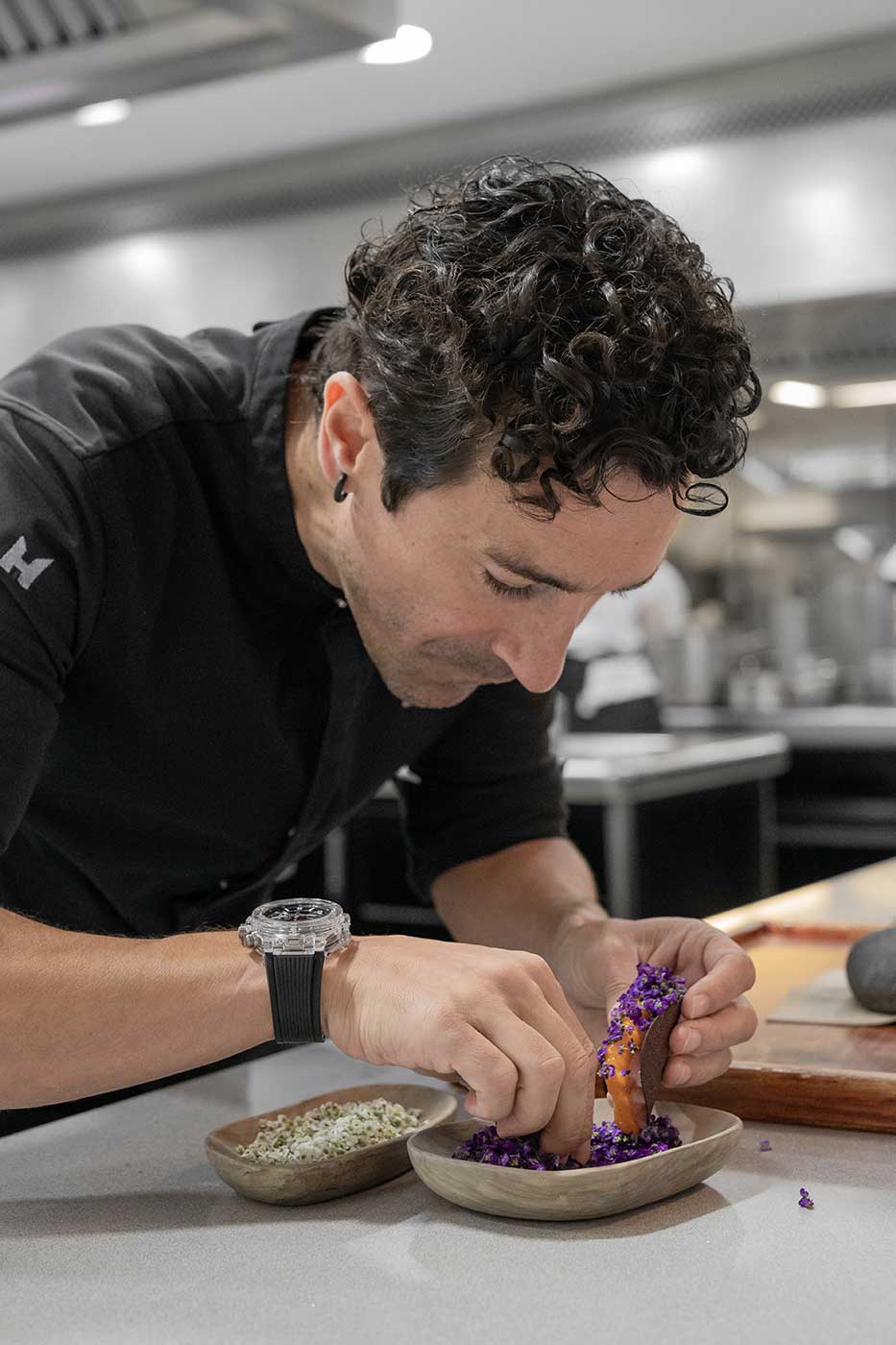 The Swiss luxury manufacture welcomes one of the best chefs in the world, Eneko Atxa, who holds five Michelin stars with his various restaurants, to the Hublot family. Born in Amorebieta (Vizcaya, Basque Country, Spain), he became one of the youngest chefs to be awarded three Michelin stars at his restaurant Azurmendi. His cuisine continues to grow and evolve, giving way to new proposals such as international projects ENEKO and BASQUE or the Eneko Shop, a delivery service through which the chef has adapted to the new ways of living and working in times of pandemic. With Eneko Atxa, who perfectly embodies the values Hublot holds most dear, namely passion, excellence and creativity, the brand further strengthens its ties with the leading visionaries of the world of gastronomy.
Hublot shares many values with chef Eneko Atxa. His career, nurtured through a blend of honesty, creativity and hard work, coupled with his culinary signature, which combines regional elements, traditional products and innovation, fully express the spirit of watchmaking to which Hublot has always adhered. Profoundly aware of the extraordinary influence of Eneko and his invaluable contribution to the international gastronomic scene, we are delighted to welcome him into the Hublot family."
Ricardo Guadalupe
Hublot CEO
Conquering the world, with restaurants in Larrabetzu (Bilbao), Tokyo, Karuizawa, London, Lisbon, Seville and Brussels, his creative cuisine, inspired by his surroundings, always weaves in an unwavering commitment to sustainability and the environment. In this context of social responsibility, the Basque chef has won the Repsol Guide Sustainable Sun award, which values harmonious coexistence with nature, using proximity resources, working together with local producers and strongly advocating sustainability as part of the business approach. The chef and his flagship restaurant, Azurmendi, lead the way in these matters, having been awarded 3 Suns by the Repsol Guide and 1 Michelin Green Star for his commitment to sustainability, at his restaurant Eneko.
True to its philosophy of "First, Unique and Different", Hublot has boldly explored ground-breaking expertise while preserving classic Swiss watchmaking traditions. The Maison is constantly pushing the boundaries of watchmaking and traditional concepts to create futuristic masterpieces with unique craftsmanship and cutting-edge design. Keen to highlight its pioneering and adventurous spirit, Hublot merges its philosophy with that of Spanish chef Eneko Atxa, who has earned notable recognition in the international gastronomic industry for his intrepid, unconventional and innovative spirit.
I use gastronomy to achieve a more sustainable, healthier and fairer society, but also to spark emotions. In this sense, as a member of the great Hublot family, I feel fortunate to be able to merge my culinary art with this manufacture in which all the talents and skills work in unison to create unique timepieces that unleash strong emotions".
Eneko Atxa
Michelin five-star Chef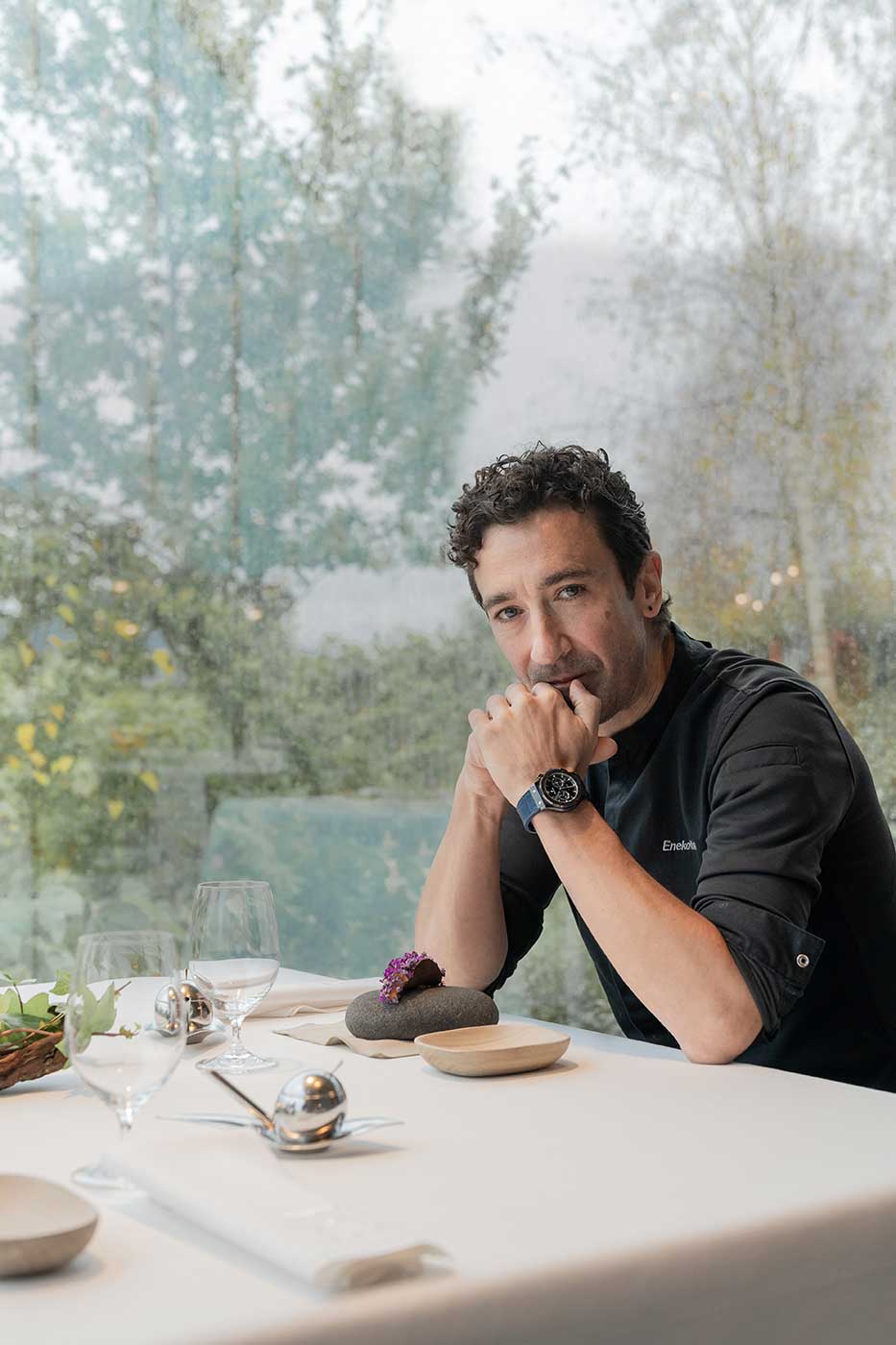 At 44, the chef has already built a long career. He trained at the Catering School in Lejona (Vizcaya, Basque Country, Spain). He later worked in various restaurants in the Basque Country, such as Baserri Maitea and Martín Berasategui's restaurant Andra Mari in Galdácano. He is the Spanish champion of signature cuisine for young chefs. His restaurant Azurmendi, which opened its doors in 2005, has twice been considered the most sustainable restaurant in the world and has 3 Michelin stars. It was also named the "Best Restaurant in Europe" by to OAD (Opinionated About Dining) and designated the "Best Restaurant in the World" by the luxury magazine Elite Traveler. He has received the Madrid Fusión Sustainability Award, the 2015 National Gastronomy Award, the 2018 National Healthy Gastronomy Award in the Outstanding Personality category, was named 2019 European Chef of the Year by Madrid Fusión, and has been a member of the European Young Leaders Programme.
Hublot welcomes Eneko Atxa, who next year will return to Bilbao in style, to the Hublot family of great international chefs. The new restaurant will be a fusion of Basque and Japanese cuisine, whose name will use the phonemes that make up Eneko's name, with an oriental ring to it. This same concept of a Basque-Japanese fusion restaurant will also move to Madrid next year under the umbrella of the Radisson Hotel Group chain.
HUBLOT
Founded in Switzerland in 1980, HUBLOT is defined by its innovation, which began with the highly original combination of gold and rubber. This "Art of Fusion" stems from the imagination of its visionary Chairman, Jean-Claude Biver, and has been driven forward by CEO Ricardo Guadalupe since 2012.
The release of the iconic, multi-award-winning Big Bang in 2005 paved the way for new flagship collections (Classic Fusion, Spirit of Big Bang), with complications ranging from the simple to the highly sophisticated, establishing the extraordinary DNA of the Swiss watchmaking house and ensuring its impressive growth.
Keen to preserve its traditional and cutting-edge expertise, and guided by its philosophy to "Be First, Different and Unique", the Swiss watchmaker is consistently ahead of the curve, through its innovations in materials (scratch-resistant Magic Gold, ceramics in vibrant colours, sapphire), and the creation of Manufacture movements (Unico, Meca-10, Tourbillon).
HUBLOT is fully committed to creating a Haute Horlogerie brand with a visionary future: a future which is fused with the key events of our times (FIFA World CupTM, UEFA Champions League, UEFA EUROTM) and the finest ambassadors our era has to offer (Chiara Ferragni, Pelé, Kylian Mbappé, Usain Bolt, Novak Djokovic).
Discover the HUBLOT universe at our network of boutiques located in key cities across the globe: Geneva, Paris, London, New York, Hong Kong, Dubai, Tokyo, Singapore, Zurich and at HUBLOT.com