The fabulous Breitling Chronomat for Women is making its way into the virtual wardrobe of DREST, the world's first interactive luxury fashion mobile game.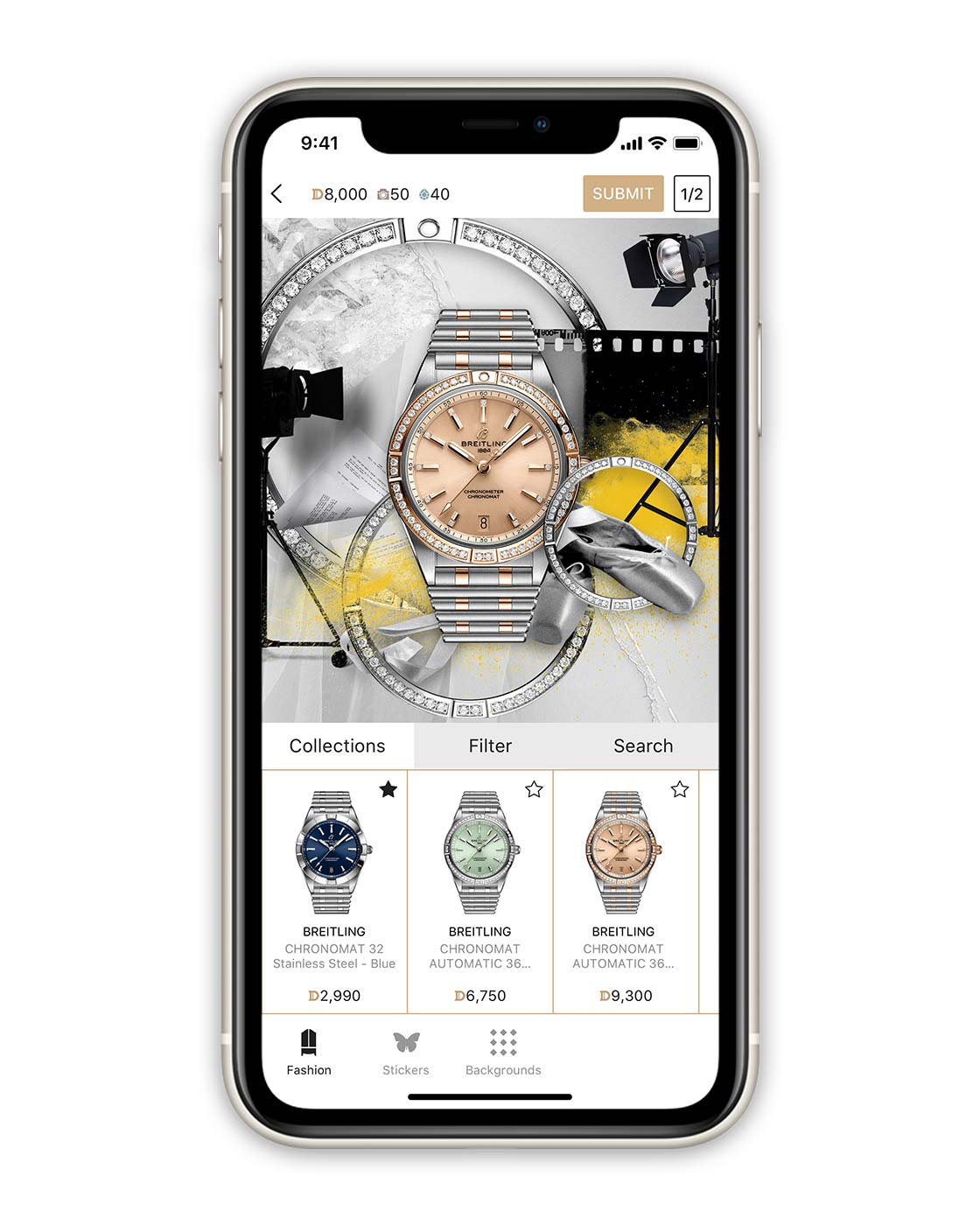 Breitling is the first luxury watch brand to partner with DREST, a highly immersive game that sees players adopt the role of a fashion stylist – building digital photo shoot and mood board creations using real-life products from over 200 leading global fashion brands. As with all the other fashion items featured in DREST, there is the option for users to seamlessly shop the Breitling pieces they have played and competed with in-game – creating a fun and interactive modern-day shopping experience.
"We are very excited that Breitling, and specifically our new Chronomat for Women collection, will become a part of DREST's vast virtual wardrobe. It's really a fun way to experience the latest in luxury, and we believe Breitling has a role to play in that world," says Breitling Chief Marketing Officer Tim Sayler. "It's a great chance to introduce our beautiful women's watches as well as our Spotlight Squad members to DREST's online community of fashion-forward individuals."
The versatile Chronomat for Women, launched in October 2020, is the perfect addition to the DREST assortment. Sporty yet elegant, this modern retro-inspired watch easily takes its wearer from a business meeting to the beach – and everywhere in between. It symbolizes competence and effortless style and is available in a range of finishes.
DREST's Managing Director & Chief Brands Officer, Tess Macleod Smith, adds: "We are thrilled to reveal globally renowned heritage brand Breitling as our first luxury watch partner. This collaboration signifies a key moment in our journey to truly democratize the world of luxury – through DREST, individuals everywhere now have the opportunity to virtually own, and style endlessly with, a Breitling watch. We are forever exploring ways to blend real and virtual experiences in our mobile game, so it is incredibly exciting to have Misty Copeland – a woman who is admired for not only her extraordinary talent but also for her advocacy, tenacity, and philanthropic endeavors – select her favorite DREST Mood Board creation from all the entries and reward the winner with a real watch from the stunning Breitling Chronomat for Women collection."
PLAY, STYLE, AND CREATE WITH BEFORE YOU BUY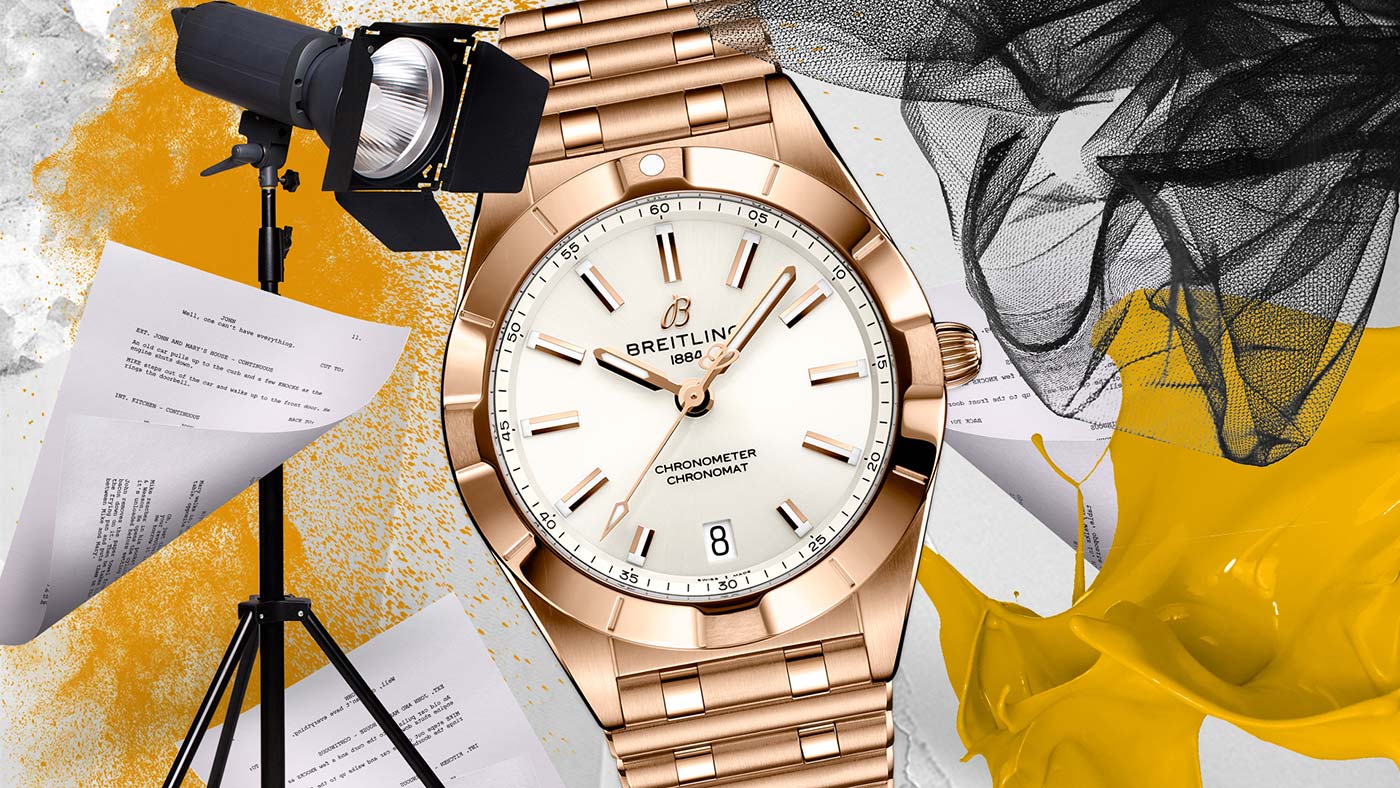 The watches in the Chronomat for Women range feature Breitling's iconic Rouleaux bracelet with a butterfly clasp. Along with the choice of sizes (36 and 32 mm), this classy timepiece is available in cool stainless steel, versatile bicolor versions, or deluxe 18-karat red gold. Women craving extra sparkle can opt for diamond-set bezels and indexes.
There are numerous versions to choose from, with lacquered dials in white, pale green, midnight blue, or copper.
In real life, this watch is already a hit with members of Breitling's Spotlight Squad – a trio of powerful women of purpose, action, and style. Ballet dancer Misty Copeland and actresses Charlize Theron and Yao Chen are all at the top of their game, and they're known for shining their light on causes close to their hearts.
SET YOUR ALARM TO WIN A BREITLING WATCH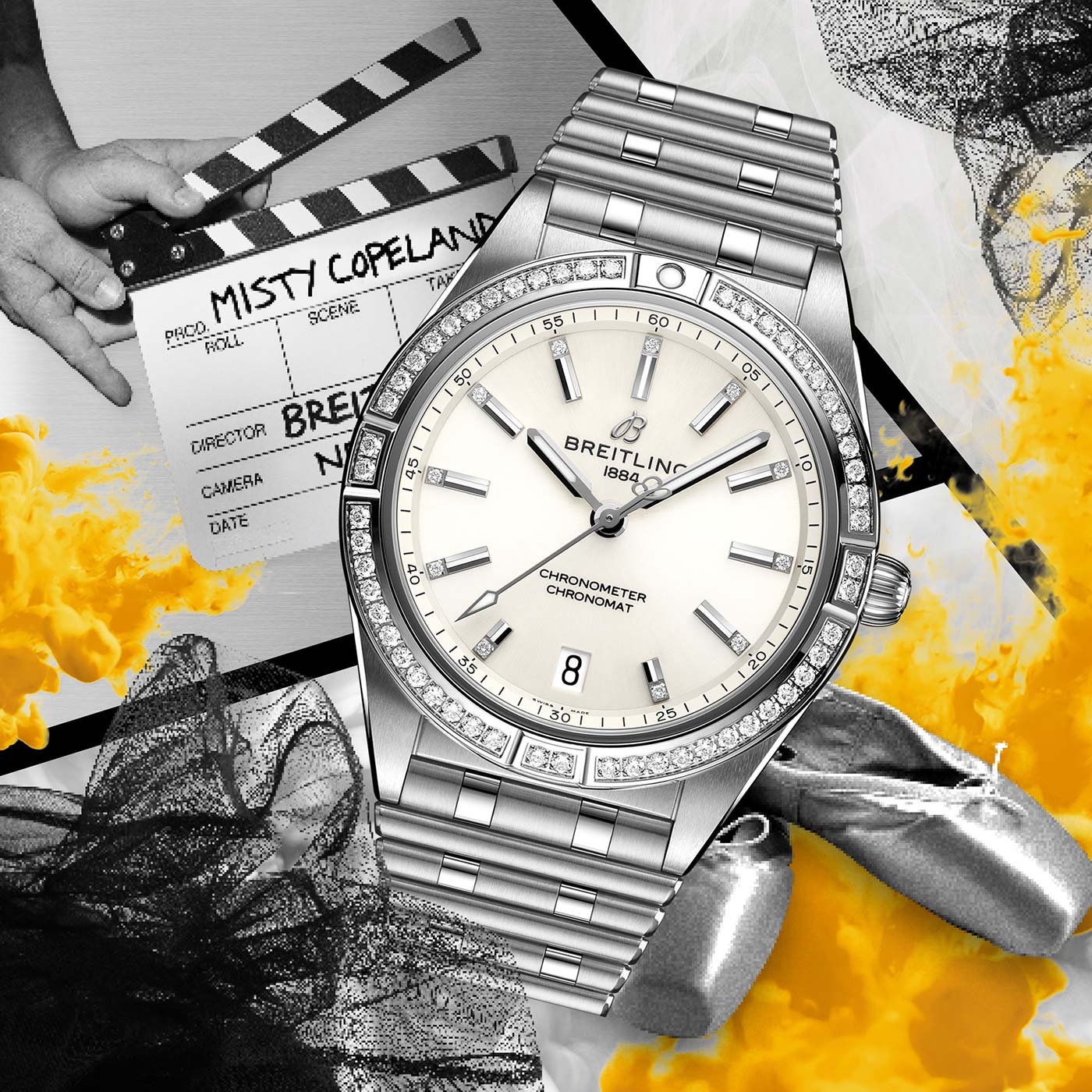 Now it's time for DREST stylists to get creative! This winter there will be two Breitling X DREST Mood Board challenges. The first one starts on January 29, 2021, at 12:00 noon GMT, and is live for three days. Over the course of 72 hours, DREST users will have the chance to win a watch from the real-life collection simply by completing the brand's dedicated challenge.
In addition to images of the watch, contestants can adorn their boards with an array of digital stickers inspired by the vibe of Breitling's Spotlight Squad.
DREST users will receive a final score when submitting their creations – this is a combination of how well they have met the challenge brief and how highly the community has rated their creativity. The best 20 mood boards will be shared with Breitling Spotlight Squad member Misty Copeland, the first African-American woman to become a principal dancer at the American Ballet Theatre.
Misty Copeland will select her favorite mood board, and its lucky creator will win a Chronomat Automatic 36 in stainless steel. DREST and Breitling will announce the winner's name on February 7, 2021. A second Breitling dedicated Mood Board challenge will follow in March.
Participation in the Breitling competition and prize drawing is possible in the following countries: Switzerland, Germany, Austria, France, Monaco, Spain, Hungary, the UK, Ireland, Sweden, Denmark, the Netherlands, Belgium, Singapore, Japan, New Zealand, Argentina, the USA, and Canada.
BREITLING
Since 1884, Breitling has established a global reputation for high-precision timepieces, its pioneering role in the development of the wrist chronograph, and its uncompromising commitment to design excellence. With the brand's storied association with aviation, Breitling has shared the finest moments in humankind's conquest of the skies. Renowned for its spirit of innovation, it has also earned a place of privilege in the worlds of science, sport, and technology. Breitling manufactures its own movements in-house and the quality of every one is – like the movements in all Breitling watches – confirmed by its status as a COSC-certified chronometer, made in Switzerland.
DREST
The world's first luxury RVR (real-virtual-real) platform – a pioneering, virtuous polyconcept with gamification, shopping, creativity, content, and entertainment at its core – was imagined and founded by Lucy Yeomans, the award-winning former editor-in-chief of PORTER, NET-A-PORTER. COM, and Harper's BAZAAR UK in 2019. This fashion styling mobile game takes user-generated storytelling to a new level and promises over 200 luxury brands including Gucci, Bottega Veneta, Prada, Off-White, Loewe, Chloé, Thom Browne, Burberry, Stella McCartney, and Fenty an untapped frontier to connect with audiences in unique and highly engaging ways. The digital fashion assortment is provided by both Farfetch and brands directly, enabling users to seamlessly shop the content they have created and competed with virtually in real life.
DREST has cast some of the most innovative and exciting women working in fashion as their avatar selves into the gameplay. Natalia Vodianova, Precious Lee, Irina Shayk, Imaan Hammam, and Candice Huffine are advocates and figureheads for charities and movements – DREST has pledged to match 50% of the revenue earned by them in-game and donate this to their respective causes. Virtual hair and make-up has been exclusively designed for each Supermodel by industry heavyweights Sam McKnight and Mary Greenwell, respectively. DREST is available for download on The App Store.
ADDITIONAL INFORMATION
DOWNLOADS
All press material can be downloaded free of charge at
https://press.breitling.com/breitling-x-drest
FURTHER INFORMATION
ROMY HEBDEN
Head of Corporate Communications
BREITLING SA
Léon Breitling-Strasse 2
2540 Grenchen
Switzerland
Telephone: +41 32 654 54 54
Mobile: +41 79 731 90 28
E-mail: romy.hebden@breitling.com
Check our website at www.breitling.com
INTERNET AND SOCIAL MEDIA
Web www.breitling.com/zz-zz/watches/chronomat
Facebook www.facebook.com/breitling
YouTube www.youtube.com/breitling
Twitter www.twitter.com/breitling
Instagram www.instagram.com/breitling
Pinterest www.pinterest.com/breitling
DREST UK
BRITTANY GRIFFIN
Science Magic Inc.          E-mail: brittany.griffin@sciencemagic.inc
DREST US
JENNA CIRANGLE
Science Magic Inc.          E-mail: jenna.cirangle@sciencemagic.inc
INTERNET AND SOCIAL MEDIA
Web www.drest.com
Facebook www.facebook.com/Drest
YouTube www.youtube.com/channel/UC9iUtilFiu2Ih8yFIv4xOcQ
Twitter www.twitter.com/Dreststyle
Instagram www.instagram.com/drest
App Store https://apps.apple.com/us/app/drest/id1477620933