The big-hearted woman in Hublot's starry constellation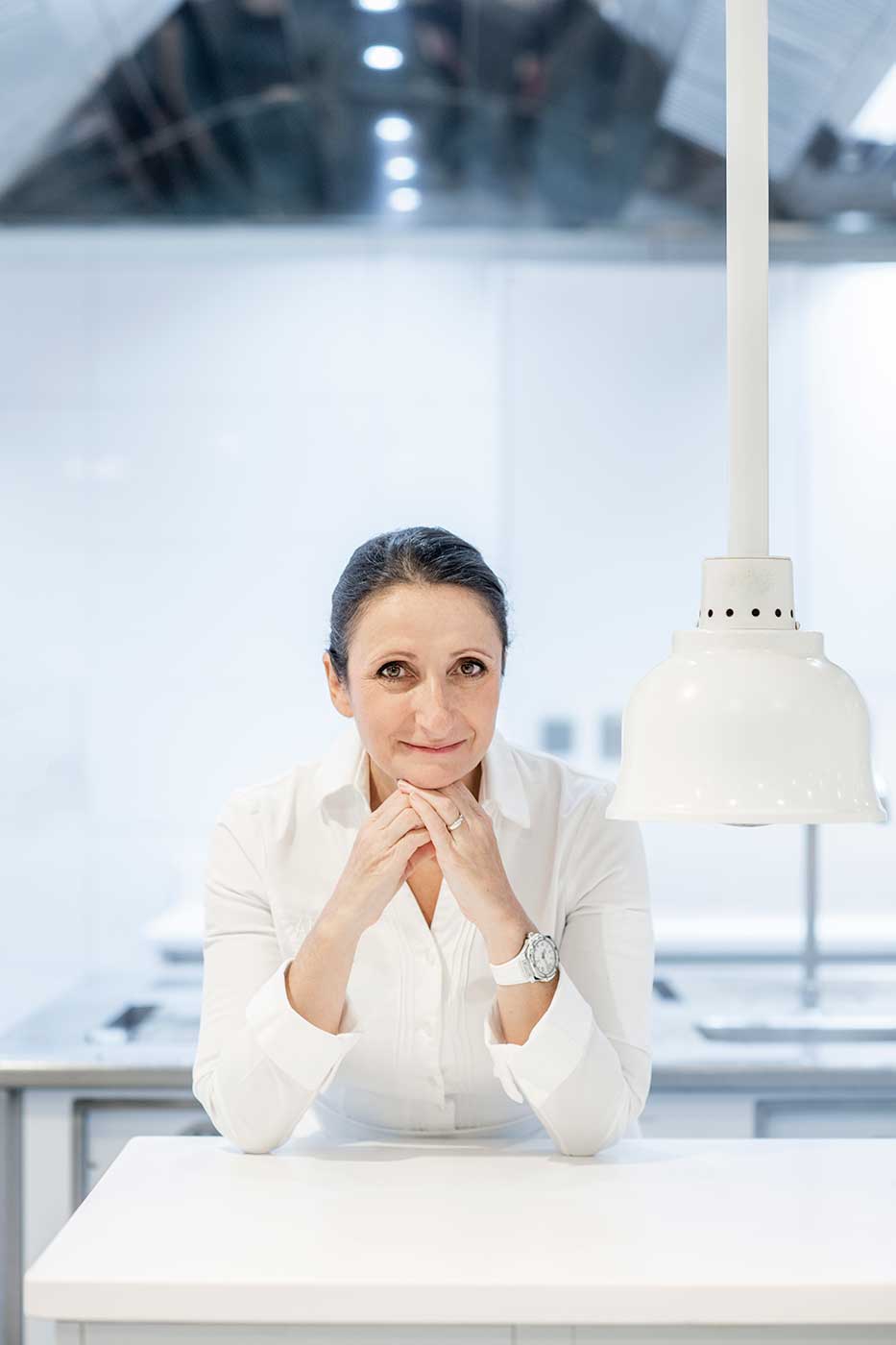 Anne-Sophie Pic is much more than a sum of her stars. Haute Cuisine runs in the family and she is passionate about her work; this is just the kind of personal story Hublot
loves. The kind of story that brings people into the spotlight, creates emotional attachment, forges a unique, different character, which emboldens them, because to be
the first, you have to dare to go where no-one else has gone before. A bit closer to the stars with Anne-Sophie Pic
Anne-Sophie Pic is a woman who loves life. She is passionate, curious, talented and knows how to  bring out flavours. She embodies the family passion for fine dining, a history of fusing flavours and the pleasure of sharing which began more than a century ago. Sophie, her great-grandmother, who was a pioneer at heart, opened her restaurant, L'Auberge du Pin and served meals as far back as 1889. Then André, her grandfather, established what would become La Maison Pic and in 1934 was one of the first chefs to be awarded three stars by the Michelin Guide. Finally, Jacques, her father, took over La Maison in 1957 and in turn obtained three stars in 1973, when Anne-Sophie was just three years old. It was Jacques who created the distinctive character of the Pics, a revolution in fine dining with original flavour combinations.
I love the idea that a material or an ingredient can be revealed in different ways using different techniques Combining aromas to explore the full range of flavour possibilities. It is like revealing the best of each part, as if by combining them, transforming them, they become even better. It's a search for the potentiality in everything, a field of infinite experimentation and alliances. I try to find the balance, to transform a product or a dish by revealing its visible and invisible infinity. I find parallels in the way Hublot fuses materials together, in the tenuous link that the watchmaker weaves between the visible and the invisible, their delicate and meticulous gestures, a small and subtle infinity, the fact that, as in cooking, it is a unique combination that creates harmony. They have their innovation laboratory, I have a culinary research laboratory, as we both like to push back the limits, step out of our comfort zone, to move forward and explore new creative territories.
We are also linked by our love of creating, providing and sharing emotions. We allow ourselves to be imbued by the material around us to create beauty and to touch the senses. We embody a heritage, and create history. In our own way, we are writing a page in the history of fine dining, the history of watchmaking, free from pretension, just with plenty of passion."
Anne-Sophie Pic
3-star Michelin chef and Hublot ambassador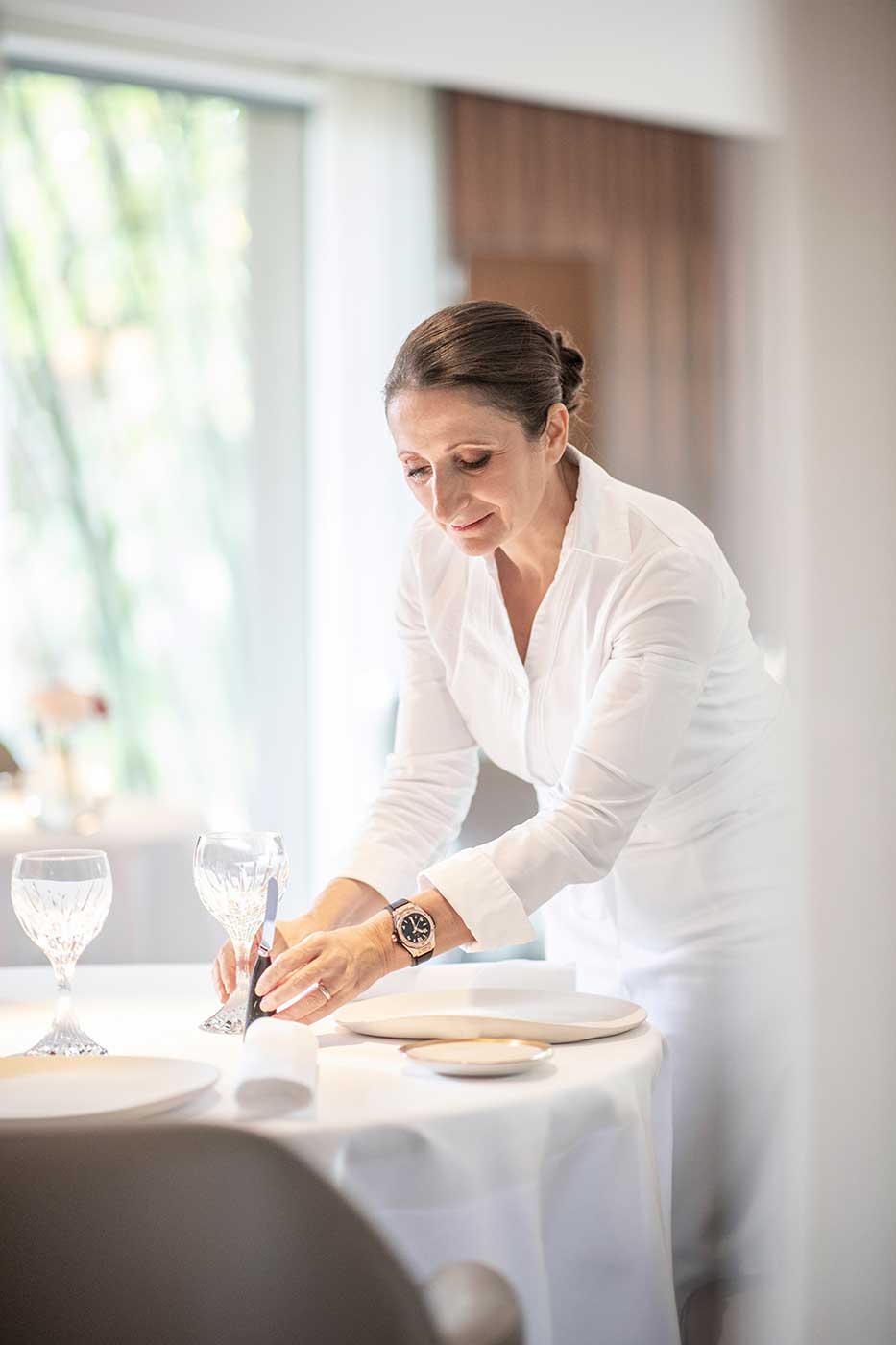 When Anne-Sophie Pic says that cooking for those we love is the most wonderful proof of our affection, you feel all the generosity and the beautiful soul of this family epicurean.
Our philosophies have a lot in common, our vision of watchmaking embodies the Art of Fusion, she expresses her vision of fine dining through the Art of Absorption. Two different terms to describe a similar vision, one which involves revealing, transforming, transcending matter, ingredients and products.
Her experimentation is similar to that of Hublot, in the way she transforms matter by fusion, vaporisation or sublimation. There is that same inspiring and limitless alchemy, the perpetual experimentation, the search to go beyond the visible in matter, in the ingredients, to reveal the invisible.
She embodies the values of complementarity and team spirit, echoing Hublot's approach. Anne-Sophie Pic embodies a unique, different vision of fine dining: by stepping out of her comfort zone, by putting herself in danger, by pushing back the limits, she moves forward, innovates and marks firsts in the history of fine dining. She is notably the female chef with the most Michelin stars in the world and the only woman to have three stars in the French Michelin Guide. But Anne-Sophie Pic is much more than the sum of her stars!"
Ricardo Guadalupe
CEO HUBLOT
This is a unique family history where each generation earned its own stars, creating a true constellation of French fine dining over time. It's a story that includes Proust's madeleine, and the heart of the Pic family, a passion for fine dining that Anne-Sophie observed from her window, drawn again and again by the emotion. She inherited that passion from her father who developed her taste, smell and her incredible sensory memory. She cooks for her father, who died too early, and for the history and heritage of her family whose destiny is intimately linked to visible and invisible flavours, which Anne-Sophie never ceases to reveal, transform and infuse through her cuisine.
As a self-taught, instinctive and intuitive chef, she blends unusual flavours and loves using unconventional tastes and unloved or forgotten ingredients. The chef from Valence has cooking in her blood and invention and creativity in her heart. While her 3 stars have been shining in her firmament since 1997, she also has more Michelin stars than any other female chef in the world, with 8 stars for her 4 restaurants in Valence(***)/Paris(*)/Lausanne(**) and London(**). Anne-Sophie Pic may have been born under a lucky star, but what is certain is that she has managed to transcend her destiny. She continues to constantly reinvent herself with humility, while retaining her core identity. She has not
finished testing the limits of the stars and has engraved her name in the firmament of fine dining. People talk about her culinary empire, but she sees it more like her family tree which, along with her husband David Sinapian, she has grown from a family company into a group where human identity remains at its core as she expands its skills.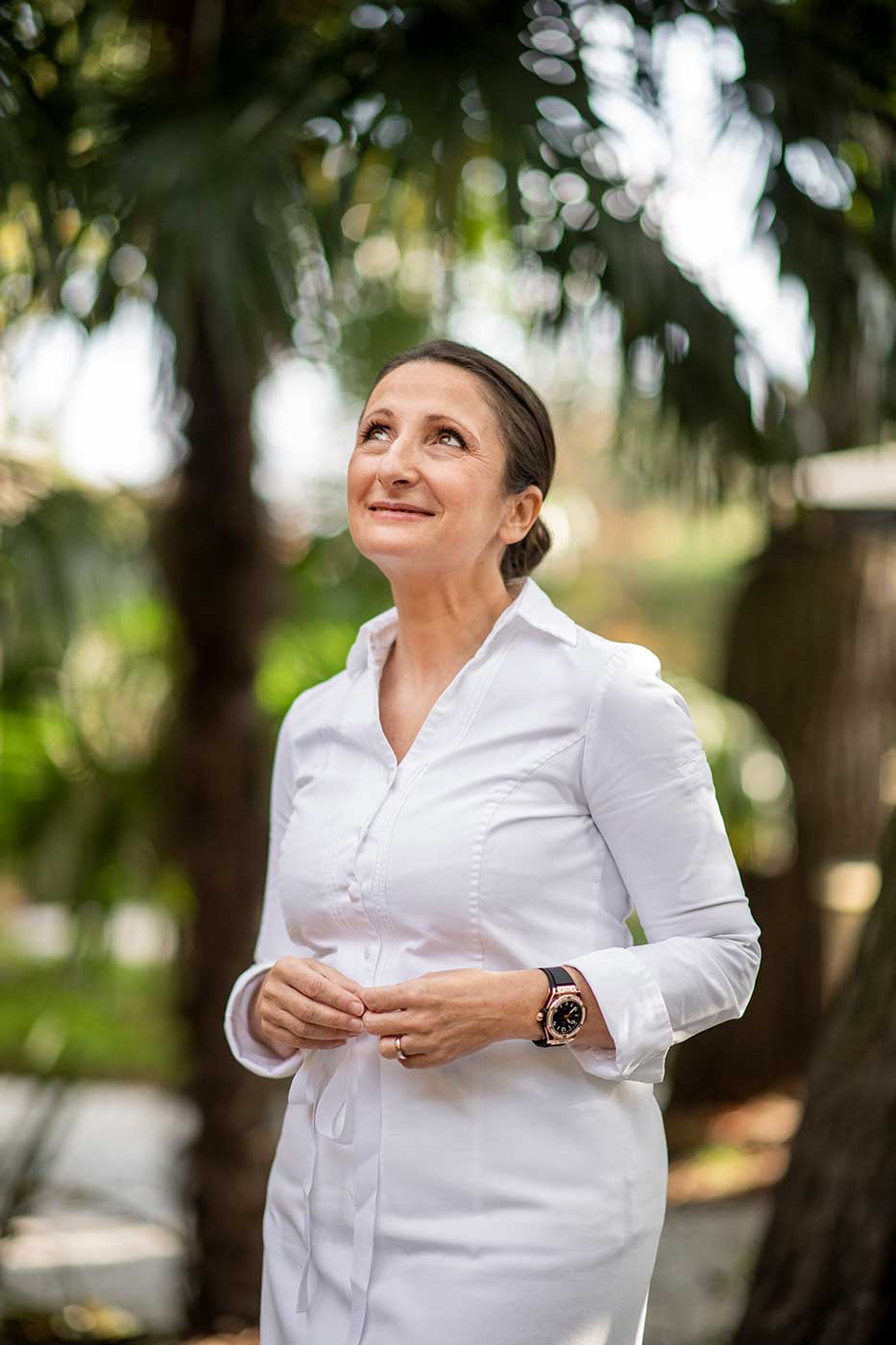 Her history is a story of the senses, smell and tastes. With freedom and audacity, passion and sensitivity, she allows herself to be guided by her intuition, and becomes absolutely absorbed with and merged in a dialogue that weaves its way through the food and drinks to create a total symbiosis between aromas and flavours.
This culinary queen is above all a big-hearted woman, who puts all her generosity into her dishes,viewing them as little pieces of happiness to enhance the senses. Given her sensitivity, she wants to bring this pleasure of taste to those who are deprived of it, she has therefore created the charity 'Let's give children the gift of taste,' which includes a centre to care for children suffering from taste-related diseases.
HUBLOT
Founded in Switzerland in 1980, HUBLOT is defined by its innovation, which began with the highly original combination of gold and rubber. This "Art of Fusion" stems from the imagination of its visionary Chairman, JeanClaude Biver, and has been driven forward by CEO Ricardo Guadalupe since 2012.
The release of the iconic, multi-award-winning Big Bang in 2005 paved the way for new flagship collections (Classic Fusion, Spirit of Big Bang), with complications ranging from the simple to the highly sophisticated, establishing the extraordinary DNA of the Swiss watchmaking house and ensuring its impressive growth.
Keen to preserve its traditional and cutting-edge expertise, and guided by its philosophy to "Be First, Different and Unique", the Swiss watchmaker is consistently ahead of the curve, through its innovations in materials (scratchresistant Magic Gold, ceramics in vibrant colours, sapphire), and the creation of Manufacture movements (Unico, Meca-10, Tourbillon).
HUBLOT is fully committed to creating a Haute Horlogerie brand with a visionary future: a future which is fused with the key events of our times (FIFA World CupTM, UEFA Champions League, UEFA EUROTM) and the finest ambassadors our era has to offer (Chiara Ferragni, Pelé, Kylian Mbappé, Usain Bolt, Novak Djokovic).
Discover the HUBLOT universe at our network of boutiques located in key cities across the globe: Geneva, Paris, London, New York, Hong Kong, Dubai, Tokyo, Singapore, Zurich and at HUBLOT.com