«I am proud to welcome Alexia Putellas into our family. A great footballer of international stature, Alexia's leadership role goes beyond the playing field and is evident in her
commitment to women's sports and female empowerment. Her relentless pursuit of excellence and performance makes her a perfect addition to the Hublot team.»
Ricardo Guadalupe
HUBLOT CEO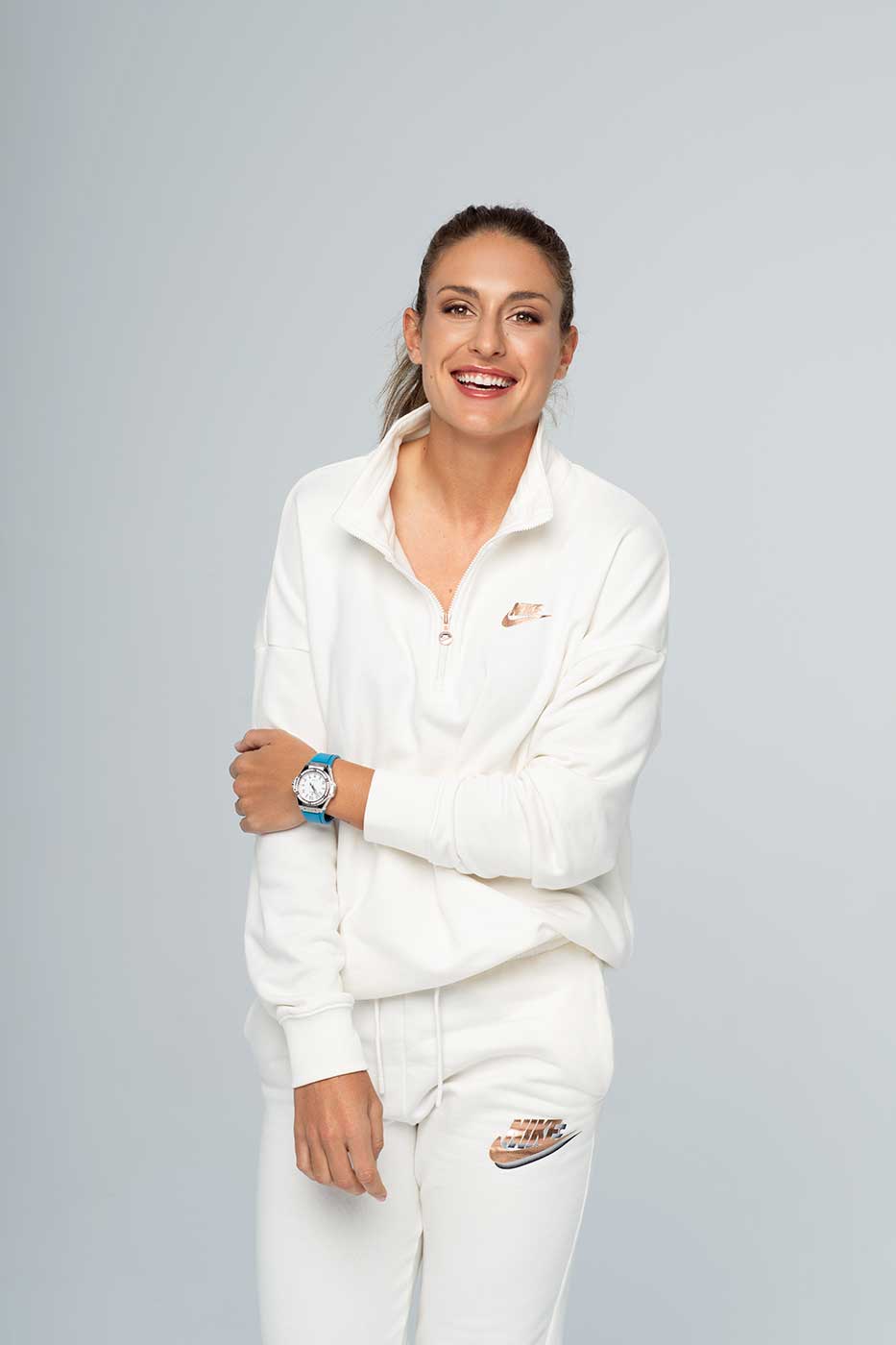 Captain of FC Barcelona and of the Spain Women's National Football Team and two-time World Cup player, Alexia Putellas, born in Mollet del Vallès, Barcelona, in 1994, is Hublot's new Friend of the Brand. Her prowess when it comes to leadership makes her a force to be reckoned with in the world of women's football. She was the first woman to score a goal at Camp Nou in an official match and also the first female player to score at the Johan Cruyff Stadium. The Swiss luxury watch brand welcomes
this icon of women's football, who is joining other legendary sportswomen such as Dina Asher-Smith, Ada Hegerberg, Alex Morgan and Corinne Suter.
A superb footballer with unquestionable commitment and a hunger for success, Alexia is a highly valued athlete at both a national and international level. Not only is she passionate about football, she is also strongly committed to supporting women's sports and society in general.
The FC Barcelona midfielder has a lot in common with Hublot, particularly when it comes to herrelentless pursuit of excellence and performance. An icon of the beautiful game since 2012 when she was signed back from Levante at 18 years of age, she is a true trailblazer for the new generation of female athletes.
«I am proud to belong to the Hublot family, which unconditionally supports the world of sport. It is an honour for me to play for the Hublot team in the match of equality and women's empowerment through football. »
Alexia Putellas
Trajectory of a champion and a driver of women's empowerment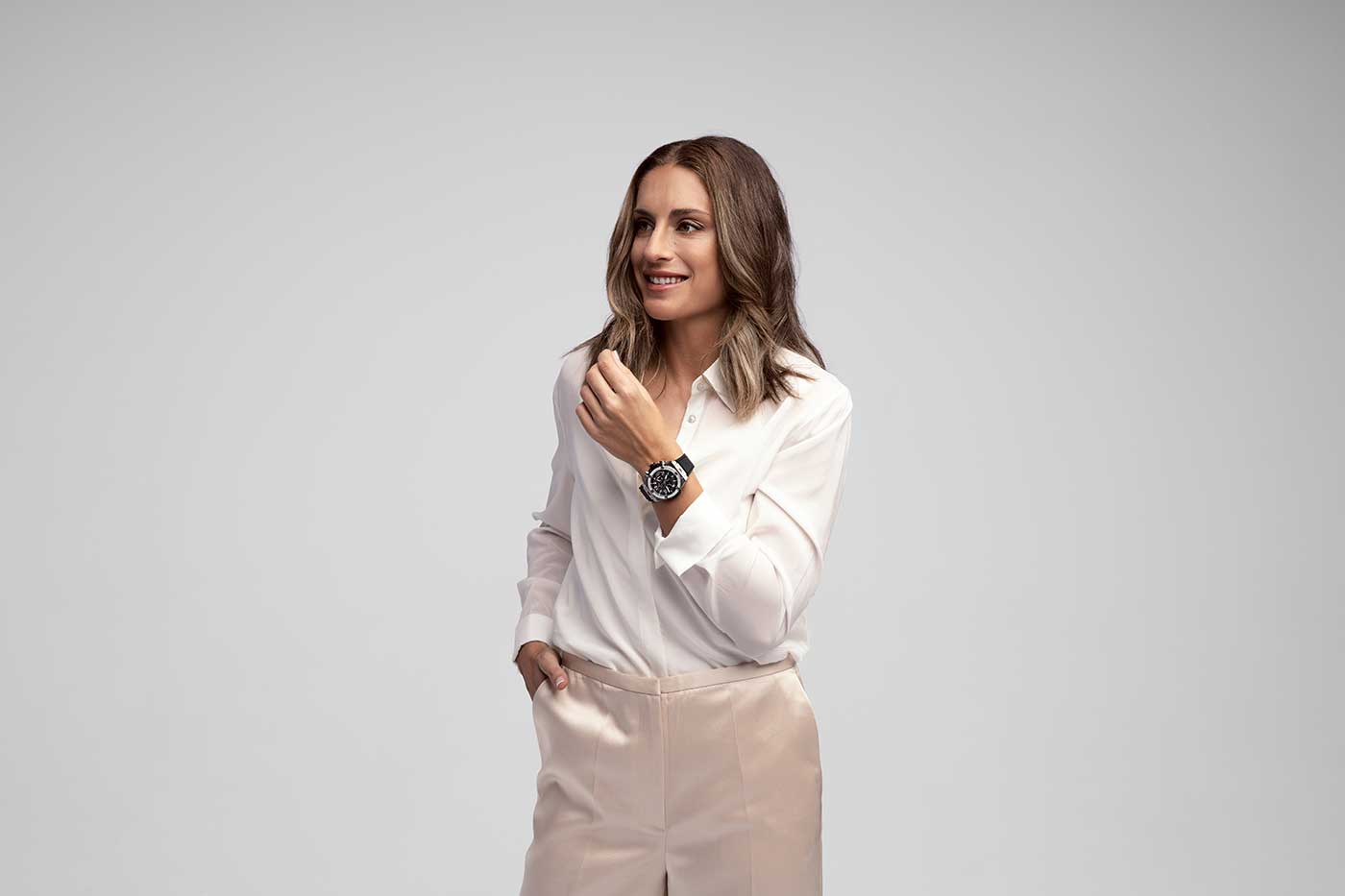 With over 300 matches for FC Barcelona under her belt and 91 for Spain, she is the player with the most international caps in the history of Spanish women's football, having already won four La Liga titles and five Copa de la Reina trophies. On a more personal level, she was named Best Female Catalan Player of 2020 and the 2020/21 UEFA Women's Player of the Year, becoming the first player for Spain and for Barcelona to receive this title.
But this young midfielder's prestigious awards and accolades don't stop there, having also been named MVP at the Marca Awards, MVP of the Copa de la Reina, MVP of the Spanish Women's Super Cup, and MVP of the 2020 SheBelieves Cup. The Spanish footballer had a record-breaking season with her team mates at FC Barcelona, winning
La Liga, the Copa de la Reina and their first UEFA Champions League, being the player who has played the most matches (53) in this last competition.
Alexia is a woman who seeks new challenges, such as winning the UEFA Women's Champions League with FC Barcelona, winning the next UEFA Women´s EURO and even the FIFA Women's World Cup with the Spain national team, while doing her bit to lead the way to equality and women's empowerment through football.
Hublot was the first luxury brand to invest in football, a partnership that began in 2006 and that is strengthened by the shared spirit of perseverance, skill, competition, and the pursuit of excellence.
Hublot has a long history of partnerships with big names in sports and the arts, and sponsors some of the top sporting events, including the FIFA World CupTM, the UEFA Champions League and the UEFA  EUROTM. Today, the Maison welcomes Spain's number one female footballer into the wonderful Hublot  family.
Hublot
Founded in Switzerland in 1980, HUBLOT is defined by its innovation, which began with the highly original combination of gold and rubber. This "Art of Fusion" stems from the imagination of its visionary Chairman, JeanClaude Biver, and has been driven forward by CEO Ricardo Guadalupe since 2012.
The release of the iconic, multi-award-winning Big Bang in 2005 paved the way for new flagship collections (Classic Fusion, Spirit of Big Bang), with complications ranging from the simple to the highly sophisticated, establishing the extraordinary DNA of the Swiss watchmaking house and ensuring its impressive growth.
Keen to preserve its traditional and cutting-edge expertise, and guided by its philosophy to "Be First, Different and Unique", the Swiss watchmaker is consistently ahead of the curve, through its innovations in materials (scratchresistant Magic Gold, ceramics in vibrant colours, sapphire), and the creation of Manufacture movements (Unico, Meca-10, Tourbillon).
HUBLOT is fully committed to creating a Haute Horlogerie brand with a visionary future: a future which is fused with the key events of our times (FIFA World CupTM, UEFA Champions League, UEFA EUROTM) and the finest ambassadors our era has to offer (Chiara Ferragni, Pelé, Kylian Mbappé, Usain Bolt, Novak Djokovic).
Discover the HUBLOT universe at our network of boutiques located in key cities across the globe: Geneva, Paris, London, New York, Hong Kong, Dubai, Tokyo, Singapore, Zurich and at HUBLOT.com