On course for the Vendée Globe aboard the IMOCA 60 HUBLOT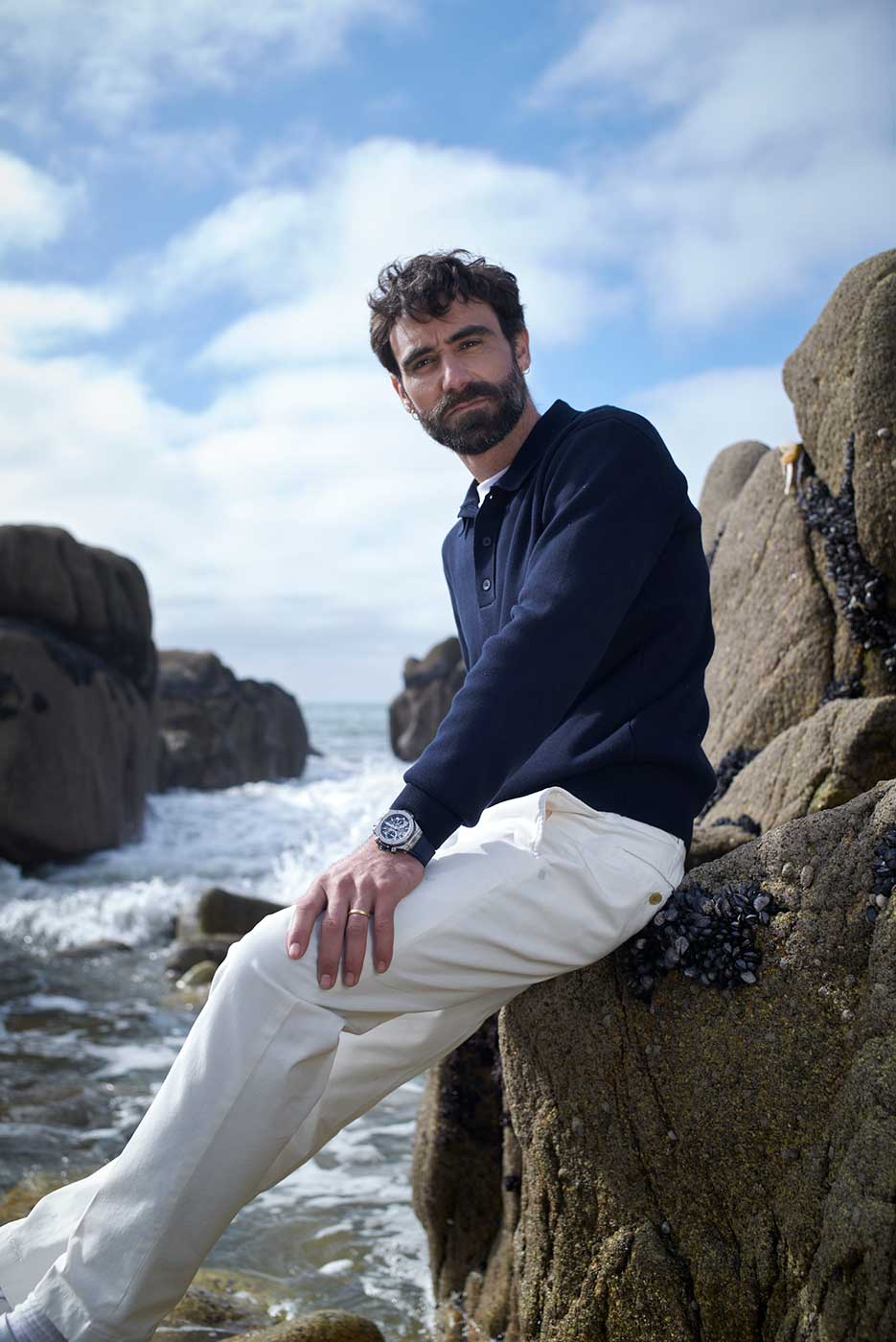 With less than 1000 days to go before the start of the tenth edition of the Vendée Globe, Swiss watch manufacture Hublot has teamed up with skipper Alan Roura. As he prepares for his third consecutive Vendée Globe, the Genevan skipper can count on a top-tier partner and long-term collaboration towards an ambitious goal: to win the 2024 edition of the "Everest of the seas" – the world's most challenging sailing race.
Alan Roura has spent 27 of his 29 years on water, including nine years racing (he competed in the Mini Transat at the tender age of 20), two solo round the world ventures and thousands of nautical miles on the clock. For him, the sea is freedom. As the youngest finisher in the Vendée Globe 2016 and current holder of the North Atlantic single-handed sailing record, the Swiss skipper, based in Brittany since 2012, has his sights firmly set on his next challenge: to be the first foreign winner of the Vendée Globe. As preparation, he will skipper the IMOCA 60 HUBLOT in every race on the calendar for the next three seasons – which includes four transatlantic crossings – before embarking on another round the world voyage in 2024. A unique human adventure and a magnificent sporting challenge that will see him partner with the Swiss watch manufacture aboard a state-of-the-art craft – a futuristic latest-generation foiling yacht with a fully enclosed cockpit. Hublot has had historic ties to sailing since the brand was established in 1980. Nearly 25 years later, the watchmaker has chosen Alan Roura as the figurehead for its return to racing – in the sport's most legendary event.
Victory is not merely a matter of reaching the summit first; the way you climb is just as important. My own summit is the Everest of the seas – the Vendée Globe – an extraordinary race in which success is shaped by the adventures and the people that take you there. My partners have always played a pivotal role in my projects, both in human and strategic terms. I know that I share with Hublot a desire for performance, for innovation, a resilient and determined spirit, an urge to always test one's own limits, to exploit one's expertise, to galvanise a whole country behind a Swiss project and to fuse the skills of all involved to achieve the ultimate goal. My last Vendée Globe pitted me against myself, with a boat that suffered a lot of damage, and I finished the race in extremely difficult conditions and pushed well beyond my limits. Now I have the resources I need to succeed, three years to prepare and a real rocket to take me there. It's down to myself and to my partners to push it to its absolute limits. When you want something, you have to be relentless. Which is fortunate, because neither Hublot nor myself are the relenting types!"
ALAN ROURA
Swiss skipper and Hublot Ambassador
As the first and youngest finisher of the Vendée Globe and holder of the North Atlantic record, Alan has made a real name for himself in the Swiss sport. He is a unique character. Having lived on the water since the age of 2, it is his element, his territory. A top-level sportsman with an entrepreneurial spirit, he is utterly focused on winning the most legendary race in his discipline – precisely the kind of challenge we relish at Hublot. We also love his mindset. It takes courage to compete in a race like the Vendée Globe, to find oneself alone against the elements and to finish the race in spite of damage. It's this kind of determination that marks out the biggest names in history. We love a human adventure, a 100% Swiss project, a country that supports a sailor. We love surpassing ourselves, resilience and determination in the face of doubt. We recognise ourselves in this project, in this adventure. We are committed to supporting him as he realizes his dream and – as he says himself – while we all want to reach the summit, what really counts is the way we climb. Course set for the Everest of the seas…"
RICARDO GUADALUPE
HUBLOT CEO
Alan Roura and HUBLOT cast off together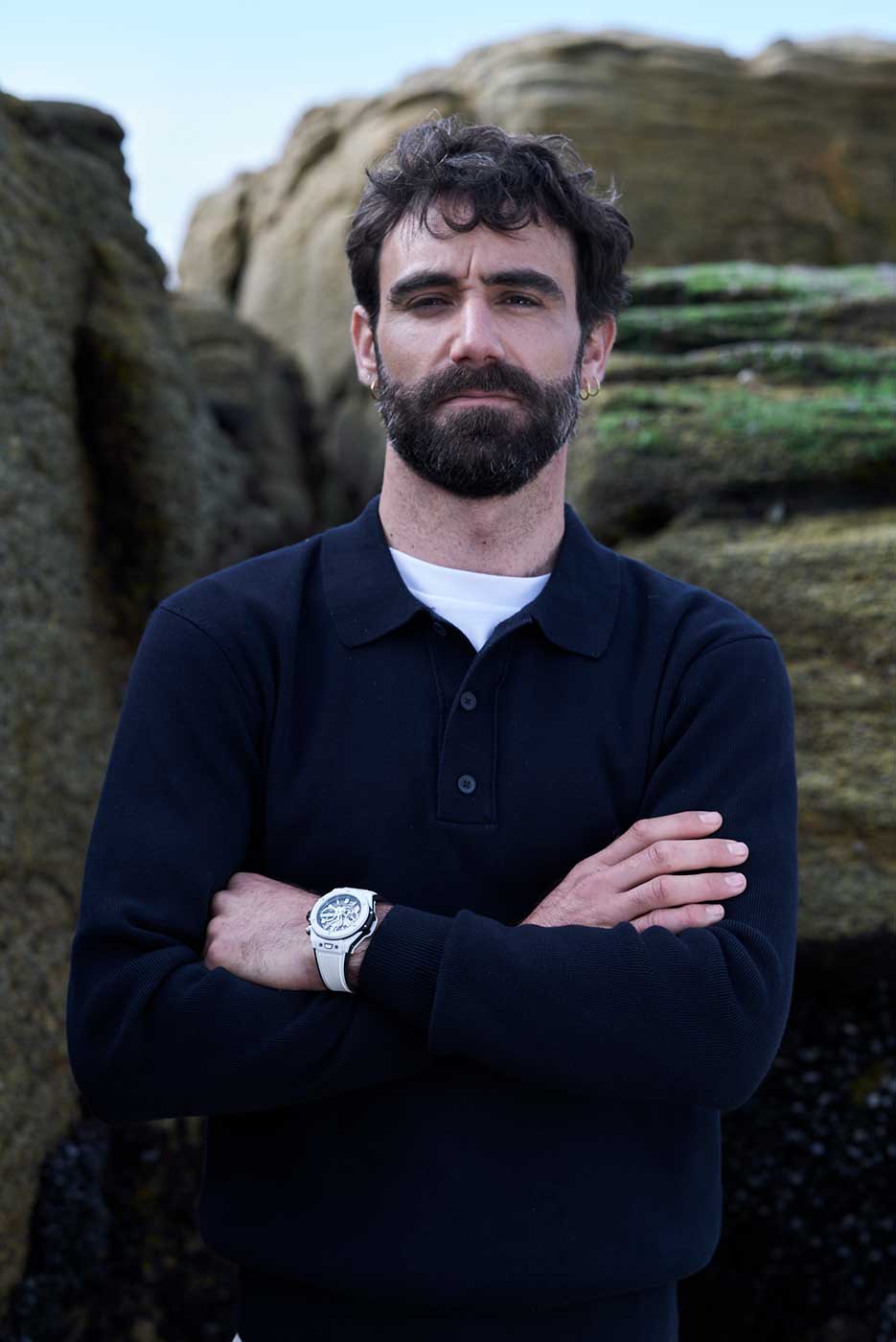 With three seasons on the programme, Alan Roura and his IMOCA HUBLOT will compete in every race in the IMOCA Globe Series championship. The Route du Rhum 2022, the Transat Jacques Vabre 2023, the Transat New York – Vendée 2024… no fewer than four transatlantic races lie ahead of the young skipper, not to mention numerous training events. What better way to make sure he's fully prepared and ready to exploit the full potential of his craft as he embarks on his ultimate challenge: the Vendée Globe.
The Vendée Globe is the world's most extreme sailing race. Held every four years since 1989, this non-stop, single-handed round-the-world race with no assistance is a legendary event regarded as the holy grail for sailors. A world tour from West to East via the three capes (Good Hope, Leeuwin and Horn), crossing four oceans and some of the most hostile regions in the world, and covering almost 25,000 nautical miles. For Alan Roura, three years of preparation for three months alone at sea, battling the Roaring Forties and Furious Fifties as he makes history with Hublot by his side. His third consecutive Vendée Globe, the tenth edition and one objective: victory.
Alan Roura: thousands of nautical miles on the clock
Alan Roura was practically born on the water. He was lulled by the sound of lapping waves from the age of 2, when his family moved to their boat in Port Noir on Lake Geneva. It was here, aged just six, that he first set sail aboard an Optimist. From the age of eight to 19, he accompanied his family as they crossed seas and oceans on a trip to discover the world. He competed in his first race aged 15 aboard a Mini 6.50, and at 18 he became the youngest skipper to obtain the international Yachtmaster certificate. Still not yet 30, this year he will celebrate a ten-year career during which he has covered hundreds of thousands of nautical miles.
Like all skippers, Alan has had to deal with some serious storms and technical issues. He's been dismasted, taken on water, suffered injury and been forced to abandon. His career has been fraught with setbacks and doubts, yet his determination, resilience and ambition have also brought him success.
The Mini Fastnet 2012, Mini Transat 2013, Route du Rhum 2014, Transat Jacques Vabre 2015, and the Vendée Globe in 2016. Alan has managed to realize each and every one of his dreams. Early on he managed through resourcefulness. Hiring Bernard Stamm's first boat – one of the oldest in the fleet – for a symbolic one euro fee, he set about preparing in under a year and with the smallest budget of the competition. At just 23, he became the youngest competitor in the race's history, finishing a promising 12th and top of the older generation boat category. Since then, Alan has continued to add distinctions to his sailing pedigree, including the single-handed North Atlantic monohull record (7 days, 16 hours and 58 minutes in 2019).
A top-level sportsman, entrepreneur, sailor, dreamer, adventurer and born competitor, Roura is an assured and charismatic skipper, sensitive to his environment and attuned to the human perspective in all he does. Based in Lorient, Brittany, in the heart of "Sailing Valley", his sights are now firmly set on his new ambition: victory in the Vendée Globe
2024. This will be his third consecutive edition – aged just 31.
IMOCA 60 HUBLOT
The IMOCA OPEN 60 is a 60-foot (18.28 m) monohull. Used specifically for the Vendée Globe, these yachts are the most powerful types that can be sailed single-handedly. With the class open to research and development, each boat is a unique prototype and a fusion of state-of-the-art technology. Made from composite materials, they are designed to be both lightweight and fast while retaining the necessary strength to withstand conditions on the high seas. It's a finely balanced compromise between performance and safety that poses daily challenges for each team.
The IMOCA HUBLOT, which was launched in 2019 for British skipper Alex Thomson and built for victory, is the most extreme and innovative foiling yacht of its generation. Characterised by its cutting-edge foils and unique looks, which include a revolutionary fully enclosed cockpit, it is entirely self sufficient in energy thanks to a deck completely covered with solar panels. Purchased by Roura last October, the boat is at an ideal stage of maturity following two years of work to optimise its development and reliability. This new ultra-high-performance craft will propel the Genevan into a whole new dimension, offering him the opportunity to reset his sporting ambitions.
And it will be in the black, yellow and white livery of Hublot that Alan's boat will set out to conquer the Atlantic. Why yellow and black? As a reminder that Hublot's distinctive identity was forged back in 1980 with the first model in watchmaking history to fuse gold (yellow) with rubber (black).
HUBLOT SAILING TEAM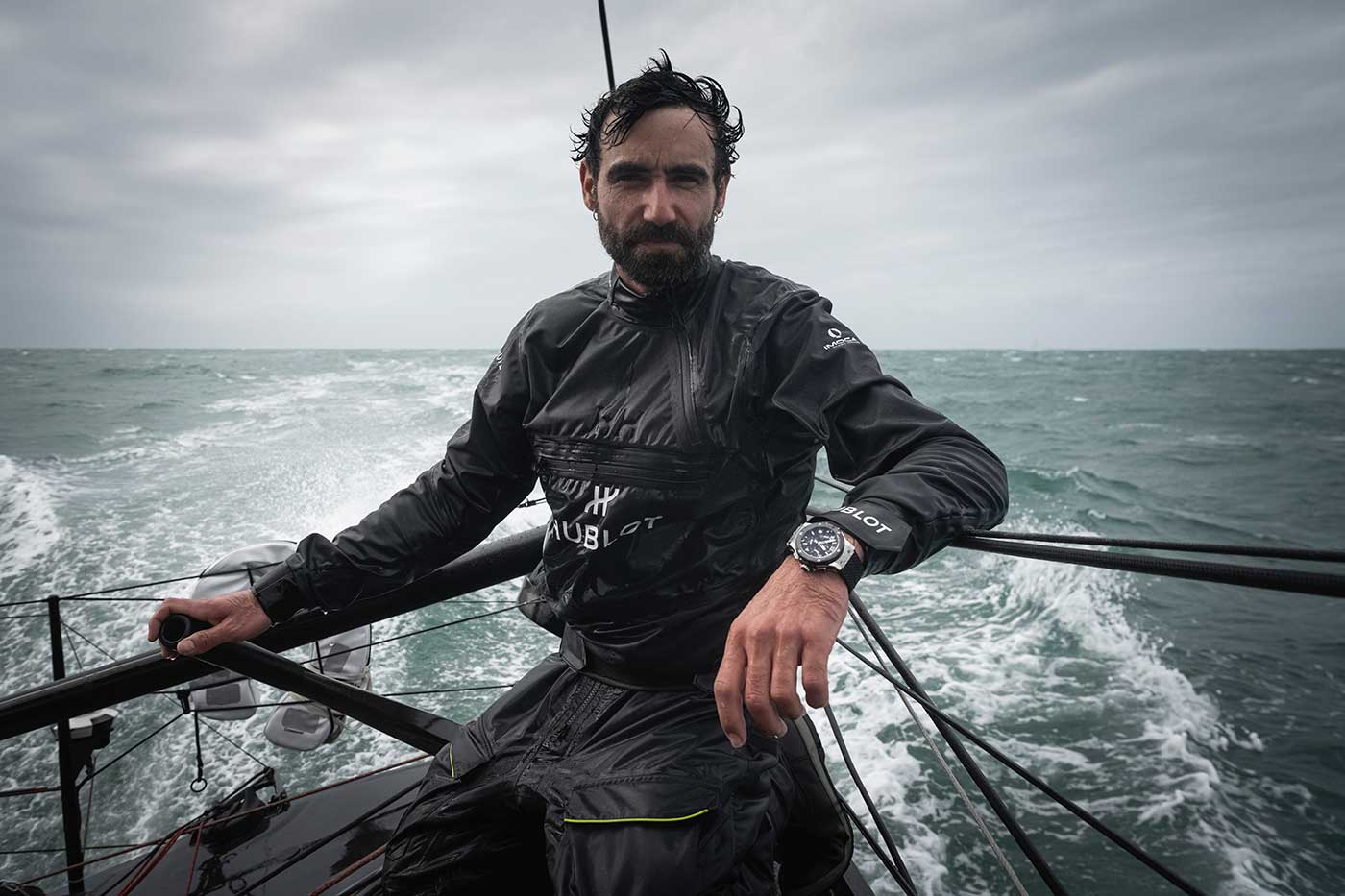 As Alan Roura's title partner, the Hublot Manufacture is associating its name with both the project and the entire team. Since 2017, the young Swiss sailor has worked with the professionals and systems based at Lorient La Base to build himself a serious racing team. The Hublot Sailing Team comprises eight full-time members in addition to numerous
external specialists, and has its own hangar and offices plus a pool of secondary partners. While several suppliers have already pledged their support as technical partners, with others joining the new Navman Club, a number of partnership opportunities are still available.
Hublot and sailing
Hublot's historic ties to sailing date back to the brand's inception in 1980, with its use of the iconic image of a boat porthole to represent the bezel secured with screws. Hublot first became involved with the Vendée Globe in 2005, with the awarding of the "Palme de l'Émotion" and three numbered "Vendée Globe" chronographs to the top three skippers in this legendary race: Vincent Riou, Jean Le Cam and Mike Golding. There was also a partnership with Luna Rossa in 2007 and a limited edition Big Bang of the same name. Since 2012, Hublot has partnered with the Bol d'Or Mirabaud, the world's largest inland regatta held between Geneva and Bouveret at each end of Lake Geneva.
With its "First, Unique, Different" philosophy and its commitment to promoting 100% Swiss Made products, Hublot's ethos is a natural fit with the project behind this new partnership: Alan Roura's ambition to win the next Vendée Globe in 2024.
HUBLOT
Founded in Switzerland in 1980, HUBLOT is defined by its innovation, which began with the highly original combination of gold and rubber. This "Art of Fusion" stems from the imagination of its visionary Chairman, Jean-Claude Biver, and has been driven forward by CEO Ricardo Guadalupe since 2012.
The release of the iconic, multi-award-winning Big Bang in 2005 paved the way for new flagship collections (Classic Fusion, Spirit of Big Bang), with complications ranging from the simple to the highly sophisticated, establishing the extraordinary DNA of the Swiss watchmaking house and ensuring its impressive growth.
Keen to preserve its traditional and cutting-edge expertise, and guided by its philosophy to "Be First, Different and Unique", the Swiss watchmaker is consistently ahead of the curve, through its innovations in materials (scratch-resistant Magic Gold, ceramics in vibrant colours, sapphire), and the creation of Manufacture movements (Unico, Meca-10, Tourbillon).
HUBLOT is fully committed to creating a Haute Horlogerie brand with a visionary future: a future which is fused with the key events of our times (FIFA World CupTM, UEFA Champions League, UEFA EUROTM) and the finest ambassadors our era has to offer (Chiara Ferragni, Pelé, Kylian Mbappé, Usain Bolt, Novak Djokovic).
Discover the HUBLOT universe at our network of boutiques located in key cities across the globe: Geneva, Paris, London, New York, Hong Kong, Dubai, Tokyo, Singapore, Zurich and at HUBLOT.com