Source:  Images and content by RUNNING ON AIR: THE REMARKABLE STORY OF THE ATMOS CLOCK @ Jaeger LeCoultre.

https://content.presspage.com/uploads/2085/1920_jaeger-lecoultre-heritage-atmos-reutter-glassdome-1930.jpg?10000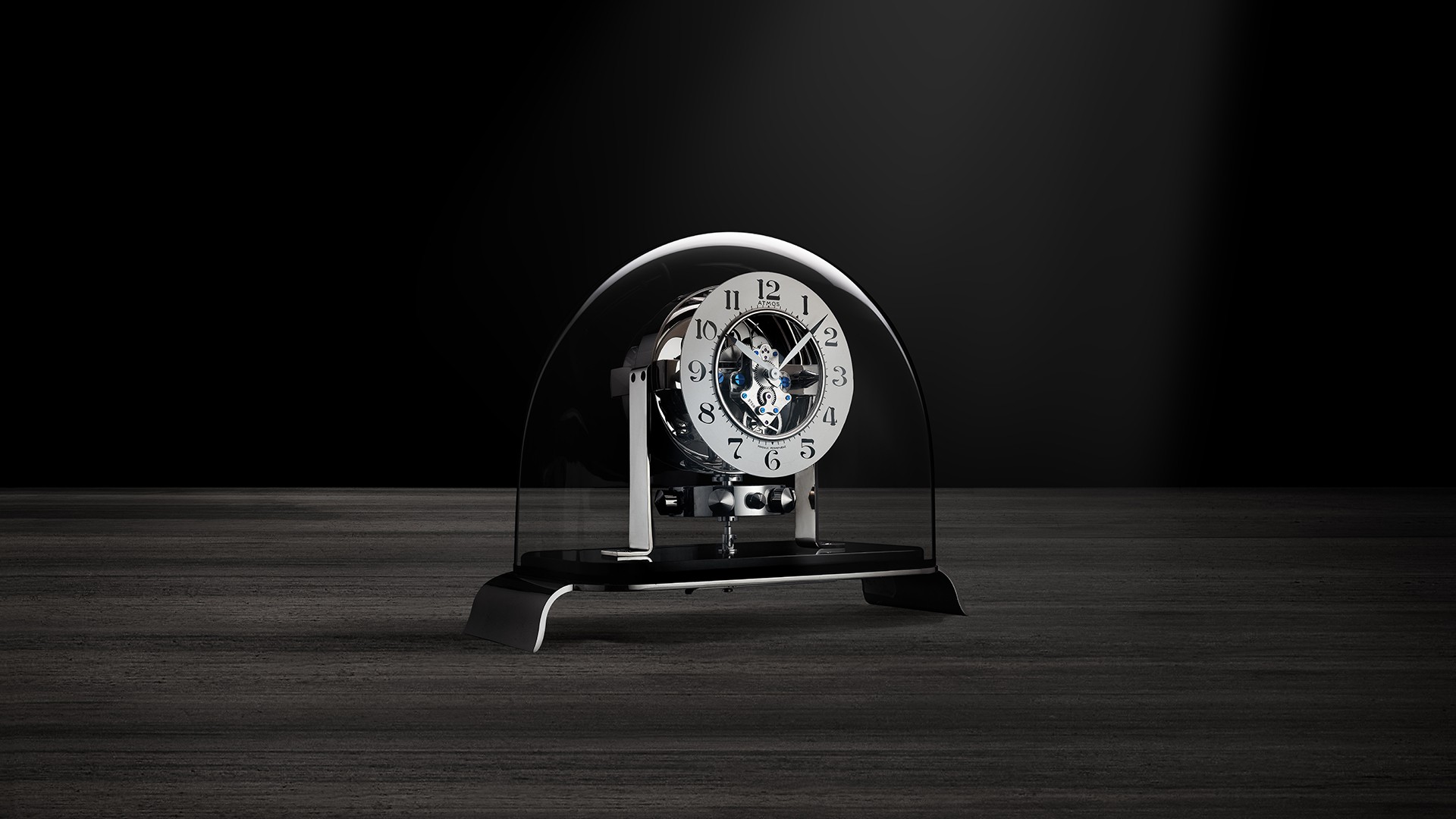 From Prototype to Prized Object
In 1930, two years after Reutter had unveiled his prototype, the first examples of Atmos I went on sale but it was fraught with technical problems and commercialisation and production quickly faltered.
Chancing upon an Atmos in a Paris boutique, Jacques-David LeCoultre was fascinated by its unique mode of operating and bought it. He quickly realised that, despite the brilliance of Reutter's concept, the mechanism was not viable, with problems that, he believed, could be solved only through an exceptional level of watchmaking skill. The Manufacture contacted Reutter who was immediately enthused and came to work in Le Sentier under the management of Jacques-David LeCoultre on the "new Atmos" project. While continuing to sell an upgraded version of Atmos I both men had a clear intention to further improve the mechanism and fully commercialise its production.
Essential improvements included: enhancing the air-tightness necessary for proper functioning of the movement; replacing the mercury used by Reutter with the more stable ethyl chloride; and entirely redesigning key components of the mechanism to make it simpler, more robust and properly suited to series production. At last, in 1939, Jaeger-LeCoultre was sufficiently satisfied with the new Calibre 519 and ready to begin commercialisation of Atmos II.
Success came quickly and the Atmos soon gained the status of prized cult object; in 1950, it was chosen as the official gift of the Swiss Confederation. By 1951, production had reached 10,000 units a year and in 1979 the 500,000th clock left the Manufacture in Le Sentier.
Even so, the Atmos mechanism had a limitation: because it produces only a very small amount of energy, there is not enough power left over to drive additional functions. Jaeger-LeCoultre solved this problem in 1982 with a new movement – Calibre 540 – that made it possible to incorporate additional functions with only an infinitesimal increase in energy consumption. The Manufacture's engineers developed the first moon-phase Atmos at the end of the 1990s and have since added other complications: celestial charts, regulator dials, equation-of-time displays, even a 'mystery clock' with a remontoir d'égalité, or constant-force mechanism.
Evolution of a Classic Design
More than just a remarkable technical feat, the Atmos is a work of art. The original Atmos I, with its 'glass dome' cabinet is an early and exceptionally pure expression of Streamline Moderne style and is highly coveted by collectors today. The timeless Art Deco lines and perfect balance of the rectilinear design of the Atmos II cabinets have ensured the status of this 'glass box' as the classic form. A perfect marriage of functionality and style, it has anchored the strong aesthetic identity of the Atmos through many decades of evolution.
The cabinet of the Atmos has lent itself naturally to different artistic interpretations. Since the 1970s, Jaeger-LeCoultre has collaborated with a series of talented designers and specialised craftsmen to produce special editions of the Atmos, notably those that incorporate astronomical complications. Among some outstanding examples are the futuristic Atmos du Millénaire Atlantis, created in 1999 to celebrate the new millennium and based on a unique model conceived by the Parisian design agency Kohler & Rekow in 1988; the Atmos 566 by Marc Newson, encased in a cube of hand-made Baccarat crystal, within which the mechanism appears to float weightlessly; and the sumptuous Atmos Marqueterie 'Le Baiser' of 2012, enclosed in a cabinet of rare woods with an exquisitely detailed wood marquetry rendition of Gustav Klimt's painting 'The Kiss'. Age-old decorative arts such as wood marquetry, as well as straw marquetry, enamelling, gem-setting and various crystal-making techniques, have been applied to the Atmos with the same artistic imagination and meticulous craftsmanship that La Grande Maison devotes to its finest wristwatches.
All Atmos movements are entirely developed, produced and assembled within the Manufacture and by hand in a specialised Atmos atelier. Not counting the five weeks of trial and adjustment that every Atmos mechanism undergoes, it can take eight to ten months to produce a single clock.
More than nine decades after its invention the Atmos clock remains a unique and emotionally resonant keeper of time – a splendid homage to design, technical virtuosity and tradition that captivates with the beauty of its form, the serene movement of its balance wheel and the mystery of its workings.
In 2022, Jaeger-LeCoultre will pay homage to the Atmos at Homo Faber, an extraordinary event that honours the best of European craftsmanship through 15 exhibitions that showcase exceptional master artisans. Chosen for its outstanding savoir-faire in watchmaking, Jaeger-LeCoultre will feature in the Genealogies of Ornament exhibition, celebrating the intricate craft skills and accumulated expertise of its artisans in both watchmaking and the decorative arts. The Atmos, a timepiece and an objet d'art in equal measure, is recognized around the world as a symbol of Swiss craftsmanship and ingenuity. Homo Faber will take place from 10 April to 1 May, on the island of S.Giorgio Maggiore in Venice.