Source:  Images and content by Vacheron Constantin
http://content.presspage.com/uploads/1999/500_vac-ny-flagship-post-op-event-1.jpg?10000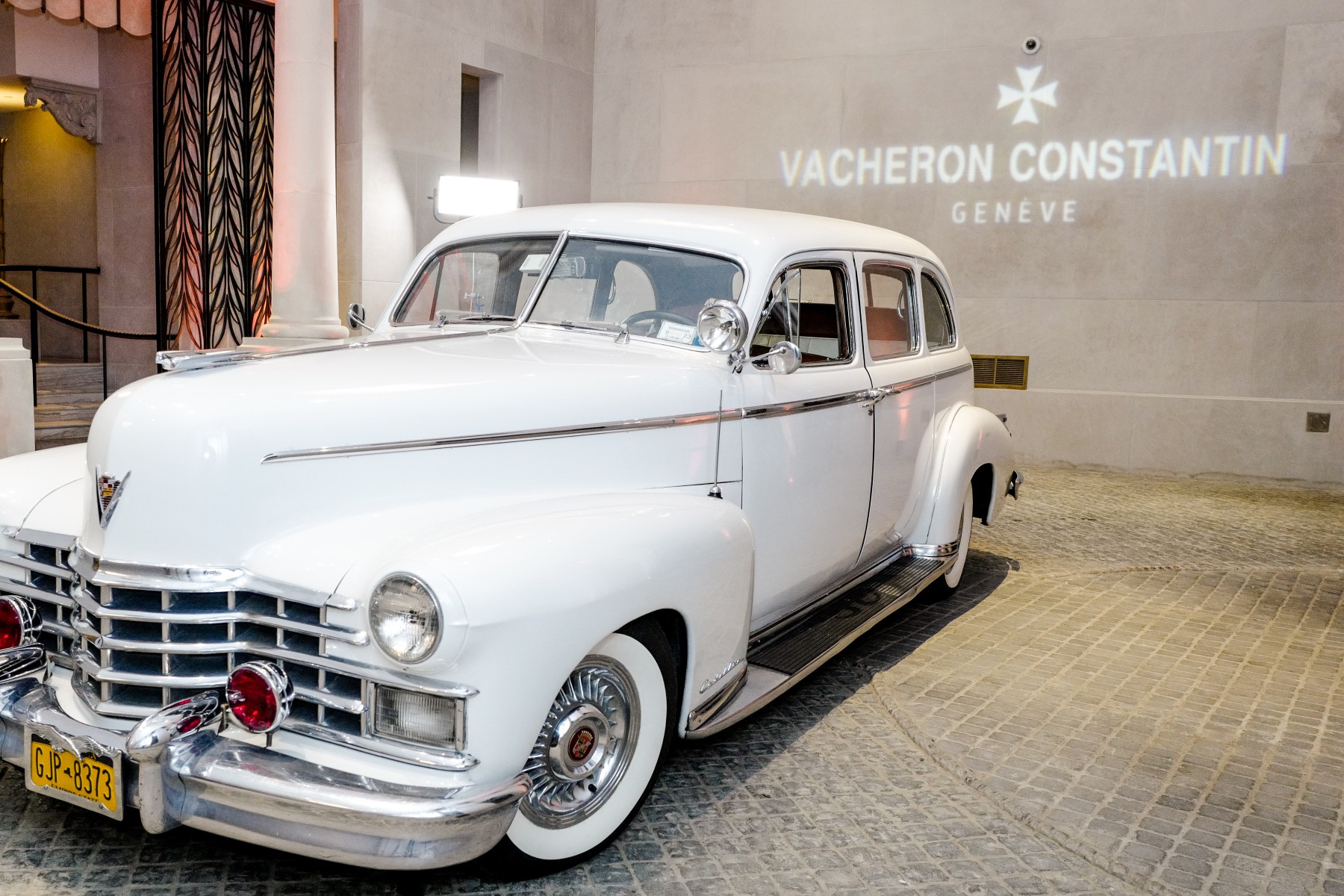 New York, September 8th 2021 – luxury Swiss Watchmaker Vacheron Constantin opened NYFW with a star-studded fete celebrating a striking new Flagship Boutique, ushering in a new era for the brand in the United States. "It was a magical evening celebrating Vacheron Constantin's new Flagship in New York" said Alexander Schmiedt, President of the Americas for Vacheron Constantin. "We kicked off the latest chapter in a centuries-old love story with the city, where our guests went on a surreal journey to 1921 and back again to 2021, in honor of our iconic watch, the American 1921– relaunched this year in white gold."
The night began at Vacheron Constantin's two story, over 4500 sq feet Flagship at 28 E. 57th street off Madison Avenue. The new boutique's incredible 2 floor glass façade glowed from the inside with white lights twinkling from a 12 foot tall brass cityscape art installation in the atrium created in collaboration with the American artist Chris Burden Estate especially for the Grand Opening. In front of the city scape art installation an electric musical performance from supermodel Karen Elson left fashionable guests eager for more. Elson debuted her new song Lightning Strikes – the first time she's performed a song from her new album launching this week. But that was just the start of a journey at the new store, which carries powerful symbolism for the Maison as they unveil the 100th Anniversary of the American 1921 timepiece.
The watch Maison's incredible heritage met modern day as partygoers were transported via vintage 1920s automobiles and the new luxurious Rolls-Royce Ghost car to a secret penthouse speakeasy at the penthouse at Steinway Hall. High above the city streets on the 21st floor, they were treated to 1920s flapper dancers and an offering of 1921 and 2021 cocktails under the stars, followed by an elegant multicourse dinner with artistic plates featuring maltese crosses – the emblem of the iconic Swiss watchmaker and a special custom touch to the night. Guests including Katie Holmes, Nico Tortorella and Michelle Hicks were then surprised by a powerful Cabaret 1920's themed performance from Tony Award winner Alan Cumming, including a mash-up of Broadway songs which concluded with a standing ovation for Is that all there Is.
The fashionable crowd also included Chanel Iman, Christian Siriano, Kelly Bensimon, Dorinda Medley and so many others.
———————————————————–
Pictures captions:
IMAGE 1 – Vintage & Modern Cars Escorted Guests from the Flagship boutique to an offsite speakeasy penthouse for dinner and a surprise performance
IMAGE 2 – Alex Lundqvist Attends Flagship Grand Opening wearing the Overseas Self-Winding
IMAGE 3 – Eric Rutherford Attends Flagship Grand Opening wearing the Overseas Chronograph
IMAGE 4 – Actress and Designer Katie Holmes Attends Flagship Grand Opening wearing the Egerie Diamond Pave timepeice
IMAGE 5 – Supermodel & Musician Karen Elson Wears the American 1921 36.5mm in White Gold with Red Patent Strap
IMAGE 6 – Nico Tortorella attends the Vacheron Constantin Grand Opening in New York City
IMAGE 7 – Model Chanel Iman stuns in a leather outfit as she helps celebrate Vacheron Constantin's new Flagship
IMAGE 8 – Alan Cumming performs a surprise Cabaret-style show during the Grand Opening dinner, ending with a standing ovation
IMAGE 9 – Supermodel & Musician Karen Elson performs live from her new Album. She sings in front of the cityscape art installation collaboration between Vacheron Constantin and the Chris Burden Estate, created specailly for the Flagship.
IMAGE 10 – Supermodel & Musician Karen Elson and Vacheron Constantin President of the Americas, Alexander Schmiedt
IMAGE 11 – Alan Cumming performs a surprise Cabaret-style show over dinner
IMAGE 12 – Historiques American 1921, celebrating 100 years of great design
———————————————————–