Source:  Images and content by Jaeger LeCoultre @ Jaeger LeCoultre.

https://content.presspage.com/uploads/2085/1920_jlc-reverso-tribute-enamel-hokusai-q39334t2-still-life.jpg?16222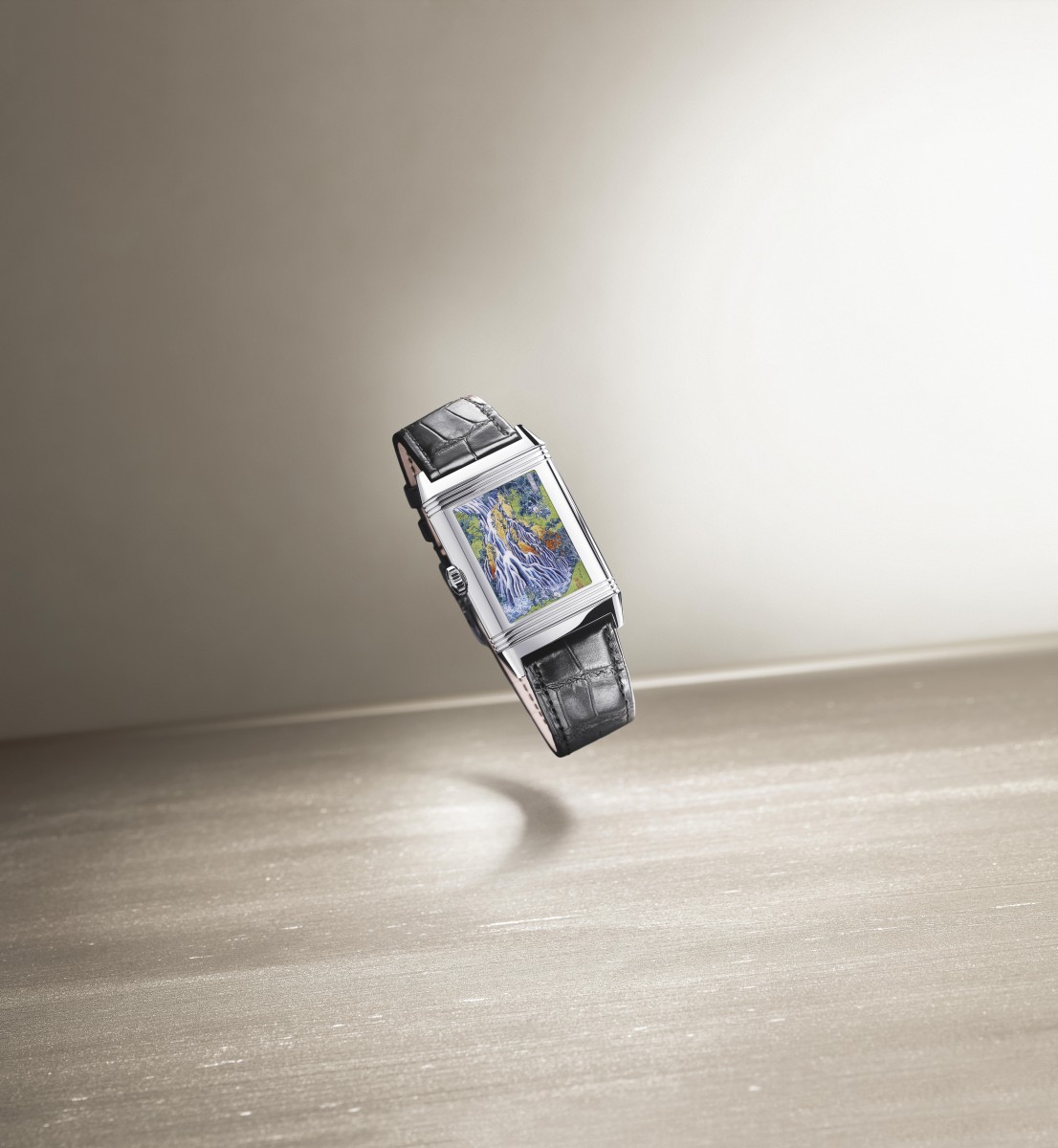 For almost two millennia, a two-way cultural exchange between Asia and Europe has had a profound influence on every art form of both East and West – from the visual to the performing arts – as well as on techniques for producing textiles, glass and ceramics.
This is an exchange that Jaeger-LeCoultre has embraced throughout the Manufacture's history. Coinciding with 90 years of the Reverso, Jaeger-LeCoultre celebrates this ongoing cultural exchange with an exquisite new Reverso Tribute Enamel timepiece.
Kirifuri Waterfall (Kirifuri-no-taki)
Uniting European craftsmanship with Japanese art, the reverse side of the case celebrates Eastern art with an enamel miniature painting that faithfully reproduces a woodblock print of Kirifuri Waterfall made by Katsushika Hokusai in the early 1830s. Kirifuri Waterfall is taken from A Tour of the Waterfalls of the Provinces, a series of eight woodblock prints depicting waterfalls that the artist visited between 1831 and 1833 in different regions of Japan's main island, Honshu.
Embodying La Grande Maison's creativity and its vision of the world of art and culture, the new timepiece is testament to the talent and skill of the artisans working in the Métiers Rares® (Rare Handcrafts) atelier within the Manufacture Jaeger-LeCoultre.
In a carefully orchestrated process beginning with the case back, the decoration of this timepiece presented many challenges that were particular to this work of art. First among those challenges was to reproduce a work measuring 37 x 24.5 cm onto a surface little more than one-tenth the size of the original – capturing every detail in perfect scale, including the group of tiny human figures at the base of the waterfall.
To express the power and beauty of the water as it cascades 100 metres down the mountainside Hokusai used a greater sense of perspective and bolder colours for Kirifuri Waterfall than in his previous work. The enameller had not only to mimic this perfectly but also to create the illusion of the woodblock printing technique, which produces a specific effect entirely different from enamelling. A particular challenge is that multi-coloured prints require the use of multiple woodblocks, with each different colour applied in turn – and there was the added challenge of reproducing the bokashi effect of subtly nuanced and graduated colours seen in the original. To achieve these illusions, Jaeger-LeCoultre's master enameller had to develop her own technique.