Source:  Images and content by @ Jaeger LeCoultre.

https://content.presspage.com/uploads/2085/1920_jaeger-lecoultretheturningpointxnicholashoult2.jpg?10000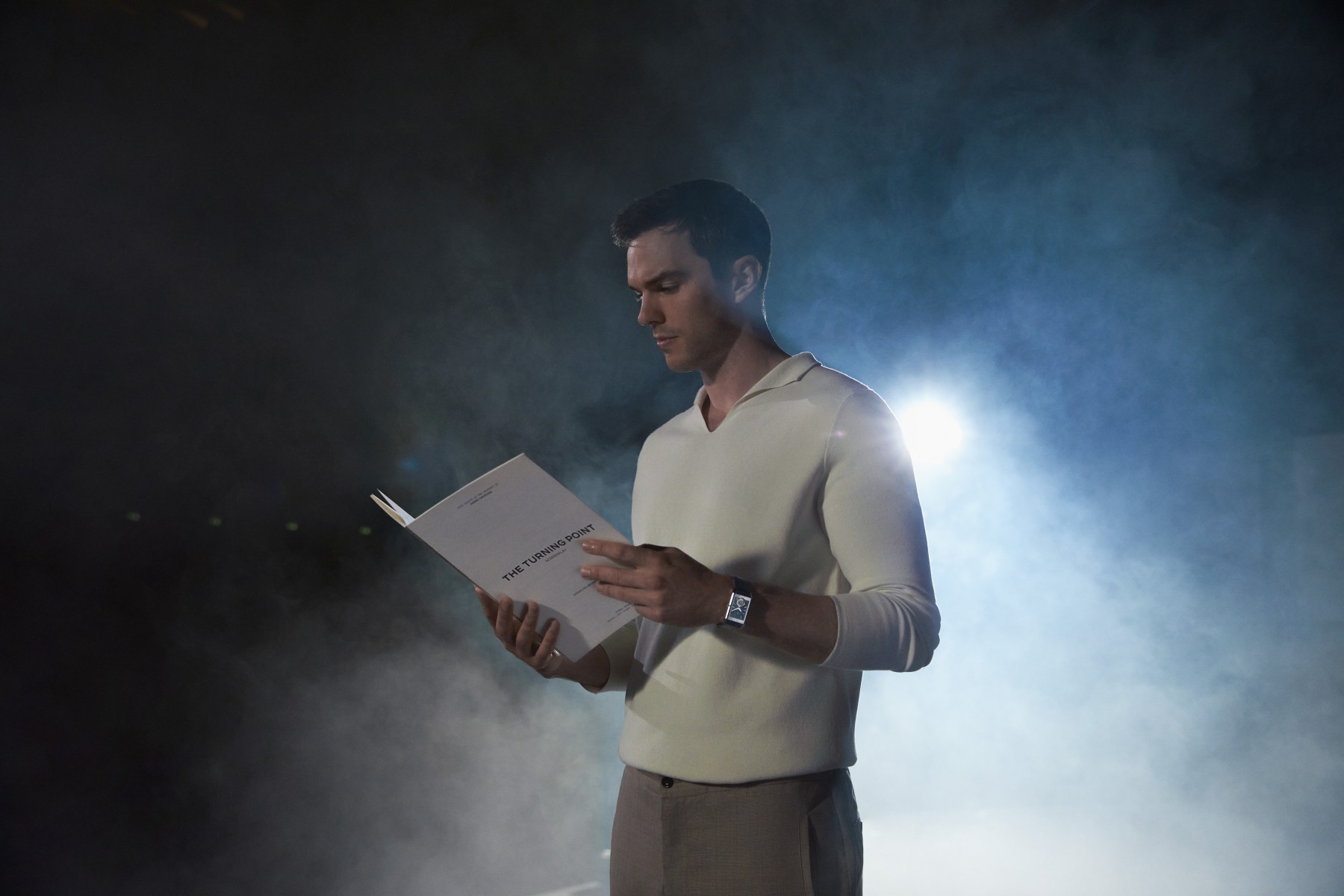 IN EVERY STORY THERE IS A TURNING POINT
The narrative follows Nicholas through the process of an audition, contrasting moments of intense focus as he prepares to go onstage, with periods of calm reflection amid the forests of the Vallée de Joux. As the film moves between the two settings, the actor flips the Reverso Tribute Duoface Tourbillon on his wrist to reveal its second, contrasting face. The second time zone on the reverse side subtly underlines the sense of reaching a new point.
These turning points are the essence of who we really are – the transcendent moments in our life's journey that take us from where and what we are, to reveal what we can become. The moments when everything clicks beautifully into place – symbolised by the gentle and satisfying click of the Reverso as it locks into its new position.
Moving at a gentle pace through visually beguiling settings, the film explores abstraction and reality, nature and the man-made – revealing the beauty of each, and capturing the essence of the Reverso.
The Reverso Tribute Duoface Tourbillon was chosen for this film because it so perfectly embodies the Manufacture's never-ending quest for excellence and innovation. Uniting a flying tourbillon with the Duoface concept for the first time, it elevated the Reverso to a new level of refinement and sophistication, both technically and aesthetically.
For Nicholas, the Reverso has a special appeal: "The two faces really express my life: the character I play when I work, and the person I am when I'm not working."
Speaking of turning points in his own life, Nicholas emphasises the power of focus and discipline, balanced by pivotal moments of quiet reflection: "Being immersed in nature – walking in the woods, or going surfing – puts me into a state of peace, where I feel at one with the world. I come back refreshed, revitalised and ready to get back into action."
In this new film, the turning of the Reverso symbolises every such pivotal moment – and, in doing so, is an exquisite celebration of our human potential.