Source:  Images and content by A Collected Man @ ACollectedMan.com.  See the original article here - https://www.acollectedman.com/blogs/journal/interview-buzz-tang-1
http://cdn.shopify.com/s/files/1/0606/5325/articles/Buzz-Tang-A-Collected-Man-London-0.jpg?v=1642522902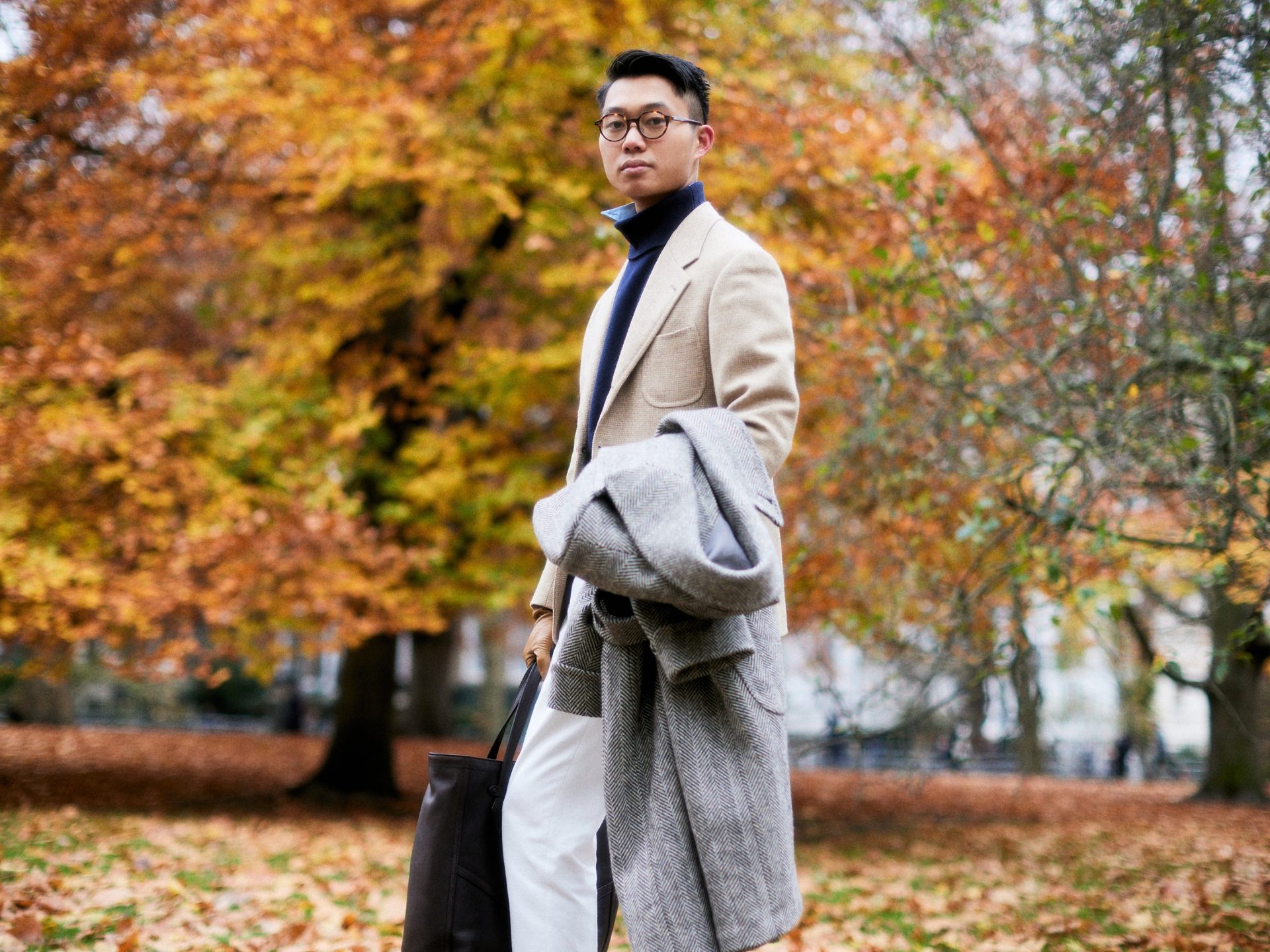 Jackets carry a touch of Neapolitan softness (a detail that is functionally important to The Anthology's clients in Southeast Asia) yet find their soul in the Florentine tradition, characterised by an extended shoulder that narrows the chest and flatters the waist. Trousers, cut with a high rise and generous pleats, are similarly fulsome. It's a look that borrows heavily from the lexicon of classic clothing – without the constant, rear-view-looking stuffiness that has felled many a respected heritage brand.
Earlier this month, we caught up with Tang around St. James in central London. Out to road-test his brand's latest collaborative drop – a monster of a polo coat made in 30oz Irish donegal – our ensuing conversation smacks a little of a 'year in review'. There's talk of matters both daunting and wonderfully trivial, from tailored clothing's future place in the world to the food that provide Tang with constant creative fodder.
By way of introduction, let's kick things off with a brief explainer of your clothing business, The Anthology…

The Anthology began life as a company that specialised in bespoke tailoring. Since then, we've expanded our oeuvre with a series of ready-to-wear [RTW] garments. But whether it's bespoke or off-the-rack product, our 'blueprint' – if I may use that word – has always involved classic clothing.
Nowadays what we're really focused on is a meaningful split between the bespoke side of our business and our RTW offering. In the latter area, we've put no small effort into original designs – a lot of them being historically inspired. You'll see that in our silhouettes, practical details, and importantly, our choice of fabrics: a big chunk of our RTW is produced using vintage textiles, sourced from 'noble' mills who have a proven record of longevity.
It's interesting – the amount of attention we're lavishing, so early on in our discussion, on bespoke. For someone of your background, who came into menswear through your personal love of tailoring, do you think it's sustainable, in the post-pandemic era, to build a business entirely around bespoke? Or are you a firm believer in the idea that RTW is the future?

I think, as with most things in life, it's a tug of war. Sure, in a way we're designers of clothing but we're also purveyors – both facets are equally important. Like many of our customers, bespoke still has a place in my wardrobe, but as we continue to explore the different dimensions of our brand, I've realised that RTW gives you a platform to design from a place of pure creativity that's largely absent in bespoke.
In bespoke, the conversation always pivots on decisions about precision and fit, whereas in RTW, it's much easier to make the vernacular around a garment emotive and sensory.