Source:  Images and content by A Collected Man @ ACollectedMan.com.  See the original article here - https://www.acollectedman.com/blogs/journal/datograph-collectors-guide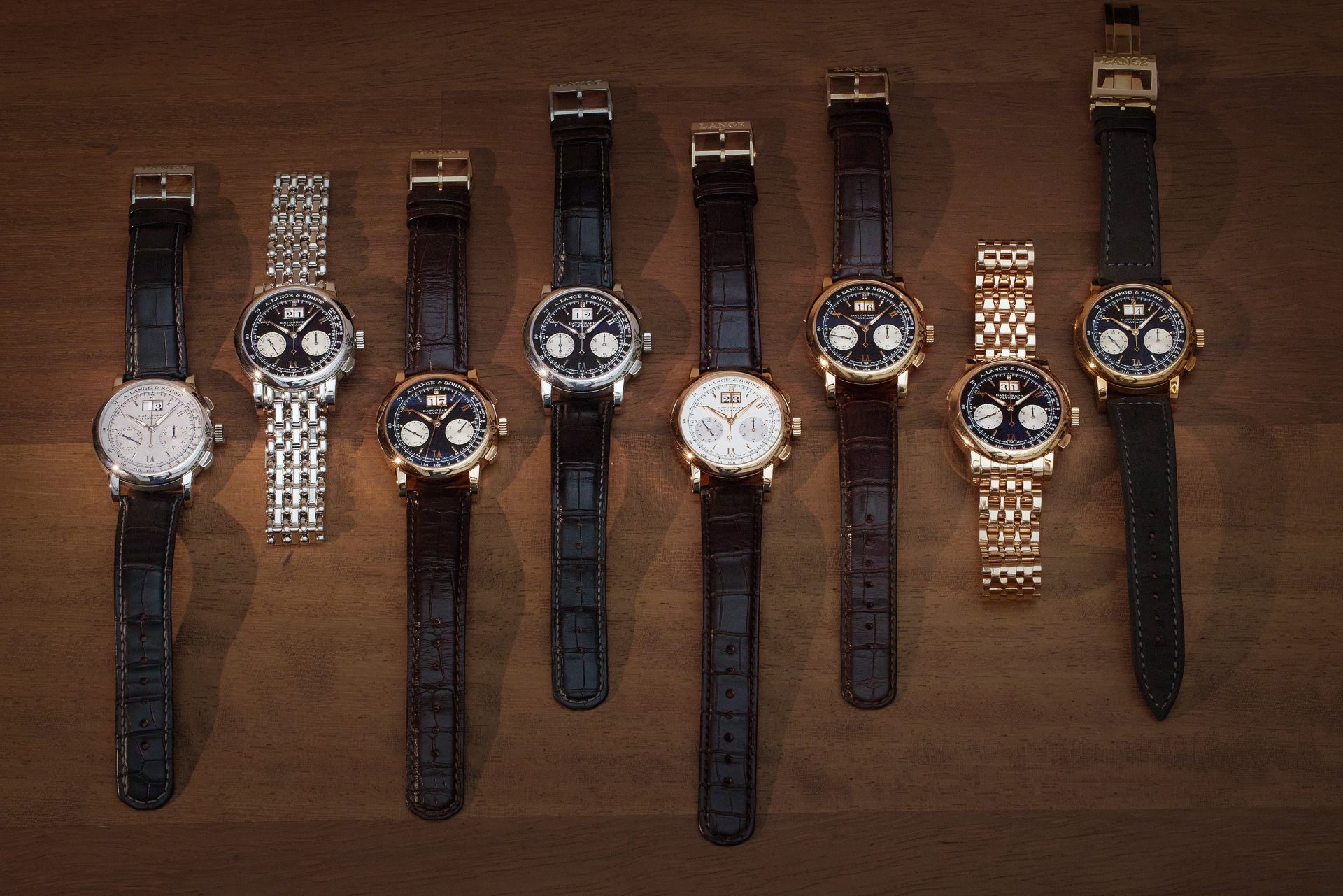 Contrasting the highly polished white metal case with a black dial, white sub-dials and black-on-white date window, this watch gave great legibility paired with classic, Germanic aesthetics. There is some debate over the original retail price, with some listing it at 69,000 DM. Compare this to the approximate retail price of $87,500 for a Patek Philippe 5070P, which came out five years later, and it could be argued that you were getting more watch from A. Lange & Söhne, whose in-house movement included instant minutes, flyback, and the iconic oversized date.
This was not only the first iteration to be released, but the one that would stay in production for the longest period. This means that you are able to chart all of the aforementioned dial variations through this one reference, including both the "METER" and "METERS" dials (this change is thought to have happened around the case number 155000) and the thick and thin print in the sub-dials. It's believed that the ref. 403.035 represents approximately two thirds of all first series Datograph production of which three quarters are the earlier "METER' dials.
Interestingly, there have supposedly been two unique variations of this reference that have come to the open market. A rather attractive blue dial model was reported by SJX to have been made sometime in the year 2000 for a director of Mannesmann VDO, which owned Les Manufactures Horologères (LMH), the parent company of A. Lange & Söhne.
As far as we know, there is only one other unique model of this reference. It has a similar origin story – again reported by SJX – in that it was produced for a senior manager at Mannesmann VDO. Another monochromatic dial, this was a black dial with black sub-dials, and the only example of the early Datograph that has a white numeral on black date discs. This was also recorded to have a new reference code of 403.035 X. The "X" at the end of the reference number, A. Lange & Söhne tells us, is used by them to indicate a special request piece. They went on to tell us that in their current referencing system – which began in 1997/98, they would add an "F" to the end of a reference number to indicate a folding clasp, if that is how it was designed at launch.